Community Champions: Jude Lee Routh
Sept. 5, 2023
SHSU Media Contact: Campbell Atkins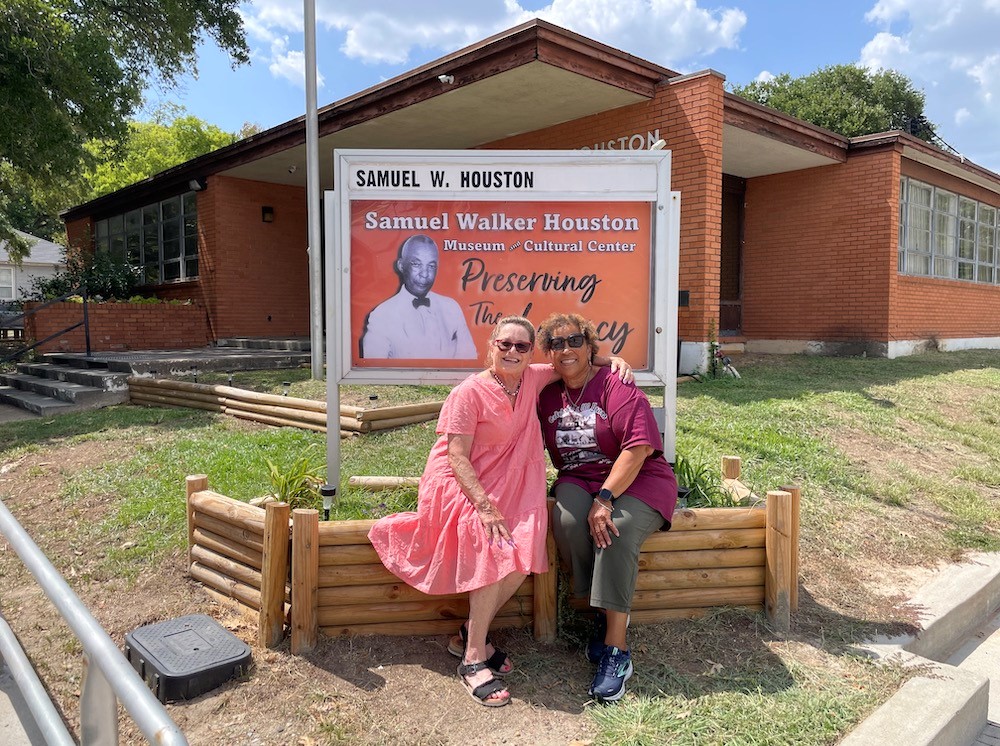 The Samuel Walker Houston Museum and Cultural Center, which formerly served as a school for Huntsville's Black youth prior to integration, strives to preserve the history and legacy of its namesake and support his core values and principles by educating, exhibiting and maintaining a facility and environment that serves the community and public.
As curator of exhibits at the Sam Houston Memorial Museum & Republic of Texas Presidential Library, Jude Lee Routh strives for similar truths. As a passionate observer of local history, she knows the importance of shining a light on past narratives that were stifled or forgotten until recent decades.
"We museums have to help each other out," Routh said. "The center is the other museum that I work with frequently on a volunteer basis. We have the same subject matter that we deal with."
She has gone above and beyond in her efforts to elevate the center and its mission. Along with archive digitalization and exhibit consultation, Routh orchestrated an extensive facelift to the front of the property that culminated in a brand new marquee display.
"She reached out and said she would love to help out by doing some landscaping up front," said Lovie Cunningham, the center's executive director. "She generously provided monetary support and came down to lay the plants."
Routh and local volunteers planted an array of flowers and new grass in the front of the building, but there was still something missing from the space.
"It was all nice and pretty, but there was a little marquee that had nothing in it," Routh said. "I'm very visual and, when I drove by, all I would see was that blank sign. I called Lovie and told her about our large format printer and said I would like to put something in there as a gift."
The newly-inserted orange sign, which jumps out at passersby, is complete with a photo of Samuel Walker Houston, the name of the center and its motto and guiding principle: "Preserving The Legacy."
"I keep telling her that I cannot express in words our gratitude for what she has done and what she continues to do," Cunningham said.
"Samuel Walker Houston was a great educator," Routh said. "He started institutions and was a pillar of the community, as was his father. It is important to know what he contributed, and there was a time people didn't want to preserve Black history, they had to kind of preserve their own. But he was important to the whole community and people need to know what he did here."
Walker Houston was the son of Joshua Houston Sr., a former slave of General Sam Houston. He was born in 1864 and went on to graduate from Hampton Institute, now Hampton University, and also attended Howard University and Atlanta University, now Clark-Atlanta.
He recognized that education was the key to the future for Black youth and established the first training school for the children of formerly enslaved individuals in 1906. The school, the only one of its kind in East Texas for a time, established its first permanent classroom in 1914. This was primarily built and financed by Huntsville's Black community and produced the first generation of Black teachers, craftsmen and entrepreneurs post-emancipation.
The 10th Street building that now houses the museum was the site of an elementary school and Sam Walker Houston High School, which closed for integration in 1968. In 2013, Huntsville ISD gifted the deed to the property to the National Alumni Association of Samuel Walker Houston High School.
"This is preserving the legacy of students so that they and their children can see the founder and also the various events that happened throughout the years leading up to integration," Cunningham said.
In her role as curator of exhibits for the university museum, Routh has worked tirelessly to preserve this specific history by attempting to find the history behind all 12 slaves listed on Sam Houston's probate, and by bringing the past back to life through displays at the museum.
"My specialty is production," said Routh, who graduated from SHSU in 1976 with a theatre degree. "I have done all kinds of productions, whether it be landscaping, video, live stage or exhibits, which are just productions without actors."
Routh started as an interpreter for the museum in 2010 before she left to assist her sister with her business. She returned to work part time in 2018 then quickly rose to the full-time role of curator of exhibits.
The Samuel Walker Houston Museum and Cultural Center is located at 1604 10th Street in Huntsville.
- END -
This page maintained by SHSU's Communications Office:
Associate Director, Communications: Emily Binetti
Telephone:936.294.4406
Communications Manager: Mikah Boyd
Telephone: 936.294.1837
Communications Writer: Campbell Atkins
Telephone: 936.294.2638
Thomason Building: Suite 102
Please send comments, corrections, news tips to Today@Sam.edu