Commencement Spotlight: Brian Cary
Aug. 4, 2023
SHSU Media Contact: Mikah Boyd
Each semester, the Commencement Spotlight series highlights graduating Bearkats with a "can-do" spirit through challenge and service.
---
Brian Cary
Temple, Texas
Bachelor of Science in Criminal Justice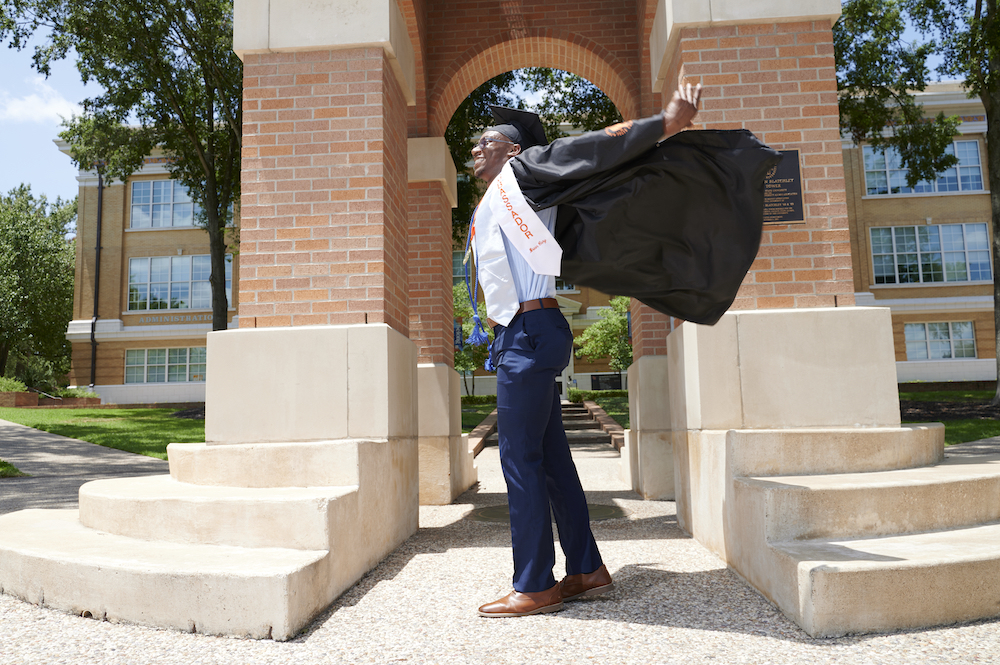 Brian Cary prefers to go off the beaten path and make his own unique mark on the world. His passion for leadership led him to pursue a degree in criminal justice and aim for working with a federal or international justice organization.
Serving others is in Cary's blood. His mother works as a police officer and his father is in the military, their work has contributed to Cary's desire to bring about change.
"Being a part of a military family with both of my parents serving in the army instilled a new perspective of the world in me," Cary said. "I chose the route of obtaining a criminal justice degree because of the impact that criminal justice has on the world. I found it interesting that criminal justice can change drastically depending on the population, media and world leaders, which made me hope that I can bring a positive change after obtaining my degree."
When he was looking for where he would like to earn his degree, Sam Houston State University's criminal justice program stood out among the rest. After spending two years in community college, Cary was able to transfer to SHSU and eventually dove into leadership positions and student organizations. During his time at SHSU, he served as an ambassador for the Elliott T. Bowers Honors College and was a member of the National Society of Leadership and Success.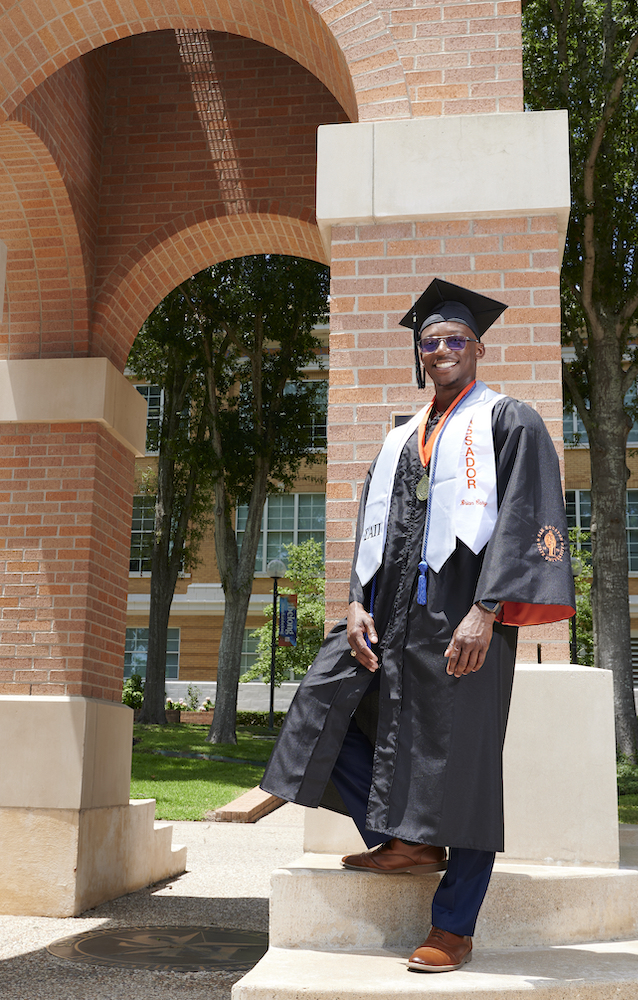 "When I transferred to Sam Houston State University, I felt that it would be best to stay to myself, but as I moved through the semesters, I soon realized that communicating and connecting with professors and students would place me in positions that I could never do alone," Cary said. "Developing a social status was a challenge and I overcame it by attending events held for criminal justice students and speaking to each of my professors twice a week at the end of class."
Cary also had another challenge to tackle when he entered the university: time management, an issue that plagues many students. Cary was determined to overcome this obstacle and employed a saying that his parents passed to him, the five P's, "prior preparation prevents poor performance." Thanks to this mantra, he was able to maintain very high grades in the five-to-six courses he took each semester and keep up with work in student organizations.
After hurdling his initial social reluctance and developing a schedule that encompassed all of his goals, Cary was able to fully dedicate himself to his studies and organizations. Through his student organizations, he was able to give back to the community in numerous ways. By working on these projects and engaging with his peers in classes or in his ambassadorship, Cary can look back at his academic journey with fondness.
"I will miss the bonds I made and research I have done with my professors," Cary said. "I will also miss the friendships that I developed throughout my college career that strengthened my social presence and interpersonal skills when I communicated with people, from a stranger at the rec center to the students and staff at the honors college and honors classes."
- END -
This page maintained by SHSU's Communications Office:
Associate Director, Communications: Emily Binetti
Telephone:936.294.4406
Communications Manager: Mikah Boyd
Telephone: 936.294.1837
Communications Writer: Campbell Atkins
Telephone: 936.294.2638
Thomason Building: Suite 102
Please send comments, corrections, news tips to Today@Sam.edu