Bearkat Rugby Celebrates 50 Years
Oct. 6, 2023
SHSU Media Contact: Campbell Atkins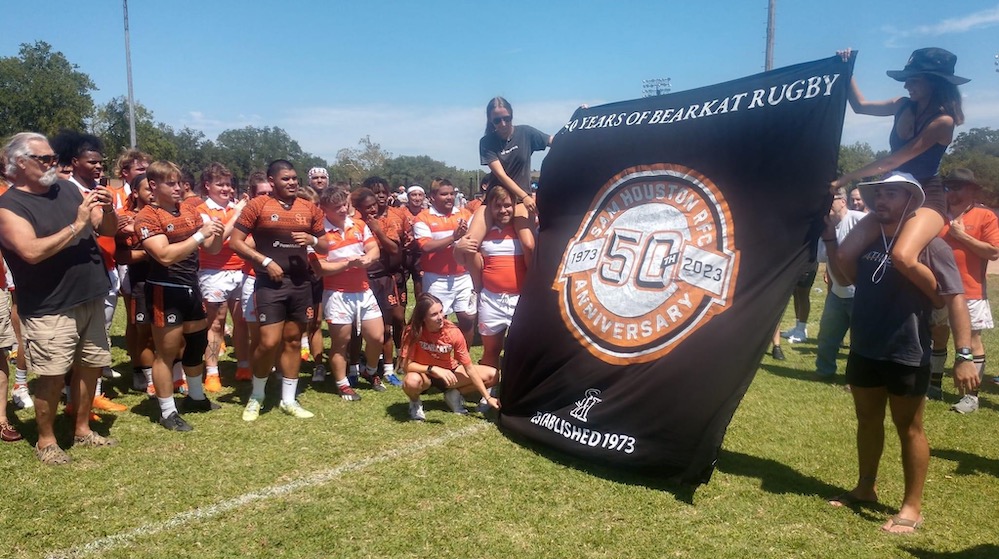 Over 200 Sam Houston State University rugby alumni gathered together at Pritchett Field this month to celebrate the club's 50th anniversary. The event highlighted the vast strides made by the program in recent years as well as the legacy that helped establish it all.
"Seeing all the alumni come out together to support the current players shows what it means to be a family, and that is what Sam rugby is," said current club captain Garrett Ros. "It shows the current players that this is for life and the memories we make will keep us all together after we are done playing."
SHSU's rugby squad, under the guidance of coaches Ramon Serrano and Luke Nenes, has established themselves as a perennial powerhouse and the most prestigious collegiate rugby program in the state. Since Serrano took the reins in 2015, the Bearkats have won six conference titles, qualified for the national playoffs seven times and won a national championship. They have also sent three athletes to the professional ranks.
The journey, however, began all the way back in 1972 when a young man named Dewitt Lindsey walked through the doors of the Evans Building with a rugby ball in his hands. He was spotted by Phillip Parotti, a newly-named English professor with a love for the sport.
"I pointed to the ball and asked him about it and he said he was going to start a team," said Parotti, who retired as professor emeritus from SHSU in 2004. "I, of course, encouraged him and agreed to be faculty sponsor."
Parotti was a member of the first rugby team at the United States Naval Academy in the 1960s. He served for four years as gunnery officer on three different destroyers before shifting to reserves and earning his doctorate at the University of New Mexico. His position as English professor at SHSU, which he held for over 30 years, was his first and only job. During his first five years in the role, he also served as the first ever Bearkat rugby coach.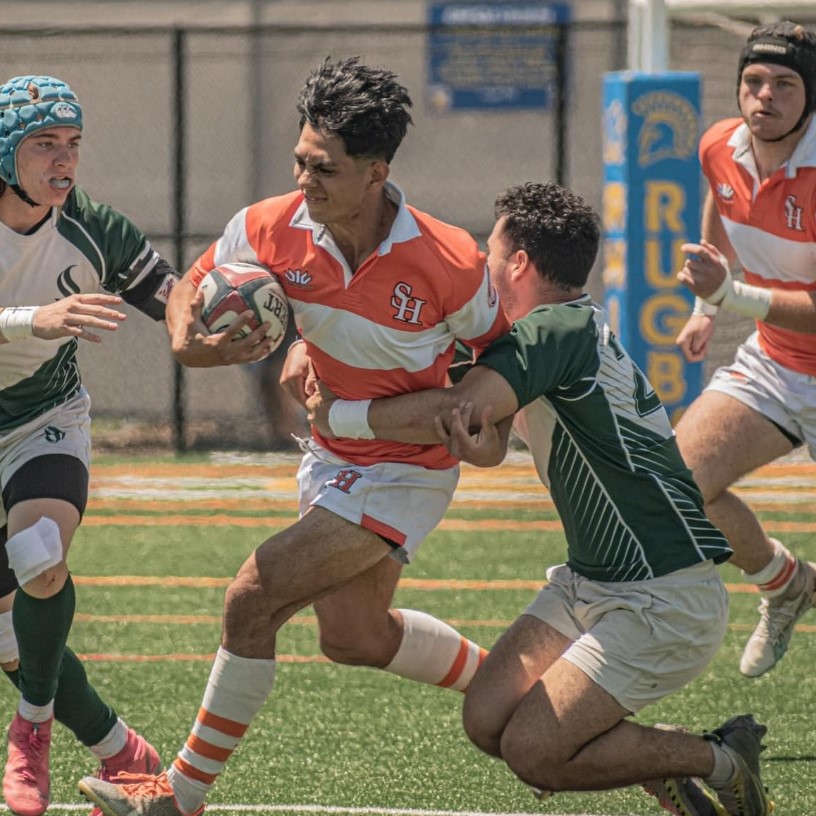 "They decided to go ahead and form the club and I made the mistake of asking who was going to coach it. They all turned and looked at me," Parotti said. "There would be times when we wouldn't practice until midnight because we couldn't even get on the field."
At the time, there was just one field reserved for intramural activities, which was located where the Bernard G. Johnson Coliseum now sits. But Parotti would often keep his players active by sending them on a two-mile run up Bowers Boulevard, which was a simple dirt road at the time
"That turned out to be a really good thing," Parotti said. "We were in such good shape that we ran every team in the southern counties of the Texas Rugby Union practically to death by the end of the first half."
This momentum took the Bearkats all the way to the championship match in their inaugural season. SHSU would ultimately earn second place when they fell to the Old Boys Rugby Club in Houston on a last second running field goal.
"But from that time on, rugby just picked up at the university," Parotti said.
Parotti served as coach for five seasons before stepping aside to focus more on his teaching career. He was succeeded by Mike Savage, who was on the first team that made a run to the title match.
Former Bearkat rugby stars are a major component in the advancement and success of the current program. Zack Tafelski took over as SHSU rugby's alumni president in 2017 and quickly established the Bearkat Rugby Alumni Association, a 501c3 nonprofit organization, with the goal of increasing the impact of the alumni base on the team and increasing their ability to provide financial support.
"It has always been my goal to help our coaches recruit rugby-focused talent that wouldn't have to worry about financial burdens, but could focus on winning," Tafelski said. "We still have a long way to go, but to see over 200 alumni and supporters turn out for the anniversary, along with many players who competed on that first team, was a proud moment for all involved."
Since the alumni organization was established in 2018, involvement has grown by more than 50 percent and they have raised over $30,000 for equipment, tournament costs and travel.
"Without our alumni, this club wouldn't exist," Ros said. "They left the club better than they found it and, over the years, that mindset has stuck with many of us."
- END -
This page maintained by SHSU's Communications Office:
Director of Content Communications: Emily Binetti
Communications Manager: Mikah Boyd
Telephone: 936.294.1837
Communications Specialist: Campbell Atkins
Telephone: 936.294.2638
Please send comments, corrections, news tips to Today@Sam.edu