Bearkat Orgs: Pretty Hot And Thick
Oct. 17, 2023
SHSU Media Contact: Mikah Boyd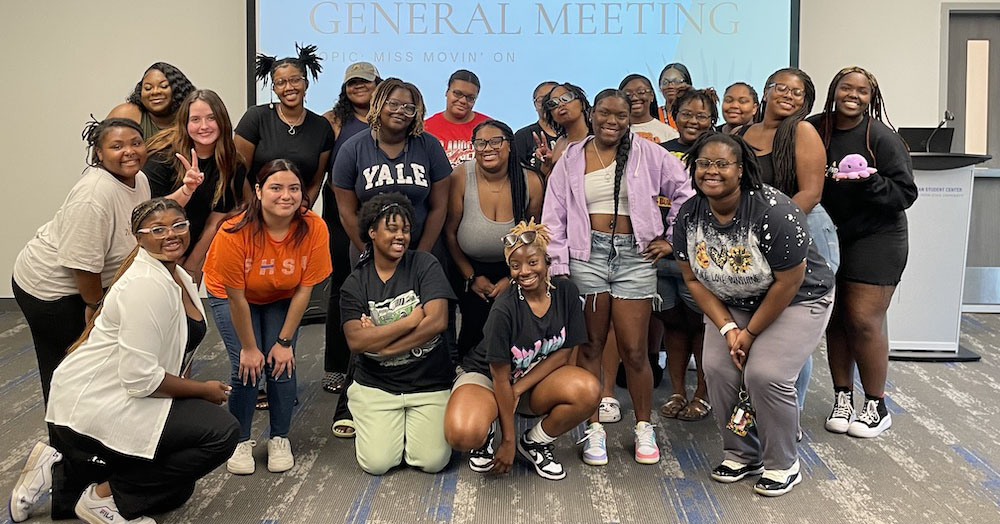 Bearkat Orgs is a series highlighting the works of SHSU's many on-campus student organizations. For more information on campus organizations or information on how to join or start a campus organization, visit OrgLINK.
---
By Jaidin Shaw
Pretty Hot and Thick (PHAT), a new organization on campus, promotes self-love and being comfortable inside your own skin regardless of your size. President and Founder Kaci Rowe started this organization just over a year ago to support plus-size individuals like herself while in college to help them through this transition period in their lives.
"It started in high school, where I saw a YouTube video of some plus-size dancers on the field, and I thought how I would love to create a space where plus-sized people are accepted," Rowe said.
Meetings are held every Wednesday at 6 p.m. and consist of icebreakers, games and open discussion about certain topics such as "Miss Moving On," a lesson about moving on from standards you keep yourself in. Rowe's favorite part of the meeting is right before it ends, when the group goes around and shares positive affirmations and how they apply them to their daily life.
"There is no other plus-sized org on campus. There's not a space that's saying okay, this is for you, this is created for you," Rowe said.
Sam Houston State University's inclusivity is what drew Rowe to SHSU knowing there is (or could be) an organization/community for everyone. This past spring, PHAT collaborated with Pose Fashion and hosted a fashion show that included models of all shapes and sizes.
"It was our most iconic event last semester. The room's energy was uplifting, and everyone was just so positive," Rowe said.
The group is excited to be able to hold another collaborative event with Pose Fashion on Oct. 19, which will feature a fashion show and a performance by PHAT's dance team. PHAT plans to do more events this year, including fundraising, community service and performances by the new dance team.
When asked what her favorite part of being a member was, Rowe said watching the growth of others. She mentioned that working with her vice president, Taya Morgan, has helped push the organization to grow and build with each new member or event.
Rowe also has long-term goals of expanding PHAT into other universities beyond the SHSU chapter.
"It is definitely something that we're looking into and trying to build and structure in our organization so that we're able to branch out and provide this space for other students, not just Sam Houston," said Rowe.
Rowe hopes anyone interested in joining knows not be afraid of the term PHAT, but rather embrace it. PHAT's main goal is to flip that negative connotation into something positive and give plus-sized individuals a new view.
"Being fat is not a bad thing. It's something that can be embraced, something that can be positive. Don't let our name scare you," Rowe said.
- END -
This page maintained by SHSU's Communications Office:
Director of Content Communications: Emily Binetti
Communications Manager: Mikah Boyd
Telephone: 936.294.1837
Communications Specialist: Campbell Atkins
Telephone: 936.294.2638
Please send comments, corrections, news tips to Today@Sam.edu