Students Explore The Heart Of The Delta
July 22, 22
SHSU Media Contact: Campbell Atkins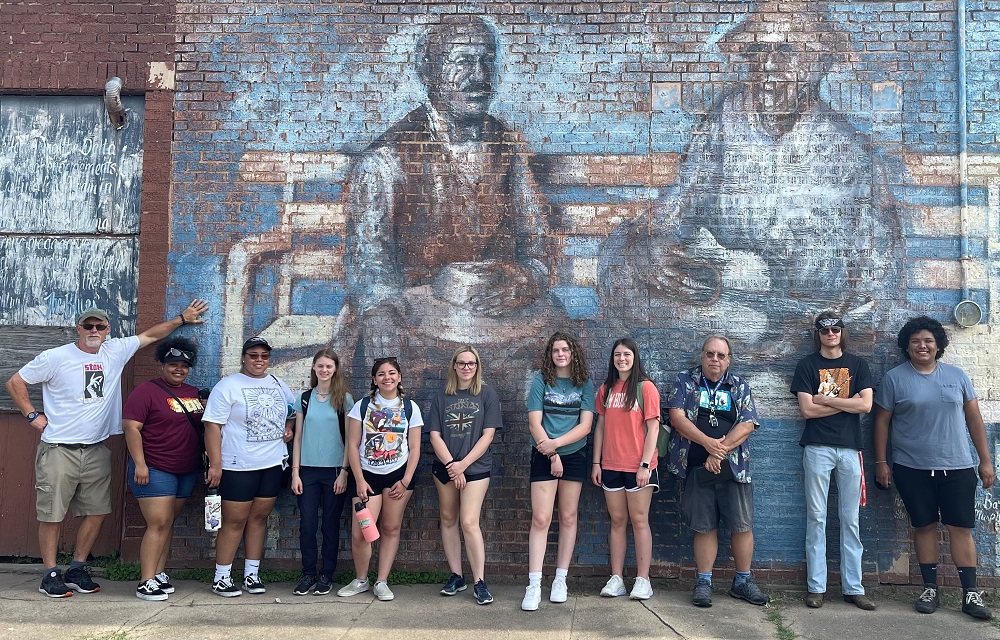 Sam Houston State University honors students from the Elliott T. Bowers Honors College immersed themselves in the heart and soul of Blues-rooted music and American culture in May with a trip to the Mississippi Delta. The trip was in conjunction with an Honors Study Away seminar and was unofficially dubbed Music, Civil Rights & the Birthplace of the Blues: The Geography and Soul of the Mississippi Delta.
Geography Professor John Strait, who has made this trip on over 20 occasions through the years, led the group of students through the "Birthplace of the Blues" and showcased several locations that help consumers and travelers understand the music and, in turn, the places from where it evolved, on a deeper level.
"When you hear a song out of context, it may be a good song and you may relate to the lyrics," Strait said. "But if you are spending time immersed in a geographical area that evokes the cultural context that the singer and original listeners were in, you can relate to it more urgently."
SHSU student Alex Palomares was at first on the fence about attending and entered with little knowledge of the area or the music they would develop a deeper understanding for along the way.
"What I wanted was a school trip during the summer, to go somewhere I had not been," Palomares said. "Once we got there, it was an incredible experience. I had never listened to the blues or that type of music, but I really appreciate it now and everything we went over. Being at those places really was a big factor in learning about the music."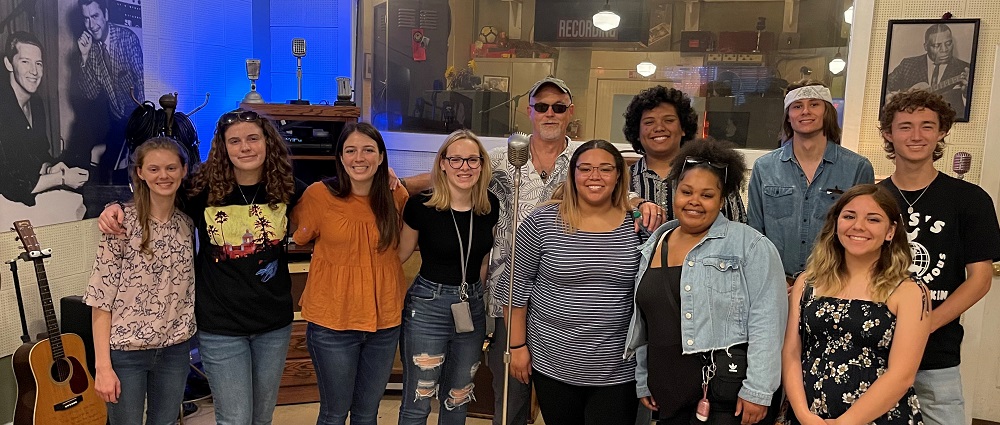 Hailey Richardson made the same trip in August of 2021 and has an immense appreciation for it nearly a year later.
"I feel the best way to understand geography is by getting in the field," Richardson said. "This is our way of understanding people. We got to live their lives through their shoes to fully understand and get a wholistic perspective of what went on through the Mississippi Delta through the great migration."
While always passionate about geography, Richardson admitted her knowledge of blues-rooted music extended no further than her parents' stereo. Her appreciation for the genres, and music as a whole, grew rapidly on the trip.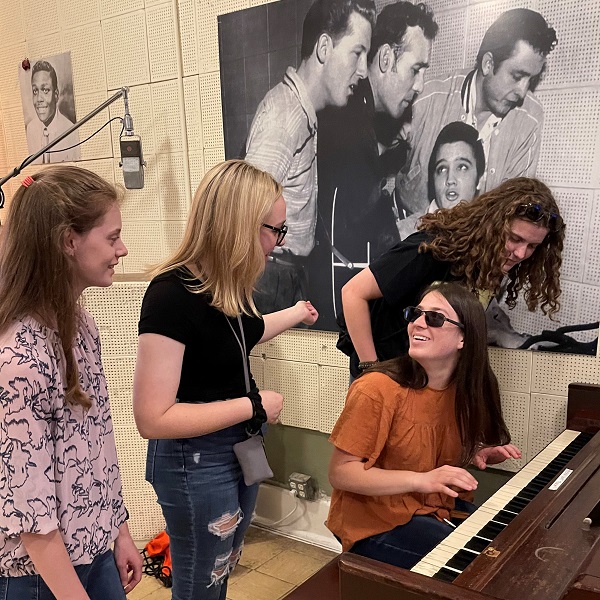 "There is so much more than just listening to the melody and the lyrics behind it," Richardson said. "You cannot feel that emotional burden until you are there in that moment."
The trip's destinations not only gave the students a better angle to approach the music at hand, but also gave them historical and geographical perspectives regarding the music and this portion of the United States as a whole.
"Blues music and blues-rooted music have a lot to do with cultural conditions and changes that were occurring at the time and place where it evolved," Strait said. "It enables students to realize that music is not just about the music, people weren't just singing to entertain themselves."
Blues-rooted music may sound broad, but Strait describes it to encompass genres such as blues, gospel, soul, rock n' roll, etc. The major focus of the course was to discuss the various ways these genres functioned as a form of cultural affirmation that both reflected and encouraged social change. For example, this music didn't just reflect the civil rights movement, it was itself part of that movement.
One of the trip's highlights turned out to be a visit to Stovall Plantation, former home of blues legend McKinley Morganfield, better known as Muddy Waters.
"We were at the location where his house stood," Strait said. "I think that particular location is important because Muddy Waters as a person and what he represents are symbolic of change."
The group's travels also took them to Memphis hotspots such as the National Civil Rights Museum at the Lorraine Motel, where Martin Luther King Jr. was assassinated in 1968, as well as Beale Street, Sun Studios and Stax Museum of American Soul Music. They also explored the hometowns of artist B.B. King and activist Mrs. Fannie Lou Hamer along with Dockery Farms, which is widely regarded as the place where Delta blues was born.
They also visited the town Emmett Till was abducted and lynched in, a tragedy that helped spark the modern civil rights movement.
Whether it was music, civil rights history or geographic practices, Strait and the students consumed every bit of the Mississippi Delta and learned its true contributions to the nation on a deep, sincere level. This included literal consumption, as well, with stops to taste a variety of Delta cuisine, such as authentic soul food, barbecue, fried catfish, hot tamales, okra, barbecued spaghetti and fried dill pickles.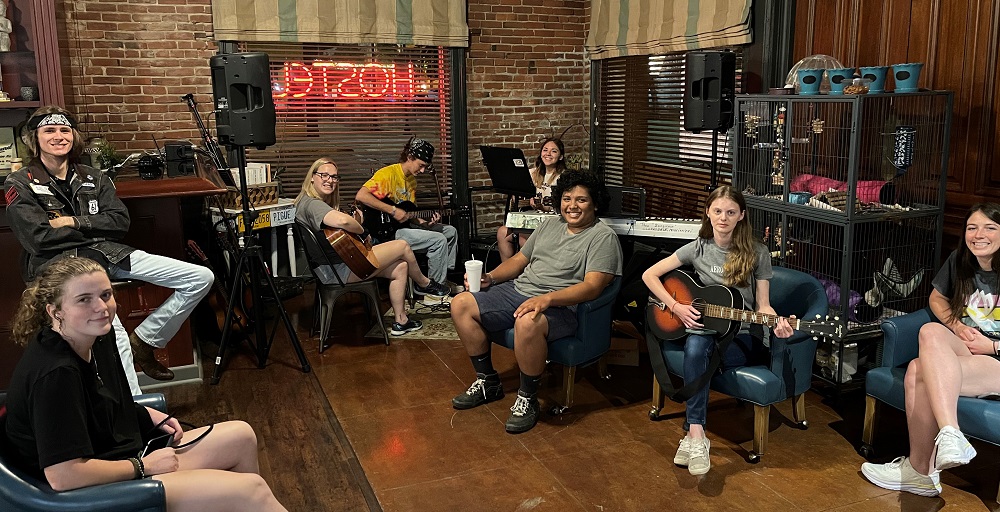 The travel van was rocking with blues-rooted music the entire trip, but they also experienced several live musical performances, as well. The highlight was Red's Lounge, the famous juke joint in Clarksdale, Miss., where they enjoyed the genius of Lucious Spiller.
This place-based field course is not uniquely available to honors students, as the course (GEOG 4360) is offered on an annual basis as part of the geography curriculum at SHSU. Strait will take another group of students on the trip again in August. After the field immersion in the Delta, Strait and the students will meet in the classroom for a seminar during the fall semester. The group will include a couple of familiar faces of those who have already embarked on the journey but desire to do so again. Strait and his wife and colleague, Ava Fujimoto-Strait, also regularly offer similar field-based courses that entail immersion within various other places, such as Hawaii, Spain and Morocco.
- END -
This page maintained by SHSU's Communications Office:
Director of Content Communications: Emily Binetti
Communications Manager: Mikah Boyd
Telephone: 936.294.1837
Communications Specialist: Campbell Atkins
Telephone: 936.294.2638
Please send comments, corrections, news tips to Today@Sam.edu