SHSU Undergrad Research Program Hits National Stage
Dec. 7, 2022
SHSU Media Contact: Campbell Joseph Atkins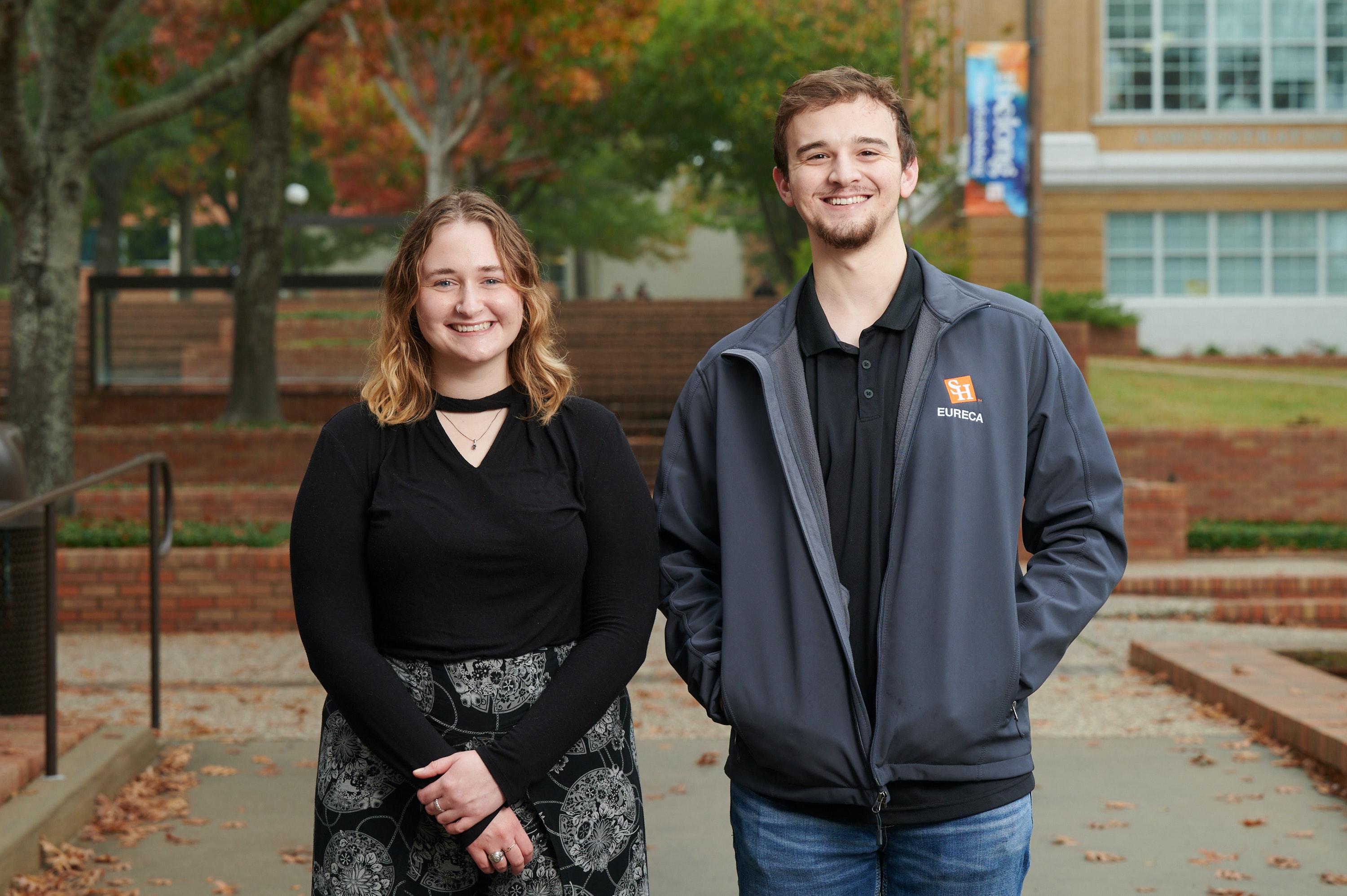 ---
Four Sam Houston State University students and three staff or faculty members were selected to be a part of the Council on Undergraduate Research's (CUR) 2022-23 Scholars Transforming Through Research (STR) Program. The Sam students were broken into three teams, led by a campus representative, for a competitive, application-based professional development opportunity in Washington D.C.
The teams represent 62 institutions from 28 states, including seven in Texas, and are comprised of 75 campus representatives and 124 undergraduate researchers.
Kate Chandler (Class of 2023) and Nate Rodriguez (Class of 2024) comprised one team for SHSU along with campus representative Kelbi Delaune. Diana Olivares (Class of 2023) is on another SHSU team with campus representative Amanda Scarbrough while another includes Brooke Brown (Class of 2023) with campus representative Mariah Jade Zimpfer.
Chandler, an environmental sciences major, conducted her research in the field of botany while Rodriguez, a psychology major, conducted research in psychopharmacology. Olivares, a healthcare administration major, research food safety while Brown, a public health major, researched epidemiology.
The teams, selected in September, are participating in a six-month program in the hopes of developing their communication and advocacy skills in their particular fields, which will allow them to convey the power of the high-impact practices of undergraduate research, scholarship and creative inquiry experience to diverse stakeholder groups.
"The goal is to start building relationships with those who influence policy," Delaune said on the D.C. training workshop, which took place last month. "They are not experts in these fields, but we are. We have a body of experts here who can help inform the direction of certain policies, whether that be increasing funding or changing the way a program is ran."
Delaune currently leads SHSU's Enhancing Undergraduate Research Experiences and Creative Activities (EURECA) organization and now holds the university's first full-time position devoted to expanding and enhancing undergraduate research.
"I helped merge EURECA into the Office of Research and Sponsored Programs to utilize the resources we have here to create a robust research enterprise for students," Delaune said. "One of the first things we did was enroll us into CUR. This gives access to every faculty member to attend their conferences, join committees relevant to their discipline and get connected to resources on the best practices in student engagement. This is for anything from the traditional sciences all the way to art. It is very inclusive."
After CUR's annual ConnectUR event over the summer, Delaune was notified of the organization's STR program, which ultimately led to the teams' selections.
On top of attending a workshop in D.C., the teams spoke with stakeholders in undergraduate research including Virginian Senator Don Beyer, an outspoken proponent of undergraduate research. They also learned how to draft policy briefings to relay their information in an effective way to those who influence policy.
Each month, they will participate in a different workshop and showcase. They will next learn how to properly formulate research-informed op-ed piecesand build relationships with relevant policymakers.
"My goal is to increase our representation on that national stage for student engagement," Delaune said on the future of the program at SHSU. "CUR is excited to be offering a program of such critical importance to the development of civically engaged researchers and elevates the significance of effective human engagement skills," said Lindsay Currie, CUR executive officer, on the organization's STR program. "I look forward to working with these 2022-23 STR participants during their journey and celebrating their accomplishments."
According to Delaune, these skills will elevate the visibility of SHSU as a key player in undergraduate engagement as well as provide community and civic engagement opportunities to campus. Additionally, the groups will continue to advocate for federal funding to expand and diversify student engagement opportunities at SHSU.
Institutional membership is designed to assist secondary and postsecondary institutions with developing, supporting and sustaining their undergraduate research efforts. Partnering with CUR enables campus transformation, offering tools for administrators, opportunities to showcase and strength student achievements, and access professional development in research and curriculum for faculty and staff. Institutional membership exemplifies administrative commitment to undergraduate research, a message that resonates with faculty and students, both current and prospective.
- END -
This page maintained by SHSU's Communications Office:
Director of Content Communications: Emily Binetti
Communications Manager: Mikah Boyd
Telephone: 936.294.1837
Communications Specialist: Campbell Atkins
Telephone: 936.294.2638
Please send comments, corrections, news tips to Today@Sam.edu