Nursing Student Pays It Forward
Sept. 19, 2022
SHSU Media Contact: Emily Binetti
By Lidia Gutierrez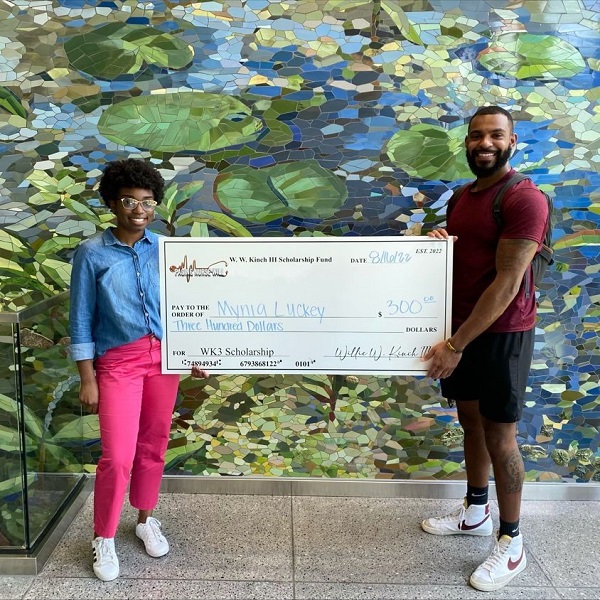 To many students, the university's motto isn't just a phrase. Many students take Sam Houston State University's motto, "The measure of a Life is its Service," and live up to it through their hard work and dedication to servicing others.
William Kinch III, a nursing student at SHSU, is an example of dedicating themselves to servicing others. He is keen on being involved and helping the people around him.
Kinch is the founder of WK3 Scholarship of Excellence, a scholarship to help nursing students with their nursing board exam, the National Council Licensure Examination for Registered Nurses (NCLEX).
"I created this scholarship as a way to alleviate some of the financial burden of the NCLEX preparation," Kinch said. "I've been planning this since halfway through the spring semester. It's not official through the school just yet, so the people that have helped me with donations are doing it from the kindness of their hearts."
Since entering SHSU, Kinch has served as president of the Theta Mu chapter of Alpha Phi Alpha, two-term vice president of SHSU's NAACP chapter, helped create the Student Health Advisory Committee, served as president of Order of Omega Greek Honor Society, was a member of Student Nursing Association and has been inducted in the university's Honor's College.
"I'm also a struggling student," Kinch said. "It made me think that someone else might need some help, so why not help them? Not everyone has financial support, so I wanted to help alleviate that for someone. I've been well-off when it comes to networking, so I do know a lot of people who would be happy to donate out of selflessness."
Senior Mynia Luckey was awarded as the first annual recipient of the WK3 Scholarship.
"I was really surprised that I won, I wasn't expecting it," Luckey said. "A lot of the times when you apply for scholarships, it's easy to get discouraged, but I still wanted to give this opportunity a try."
Luckey has spent much of her free time at SHSU volunteering. Serving through an outreach group, she has provided volunteer medical services at concert events. She also has served as president and secretary at True Life Change, an organization promoting hope and a good life through a higher power.
"Nursing school has been fun, challenging and so interesting," Luckey said. "After graduation I plan on working at a hospital in Houston. I'm still trying to decide between two of them."
Kinch will be working in the background to expand and make his scholarship official.
"I'm not quite there yet," Kinch said. "Once I graduate and have more time on my hands, I anticipate to have this scholarship ready by next fall."
Both Kinch and Luckey will be taking their board exams after their graduation in December.
- END -
This page maintained by SHSU's Communications Office:
Director of Content Communications: Emily Binetti
Communications Manager: Mikah Boyd
Telephone: 936.294.1837
Communications Specialist: Campbell Atkins
Telephone: 936.294.2638
Please send comments, corrections, news tips to Today@Sam.edu