Sam Houston State University Ombudsperson Named
Jan. 12, 2022
SHSU Media Contact: Emily Binetti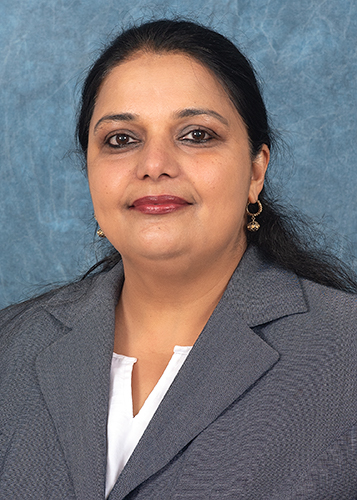 Falguni Mukherjee, associate professor in Sam Houston State University's Department of Environmental and Geosciences, has been selected to serve as the university's faculty/staff campus ombudsperson for the 2022 calendar year.
In this newly created role, Mukherjee will facilitate informal resolution of conflicts, concerns or issues raised by faculty and staff of the campus community. She will devote the spring 2022 semester to developing the ombudsperson office, including establishing an office charter and participating in professional ombudsperson training. The office will open to employees this summer.
Like other organizations, academic institutions have evolved and grown increasingly diverse and complex. Coupled with this, the policies, laws and regulations that impact universities have also become more complex. The office of an ombudsperson was developed at SHSU to assist and respond to those challenges.
An ombudsperson can help individuals talk through strategies, options and resources for addressing concerns by providing an impartial perspective without organizational allegiance to any college or university department.
"Fair treatment and procedural justice are at the heart of an ombudsperson office," Mukherjee said. "This office is in place to address any issues related to workplace conflict for any member of the university community, ensure fair treatment and assist in creating a safe and equitable environment."
An organizational ombudsperson provides a protected place to confidentially raise issues and concerns.
"This service offers a safe space for independent and confidential dialogue, a place where any (faculty or staff) member of the university community feels free to come and share their concerns. This is only possible when conducted in a confidential manner," Mukherjee said.
In addition to individuals, the ombudsperson also works with groups, both in a confidential setting (such as mediation) as well as in a more open setting (such as trainings or workshops).
Mukherjee joined SHSU in 2010 and has served as the graduate coordinator for the MS program in Geographic Information Systems since 2014. During this time, she has engaged in a variety of teaching, research and service activities.
"My efforts have always been geared towards upholding the motto of SHSU, 'The measure of a Life is its Service.' This has been my guiding principle since I joined the university as a tenure track assistant professor, particularly in my interactions with students, faculty, and staff," Mukherjee said. "I believe in a positive outcome no matter the negatives involved and hence always strive to solve a problem and arrive at a resolution. More importantly, I firmly believe that everyone deserves to be heard irrespective of their role, rank, or position."
- END -
This page maintained by SHSU's Communications Office:
Director of Content Communications: Emily Binetti
Communications Manager: Mikah Boyd
Telephone: 936.294.1837
Communications Specialist: Campbell Atkins
Telephone: 936.294.2638
Please send comments, corrections, news tips to Today@Sam.edu