University Greek Life Office Named Program Of The Year
March 30, 2022
SHSU Media Contact: Wes Hamilton
By Jerrell Sherman
The Sam Houston State University Greek Life Office received the prestigious Program of the Year Award for its STAR Program from The American College Personnel Association (ACPA) during the 2022 ACPA Entity Awards held on March 7, 2022. The award recognizes a vetted influential student engagement and development-based program that has shown itself to be distinctive, inspirational, and beneficial to the local community, its students, and their institution. A wide variety of university departments from throughout the country were in contention for this award that historically has recognized high-quality student leadership and development programs that have shown themselves to successfully prepare future generations of leaders in society.
The STAR Program was implemented by Jerrell Sherman and Jeanine Bias in 2010. On behalf of the Greek Life Office, Jerrell Sherman, associate dean of Student Advocacy and Mark Taplette, assistant director of Greek Life, traveled to receive the award.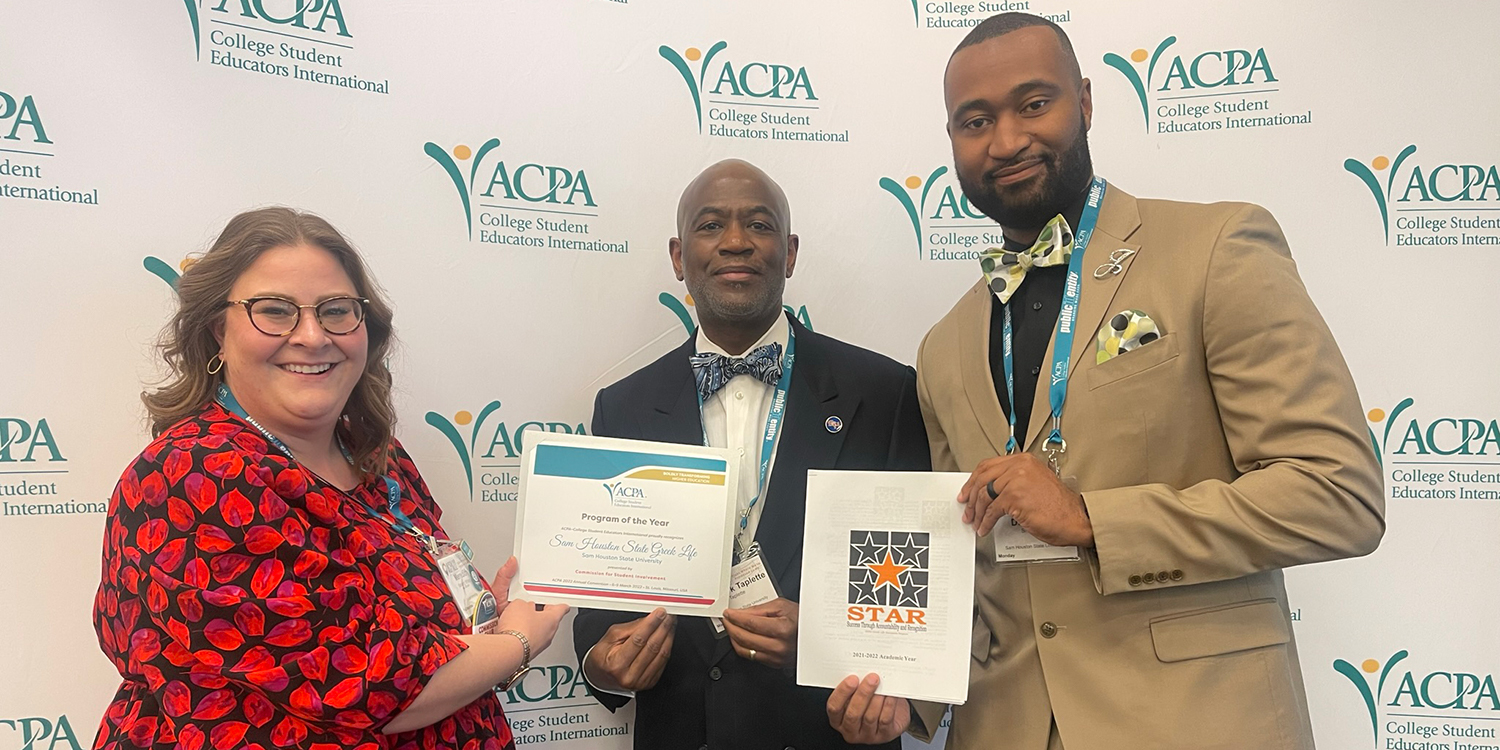 "The award reflects our Greek Life staff's commitment to high-quality support in the development and justification of fraternities and sororities living up to the aims and standards their founders intended for their organizations," Sherman said. "We have worked very hard to construct and cultivate a 'gold standard' fraternity and sorority life program based on best practices and accountability. The success of the STAR program and our Greek organizations since its implementation are reflected in this honor, along with the many accolades the SHSU Greek Life staff and Greek organizations have received in recent years."
Taplette believes that this recognition validates the program as well serves as a step in program evaluation.

"Program evaluation is a valuable tool as it seeks to strengthen the quality of our program and improve outcomes for the entire Greek Community we serve," Taplette said. "This award, and the program evaluation used to appraise STAR's value, answers basic questions concerning the program's usefulness. Thus, this evaluation can be used to improve the STAR program's services. I feel that while the STAR program could always have room for enhancement, this national award by our higher educational peers and colleagues, substantiates we are progressing in the right direction."
Dean of Student Advocacy John Yarabeck extended kudos to the Greek Life staff members and the Greek Life community as a whole for each of their outstanding efforts that made this trend setting national award possible.
"The information gained from the STAR Program is vital and is utilized by our staff to showcase the many ways our students who are members of fraternities and sororities bring to life the university motto of 'The measure of a life is its service'," Yarabeck said.
The STAR Program provides a process by which the Greek Life Office (GLO) ensures that an organization meets minimum expectations in truly upholding the values or four pillars of Greek Life membership: Scholarship, Leadership, Service, and Brotherhood/Sisterhood. Each fraternity and sorority at SHSU are encouraged to develop its members into values-driven contributors to a larger society. While many fraternities and sororities provide quality membership experiences, the STAR Program has established a proven and detailed framework to encourage and challenge Greek organizations to continuously pursue excellence.
The efforts of the hard-working Greek community have resulted in 13 SHSU Greek organizations obtaining the highest award/recognition which their national headquarters honor their respective chapters with since the STAR Program was implemented. Just this academic year alone, SHSU Greeks have completed 12,576 hours of community service and raised $74,577 for various charities. Since 2010, the SHSU Greek Life community has completed more than 215,000 hours of community service and raised over $900,000 for charities.
Founded in 1924, ACPA is an internationally recognized association serving student affairs and higher education professionals. For more information, visit the ACPA website.
- END -
This page maintained by SHSU's Communications Office:
Director of Content Communications: Emily Binetti
Communications Manager: Mikah Boyd
Telephone: 936.294.1837
Communications Specialist: Campbell Atkins
Telephone: 936.294.2638
Please send comments, corrections, news tips to Today@Sam.edu