A Bearkat's Great Catch
Oct. 13, 2022
SHSU Media Contact: Campbell Atkins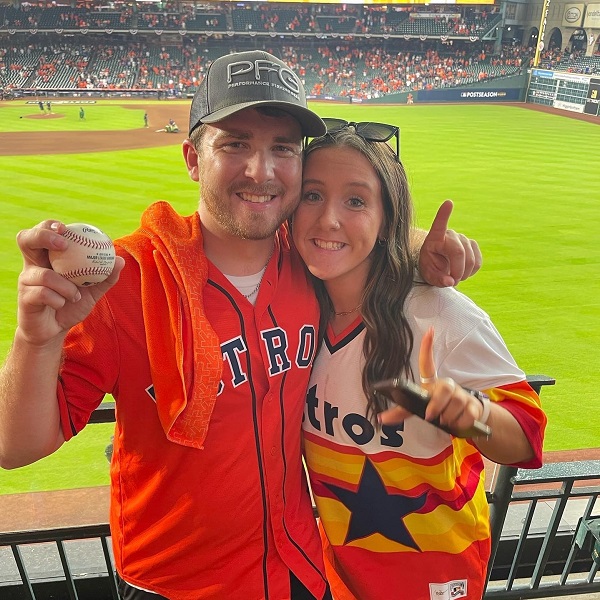 The odds of overcoming a four-run deficit after seven innings in a Major League Baseball game are not quite as low as any given fan's chance of snagging a walk-off homerun ball in the postseason. The Houston Astros and Sam Houston State University alumnus Dillon Harrell, however, accomplished each feat in a historic Tuesday afternoon at Minute Maid Park.
The top-seeded Astros fell behind early to the Seattle Mariners in game one of the American League Division Series (ALDS). The Mariners, competing in their first postseason since 2001, kept Houston's highly touted offense at bay in the middle innings and built a 7-3 advantage entering the bottom of the eight.
In section 253, row 6, meanwhile, Harrell watched the action along with his mother, best friend, Taylor, and sister, Amanda Harrell, who purchased the tickets for Dillon's 26th birthday present. This was the perfect gift for Dillon, a lifelong Astros fan always willing to talk your ear off about his team.
"My mom started taking me to games when I was five or six," Dillon said while reminiscing about the Killer B's and teams of old. "We have been going ever since. When they won the World Series in 2017, it was such an exciting time because they had been through such a hard drought."
Dillon, along with all Astros fans, is hoping to see the team find their way back into the championship circle after a pair of World Series losses in 2019 and 2021. He was in attendance less than a month ago when superstar left fielder Yordan Alvarez launched three homeruns to help the Astros defeat the Oakland Athletics on the same day they clinched their sixth straight playoff berth.
After the release of the ALDS schedule days later, Amanda purchased his gift in the exact same section and offered eerie foreshadowing of her own.
"I kid you not, she said if Yordan can hit three of them out to right field while we were there, he can certainly hit another one right to us," Dillon said.
As it turned out, it would be the most important homerun of his young career.
A pair of runs in the bottom of the eighth set the Astros up with a ninth inning rally and a desperate attempt at a late comeback. After pinch hitter David Hensley was hit by a pitch and Jeremy Pena singled to center field, the winning run came to the plate with two outs in the form of Alvarez. After fouling Robbie Ray's first pitch back, he connected with the ball that now sits in Dillon's trophy case.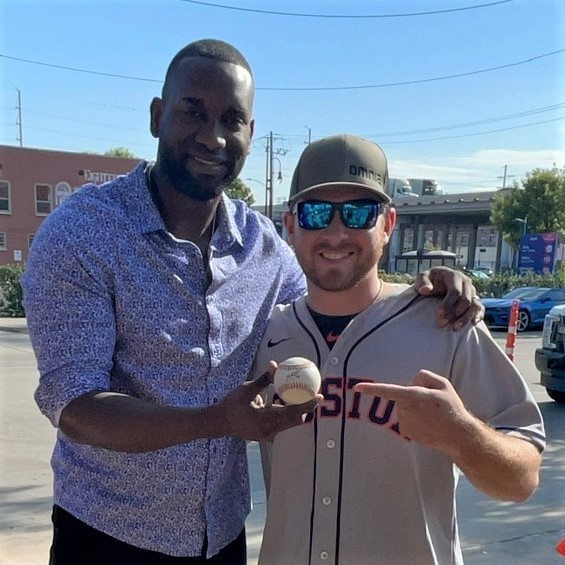 "As soon as he hit it, the entire stadium knew it was out," Dillon said. "It wasn't until the ball kind of crested in the air that I realized this thing was coming right for us."
Like most wise individuals, Dillon's first instinct was to get out of harm's way, as an Alvarez-drilled homerun ball is liable to do some serious damage.
"If I had taken it in the chest, we would probably be talking about this all over text," Dillon said.
As it turned out, the ball ultimately collided with one of the empty seats next to him. The seats were originally occupied by fans who decided to leave the game early while the Astros were down.
"They had left the inning before," Dillon said. "I was glad they did, but I really felt bad for them."
He was able to dive on top of the loose baseball once it settled under the empty seat. Since many fans immediately crowded the small space to see if they had a chance at it, Taylor put his arms around Dillon to protect him from grabbing fans.
"When everyone realized they weren't going to get it, Taylor kind of picked me up out of the pile of people and I had the ball in my hand," Dillon said. "The chaos commenced from there."
The only person Dillon would give the ball to, if he asked for it, would be Alvarez himself. He is not interested in the prospect of selling it and is much more ecstatic about the sentimental value of scoring a historic homerun ball from one of his favorite players.
"This is something I want to be able to show my kids and grandkids," Dillon said. "To everyone else, this is the ball Yordan hit to win the game. To me, it's the ball he hit to me to win the game on my birthday. You cannot beat that."
Dillon graduated from SHSU in December of 2019 as an agricultural business major and now competes as a professional fisherman. He was a member of the bass fishing team during his time at SHSU. During the offseason, he works as a realtor for his family's business.
Amanda Harrell is currently a criminal justice major at SHSU and plans to graduate in the spring of 2023. Taylor studies animal science with a minor in secondary education at Sam and plans to graduate at the same time.
- END -
This page maintained by SHSU's Communications Office:
Associate Director, Communications: Emily Binetti
Telephone:936.294.4406
Communications Manager: Mikah Boyd
Telephone: 936.294.1837
Communications Writer: Campbell Atkins
Telephone: 936.294.2638
Thomason Building: Suite 102
Please send comments, corrections, news tips to Today@Sam.edu