Rising from The Ashes: Window Honors SHSU's History and Motto
March 31, 2021
SHSU Media Contact: Emily Binetti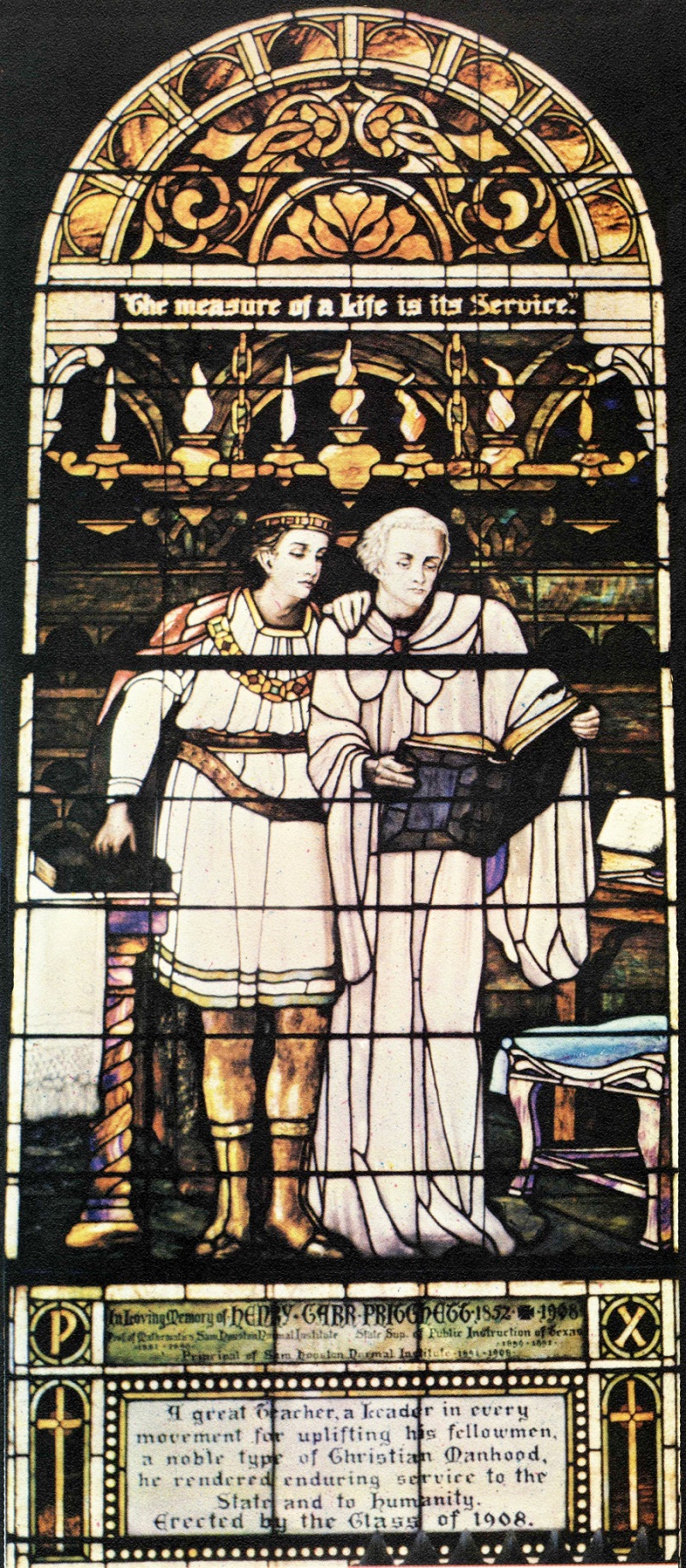 Within the newly renovated and expanded Lowman Student Center, a part of Sam Houston State University's unique history has been preserved. A project that took over a year to fully achieve honors a memorial first featured on campus over 100 years ago that inspired the university's official motto.
The notion of service at SHSU is deeply rooted in its culture and reflected in the motto, "The measure of a Life is its Service." It stems from the university's earliest years when the campus was known as the Sam Houston Normal Institute, led by Henry Carr Pritchett. During his 17-year tenure, Pritchett did much to advance the institute and secondary education in the state.
After Pritchett's passing in 1908, Harry F. Estill was named his successor. Estill charged the faculty to submit quotes that would reflect the late principal's ideals and serve as part of a memorial in Pritchett's memory.
It was Augusta Lawrence, professor of literature, who suggested a phrase from a short story, "The Militants" by Mary Raymond Shipman. "The measure of a Life is its Service" was featured on an intricately designed stained-glass window and placed in Sam Houston Memorial Auditorium in the most prominent building on campus, Old Main.
Tragically, when Old Main burned on Feb. 12, 1982, the Pritchett window was destroyed. Although the legendary window was lost the quote it featured would live on to officially become SHSU's motto.
---
Click through more photos below from SHSU's Flickr page. Photo credit - Brian Blalock
---
Reviving history
In 2020, Frank Parker, vice president for Student Affairs, came up with the idea of recreating the historic stained-glass window, and having it permanently placed in the newly expanded LSC. The goal was to help build student awareness of the university's motto and provide a visible, historical context by showing how it was originally displayed.
"We want to reconnect with our history," Parker said. "Obviously, our students today will never have the opportunity to see Old Main, but if they visit the Old Main Memorial site on campus, look at photos of the building and visit the replica window in the LSC, they will hopefully get a good idea of just how majestic Old Main was."
Parker enlisted the skills of Student Activities director, Brandon Cooper, to help make the concept a reality by leading the extensive project.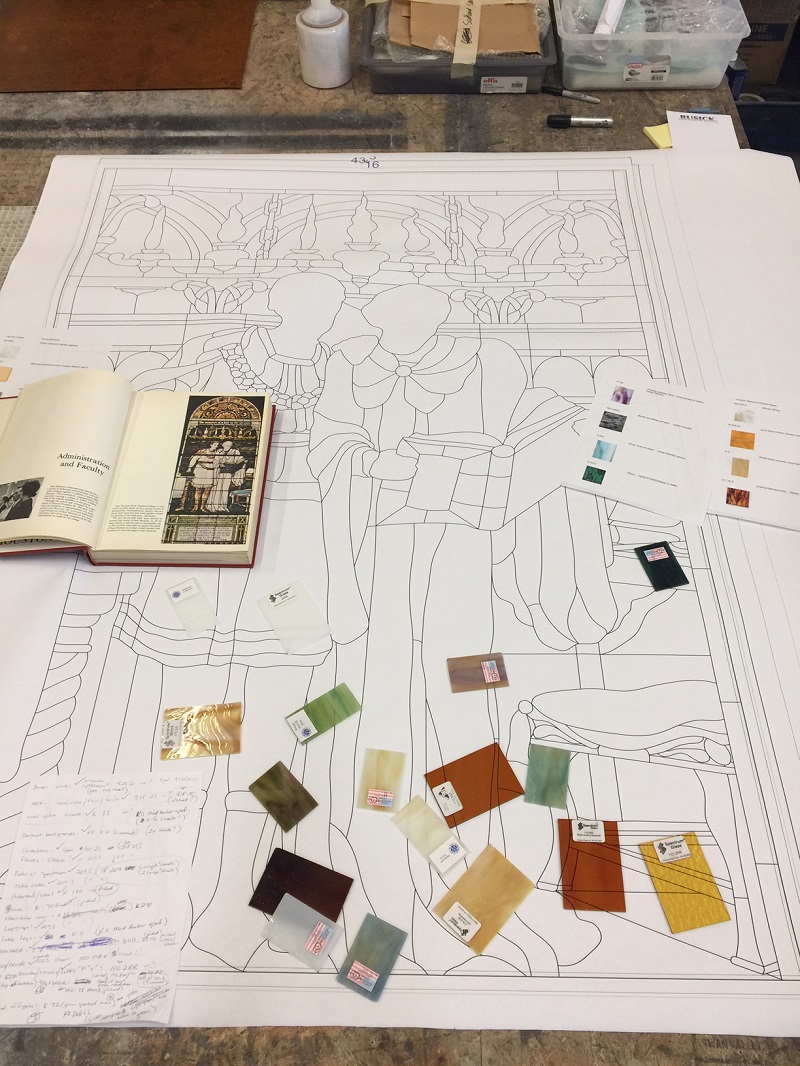 "As a Bearkat and university history enthusiast at heart, the opportunity to bring something back to our campus that was so beautiful and symbolic, was truly special," Cooper said. "While the process took over a year to complete, I enjoyed every moment of ensuring this was done with accuracy, passion, and craftmanship."
Working with Barbara Kievit-Mason, in SHSU university archives, Martin Faith and his team at Scottish Stained Glass company researched, designed, and fabricated the window over the course of 11 months. Using over 2,000 pieces of hand painted glass that comprised the design, his team went to great lengths to ensure accuracy.
"This was probably the most difficult project we've ever done, because we were trying to replicate something very old that we had only a few images of," Martin said. "I did not expect it to be as challenging as it was, but when you consider all of the details of the design, and the many layers of hand painted glass required to get the right colors and shapes, it was very complex."
One example was the recreation of the original lettering in the window that was all done by hand over 100 years ago.
"Today, we typically use specific fonts to create old lettering. We couldn't do that in this case, so we brought in an expert to create it," Faith said. "Overall, I am proud of the work we did and believe the piece is as true as it could be to the original."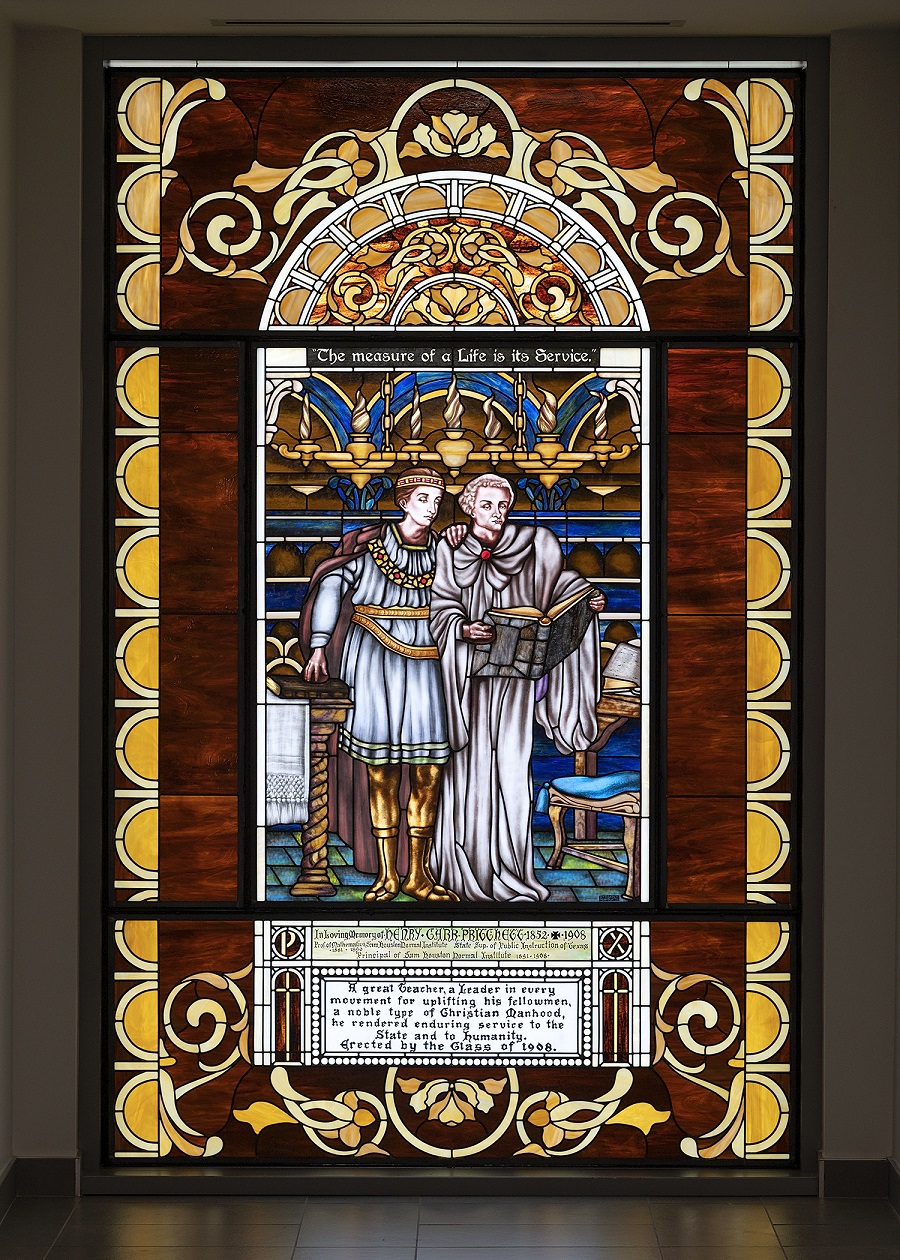 The end result
Just a short distance from where the first window was once displayed in Old Main, the replica piece finally found its new home on campus when it was recently installed in the LSC. To celebrate the momentous occasion, Parker and Cooper were joined by President Alisa White and Presidents Emeriti, Dana Hoyt and James Gaertner, for a dedication event on March 31 where the window was revealed. The great-grandson of Henry Carr Pritchett, John Pritchett, along with his wife, Patsy, and their daughter Cathy Pritchett, were also in attendance.
"We are thoroughly pleased with the final product," Parker said. "The workmanship is absolutely superb, and it looks just like the Old Main stained glass window that I remember. It will certainly be a showpiece for the university."
- END -
This page maintained by SHSU's Communications Office:
Associate Director, Communications: Emily Binetti
Telephone:936.294.4406
Communications Manager: Mikah Boyd
Telephone: 936.294.1837
Communications Writer: Campbell Atkins
Telephone: 936.294.2638
Thomason Building: Suite 102
Please send comments, corrections, news tips to Today@Sam.edu