Wildlife Management Students Furthering Deer Production Industry
Nov. 1, 2021
SHSU Media Contact: Hannah Crandall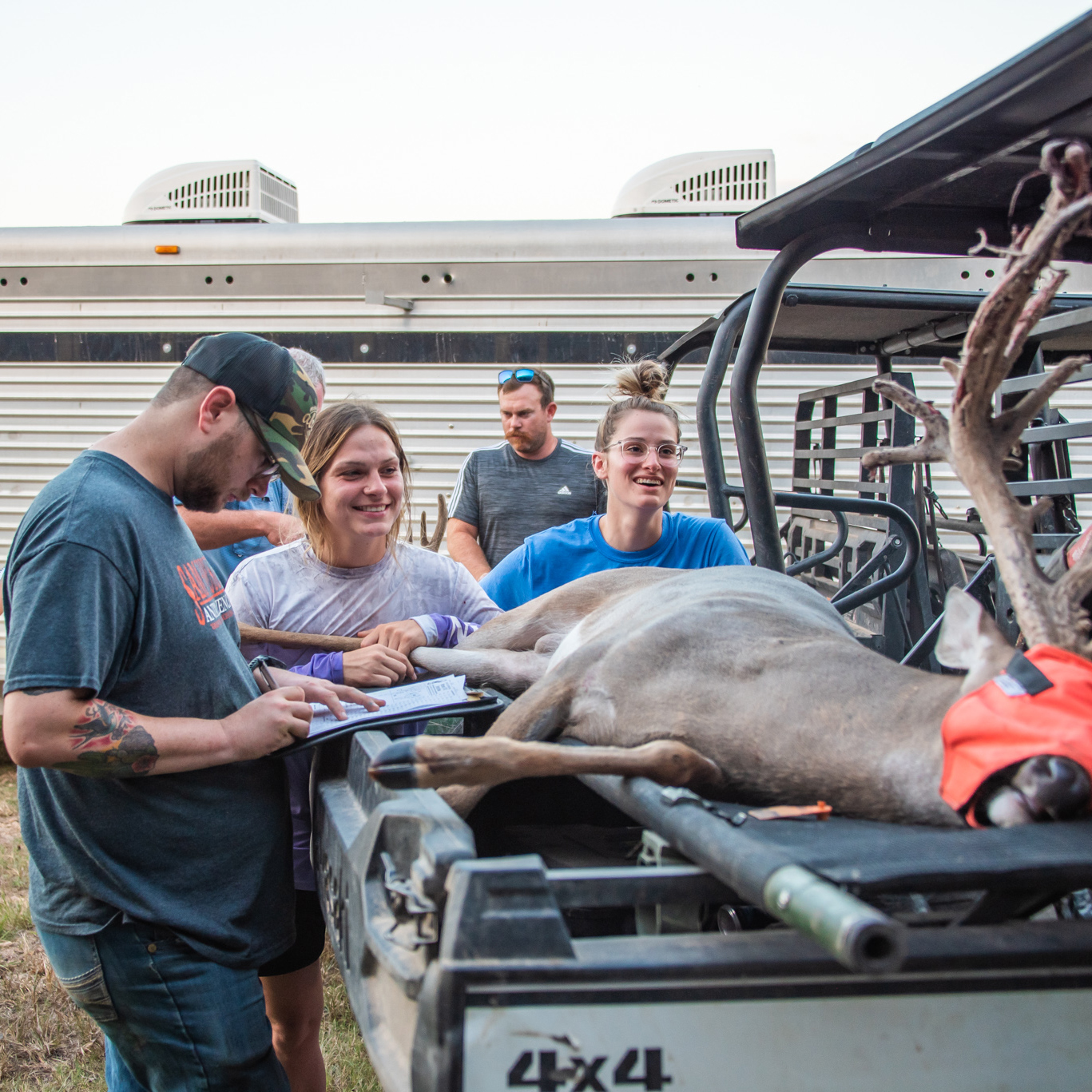 Exemplifying Sam Houston State University's commitment to transforming students into career ready employees, the School of Agricultural Science's wildlife management minor allows students hands-on experience with deer management and research in the nation's first high-fence focused program.
According to the Agricultural and Food Policy Center with the Texas A&M University System, the captive white-tailed deer breeding and hunting industries contribute $1.6 billion to the Texas economy annually. Deer producers across the state need wildlife management professionals to ensure animals are cared for and that the industry can continue to grow.
One particular wildlife ranch plays a large role in the development of wildlife management students at SHSU. The Stewart family and 3-S Texas Outdoors in Bedias, Texas have been involved as supporters of the program at SHSU since it was established. The 3-S Ranch consists of 4,600 high-fenced acres providing the perfect habitat for a variety of exotic big game and native whitetail deer. SHSU wildlife management students gain knowledge and experience first-hand with the Stewarts every year. Chris Stewart also serves as a lecturer at SHSU for half of the wildlife management courses and was a founding member of the wildlife program.
"There are tons of breeders producing white-tailed deer, and all of these breeders know what we've been doing," said Phil Urso, assistant professor of wildlife management. "We've been established and putting out good students for a while, so if you come from Sam Houston with a wildlife management degree, they know you've worked with the Stewarts and 3-S. They know that our students have intensive management skills, so they can just jump right in and be great."
The wildlife management program involves students working in research that can advance the entire deer industry. One major ongoing research project focuses on the baseline for nutrition, vitamins and minerals in deer. Students travel to collect blood samples at high-fence ranches across the state, because of a need to establish nutrient requirements in deer.
"As long as we have people that want to have us come out and collect blood, we can get those samples and tell them where their herd is," Urso said. "We keep it all anonymous, but at the same time we can say, 'This is where you guys are at, and this is the industry average.' Then, their numbers get put into the average. So, the more data we have, the more realistic average we have."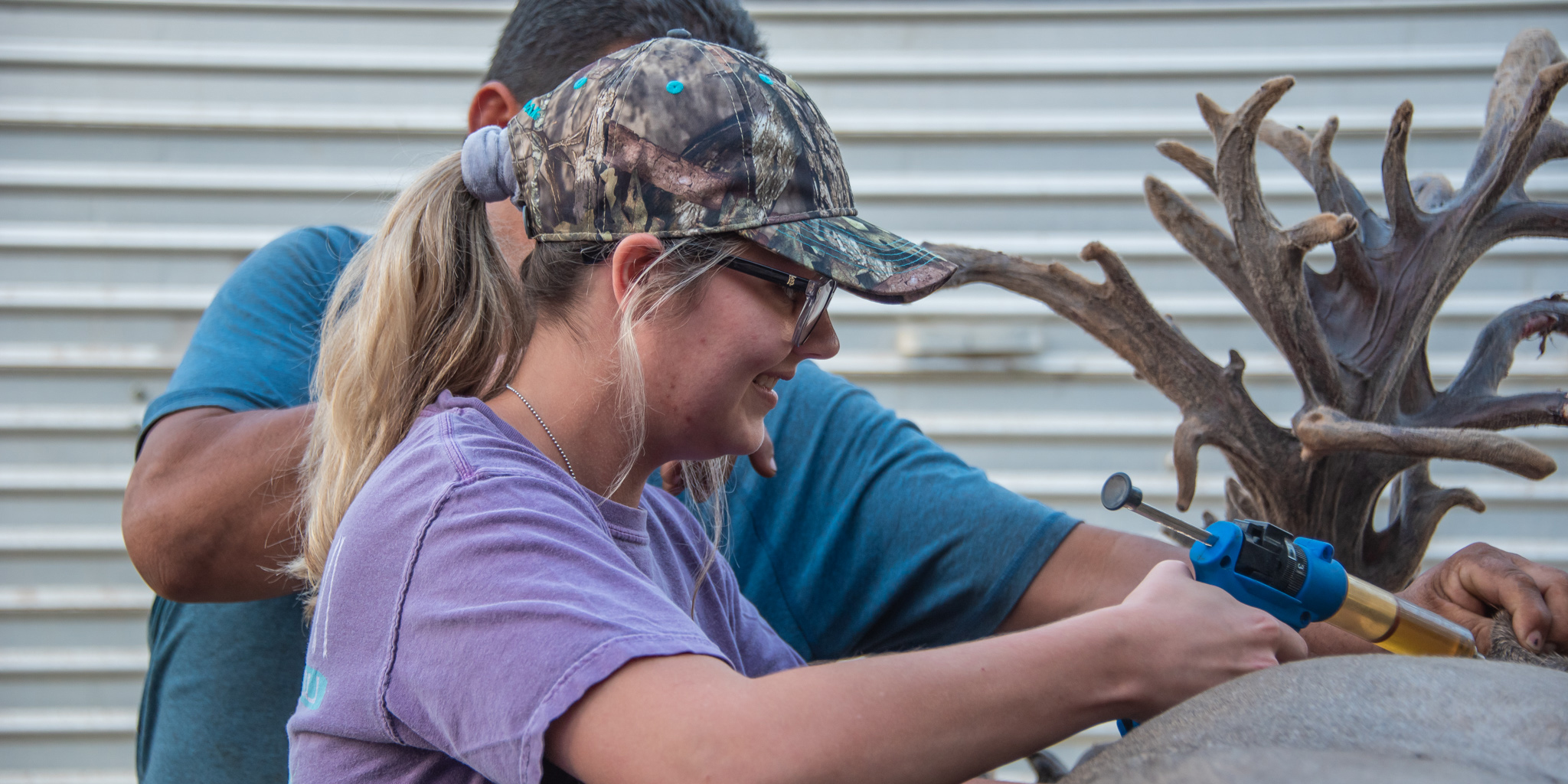 The second big project taking place in the wildlife management program focuses on deer rumen in terms of digestibility based on trace minerals. Through the circulating mineral project, it seemed that a certain level of zinc affected the reproductivity in some deer. The first step in seeing if that is true is assessing digestibility.
The deer industry is growing very quickly, and it is creating a need for more information. By collecting more information about deer, SHSU is not only helping the industry as a whole (the Texas Deer Association, feed companies, etc.), but they are helping each producer they serve.
"At Sam, our goal in the animal science department is always to do research that helps producers," Urso said. "Other big schools are really keen on doing finite molecular work; and while that is super important, we want to do big picture research to help them right now."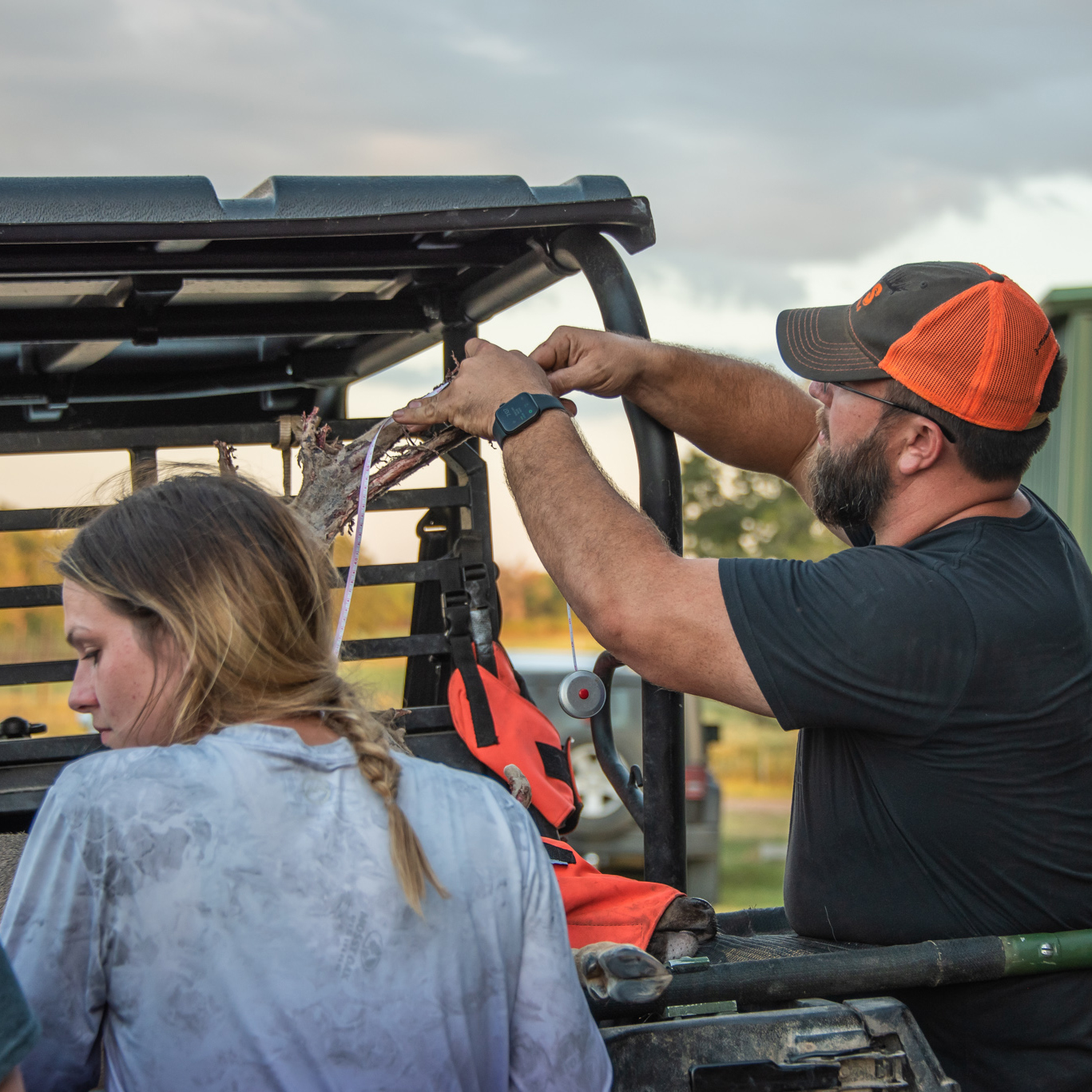 Wildlife management students also have the opportunity to conduct research that interests them in other capacities at the 3-S Ranch. Upon coming to Stewart or Urso with their research ideas, plans are formulated for students to gather information at the ranch and return to campus to analyze the data.
Students are also invited during their time in the program to gain experience managing the wildlife populations at the Stewart family ranch. Classes are often presented with a handful of work events to choose from in lieu of a class day. During these work days and nights, students get to physically put hands on, help administer treatments, observe and measure deer.
"Having the opportunity to come work at the ranch, I have seen a lot of species that I wouldn't normally see, and I have learned a lot about how this ranch works and how everything needs to be run in order to take care of the animals," said Ally Campbell, SHSU wildlife management student. "I've gotten to help move deer and feed babies, and that's probably the coolest thing I have ever done."
The relationship between the 3-S Ranch and the SHSU wildlife management program is mutually beneficial. The Stewart family is well-known for the great example they set in the deer industry, and SHSU students get to be a part of that.
"One of the great by-products of the program is that SHSU students get hands-on experience," said Randy Stewart, owner of 3-S Texas Outdoors. "Our other peers within the industry are so impressed by their experience and that they haven't just learned from YouTube or a book."
- END -
This page maintained by SHSU's Communications Office:
Director of Content Communications: Emily Binetti
Communications Manager: Mikah Boyd
Telephone: 936.294.1837
Communications Specialist: Campbell Atkins
Telephone: 936.294.2638
Please send comments, corrections, news tips to Today@Sam.edu