Study Abroad Programs Return To SHSU
July 23, 2021
SHSU Media Contact: Hannah Crandall
After over a year and a half filled with travel restrictions and virtual study abroad programs, Sam Houston State University is bringing back opportunities for students to travel the world and explore different cultures while continuing their college education. While the Study Abroad office is still being cautious, students can finally pursue in-person study abroad programs again.
Since March 2020, with the exception of domestic National Student Exchange programs which allow students to travel and study within the country, all study abroad offerings have been moved to a virtual setting or canceled. Returning in the Fall 2021 semester, SHSU Study Abroad will help six students experience life in a foreign county for a full semester. Four students will head to South Korea and two to North Macedonia.
There are three types of study abroad programs in addition to the NSE programs: faculty-led, exchange and affiliated. Most faculty-led programs typically take place during the summer, while most exchange programs occur during the fall or spring.. Affiliated programs use partner organizations to arrange the program with universities.
In the Spring 2022 semester, the university is hoping that a majority of the programs will be offered again. To begin looking into these opportunities, students can attend a virtual 'Study Abroad 101' session and create a profile in the SHSU Study Abroad portal. Students should also consider getting a passport immediately if they are thinking about participating in 2022 (spring or summer), as it is currently taking almost 18 weeks to receive one.
"We have over 500 study abroad programs, and we are hoping that the majority of them will be available starting in the spring," said Malin Hilmersson, study abroad coordinator. "The deadline to apply for spring programs is Nov. 1; but some programs have earlier deadlines. We strongly recommend students start planning early this fall for spring and summer programs, by meeting with me, going to our events, etc."
Requirements to study abroad are that you are a current SHSU student in good standing with an institution GPA of 2.0 or higher. Within the SHSU Office of International Programs, eligible students will find support and guidance readily available.
"We're here to help them. Studying abroad can be overwhelming," Hilmersson said. "There's a lot of information and a lot to consider, but we want to help every step of the way. It can feel like you're the only one going on a program or you don't have someone in your family who understands what it entails, but I'm here to support you and help you as much as I can."
Along with speaking about how study abroad programs are an investment in a student's future, the 'Study Abroad 101' sessions touch on all the resources available to students who are interested in traveling to continue their education.
"We try to connect students to resources like the Student Money Management Center, financial aid and their academic advisors," Hilmersson said. "Students have a team of people on campus to help them find the best program for them."
There are also many scholarships that students can apply to be awarded, particularly to assist in studying abroad. Students who receive the Pell Grant can apply for the Gilman scholarship through the Department of State. This scholarship is a big one that SHSU recommends students look into, and applications for the 2022 Gilman scholarship will open the beginning of August. The SHSU Office of International Programs also gives out scholarships for students in need who want to travel and participate in its programs.
"We do have a scholarship in our office that we award every year. To be able to apply for that money, students need to have a 2.75 SHSU GPA," Hilmersson said. "Now, we're getting an additional $100,000, so we should have $200,000 to give out for studying abroad."
Much planning has gone into offering study abroad opportunities again, but SHSU is confident that students will find the right fit for their situation and interests as more programs are brought back.
"What we've done this year is really spend the time planning and preparing so that we'll be able to continue or resume our study abroad and study away activities to make sure that any student that comes to Sam Houston State University has the ability and experience to participate in a study abroad program," said Christopher Maynard, SHSU vice provost. "We want to make sure that all students have the full university experience. Part of that experience is having the ability to travel, study and learn so they can be not only a great student, but a great citizen of the world."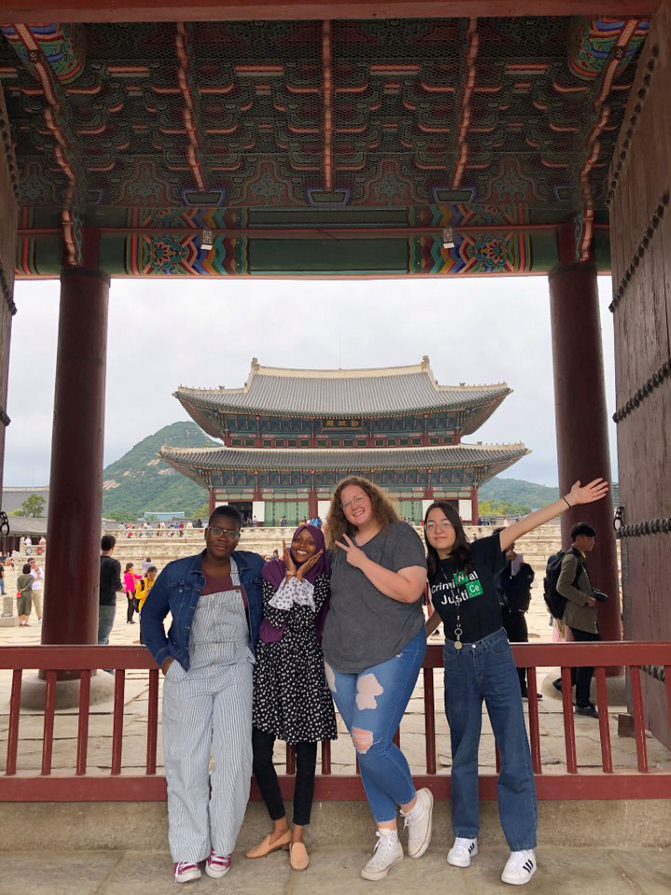 Students receive great benefit from studying abroad, and often come back more confident and independent.. Not only does it set students apart amongst peers in the professional world, but their personal lives are impacted as well.
"This study abroad changed me in a huge way. I feel more confident in terms of traveling or just being on my own. After that study abroad, I feel like I can travel anywhere, and I feel more independent," said Anubhav Thakur, former SHSU Japan study abroad participant. "More importantly, I feel more equipped when it comes to talking to people, interacting with them and meeting someone new who has a different cultural belief or value. I think this was just amazing, and it was only possible because of the study abroad experience."
Past study abroad participants have made lifelong friendships and learned life lessons that they continue to carry with them today. As study abroad opportunities return to SHSU, students should consider taking advantage of what they have to offer, especially as the world begins to open back up from the pandemic.
"My study abroad experience was one of the greatest experiences of my life," said Allie Lovejoy, former SHSU South Korea study abroad participant. "I think students should study abroad for the culture and immersion. You get to experience so many different things, and there's just so many things outside of America. If you have the opportunity, you should definitely take it."
For more information, visit https://www.shsu.edu/dept/international-programs/study-abroad/ and consider attending the 'Study Abroad 101' session held July 28 from 2:00 to 3:00 p.m.
- END -
This page maintained by SHSU's Communications Office:
Associate Director, Communications: Emily Binetti
Telephone:936.294.4406
Communications Manager: Vacant
Telephone: 936.294.1837
Communications Writer: Campbell Atkins
Telephone: 936.294.2638
Thomason Building: Suite 102
Please send comments, corrections, news tips to Today@Sam.edu
---