Student Money Management Center Hosts Career Planning Event
Aug. 23, 2021
SHSU Media Contact: Wes Hamilton
The Student Money Management Center (SMMC) is partnering with Career Services to help Bearkats get their career started on the right foot when it comes to planning and money. Associate Director of Career Services Vinessa Mundorff will be giving a virtual presentation beginning at 6 p.m. on Wednesday, Aug. 25. The SMMC is also giving away a $250 scholarship for attending the session at shsu.edu/smmclive.
Ace Thomas, program coordinator for SMMC, explained that there are questions each semester about career planning when it comes to managing that first paycheck students get. Thomas was kind enough to complete a Q&A session for Today@Sam about the upcoming event.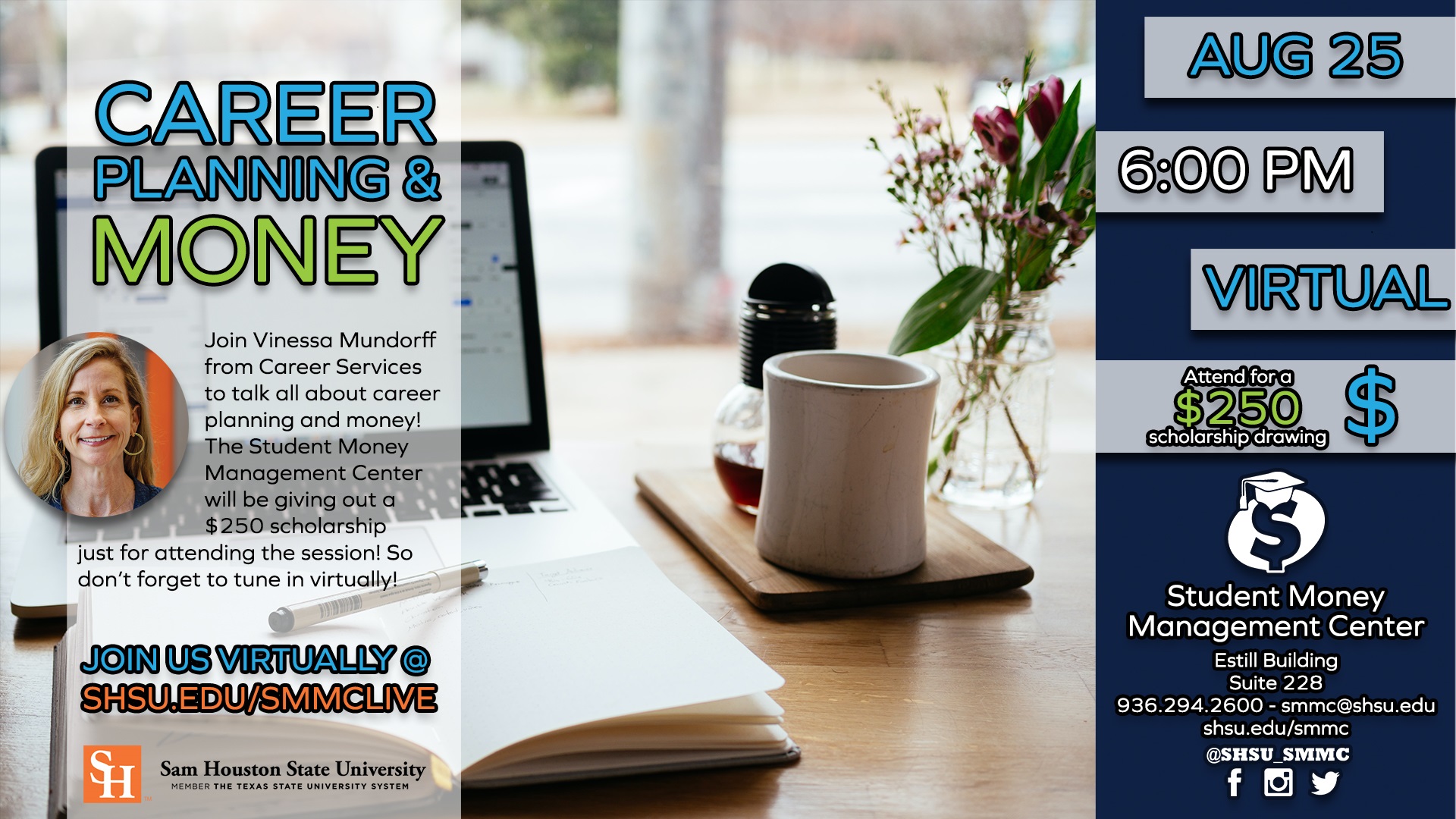 T@S - How will this presentation, "career planning and money," help students? Why is this a crucial first step after college, and why is it important to plan now?
AT - Money drives us, and it is important that we start with the basics of budgeting and career planning because we do not want to end up in a situation where money is controlling us instead of us controlling our money. Budgeting is much more complex than most people believe because there are underlying psychological components that drive our financial decision-making process. Budgeting provides a platform and a framework to understand our individual financial habits so we can start self-realizing those psychological habits. Career planning comes into play because we need to align our financial goals with our career goals to create an action-orientated plan on what steps we need to take as life-long learners.
T@S - What are some things that the SMMC offers for those needing financial help?
AT - We maintain a proactive approach to financial literacy and try to get students to act and become educated about their finances before they have a problem. Eventually, everyone is going to run into financial issues, but we are here to educate them before that time.

T@S - Is this event targeted at soon-to-be graduates, or all students?
AT - It is really targeted at everyone. The process of career planning and money is really a lifelong one. So even if you're a senior who hasn't thought about it, or a freshman who is new to college—they really need to understand the basic steps behind it.
T@S - How does the SMMC continue to help Bearkats even after they graduate?
AT - We coach recent alumni who earn that first big paycheck who are unsure how to use that money effectively. That's where the SMMC comes into play because we can help them come up with a game plan for that "extra" money they have. That is one part of the larger conversation about career planning and money.

T@S - Is there anything else that you would like students to know about the event or services you provide?
AT - We really want people to know that the SMMC is here for them. We exist to help, and we do everything in our power to ensure students have the knowledge and resources to make smart financial choices while they are in school. We understand school can really take a toll on your financial wellness, and that is why we are here to help coach you. We offer one-on-one, private, personalized, coaching sessions on
- END -
This page maintained by SHSU's Communications Office:
Director of Content Communications: Emily Binetti
Communications Manager: Mikah Boyd
Telephone: 936.294.1837
Communications Specialist: Campbell Atkins
Telephone: 936.294.2638
Please send comments, corrections, news tips to Today@Sam.edu