Newton Gresham Library Celebrates Women's History Month
March 18, 2021
SHSU Media Contact: Wes Hamilton
Throughout March the Newton Gresham Library is celebrating Women's History Month by displaying and highlighting the work of strong Texas women. These women had a hand in shaping Texas history through their actions and ideas in movements such as labor rights, civil rights, arts, athletics, education and more. The library is proud to present the following books, and more, and encourages you to appreciate the women in your life who have helped shape you for the better as we celebrate Women's History Month.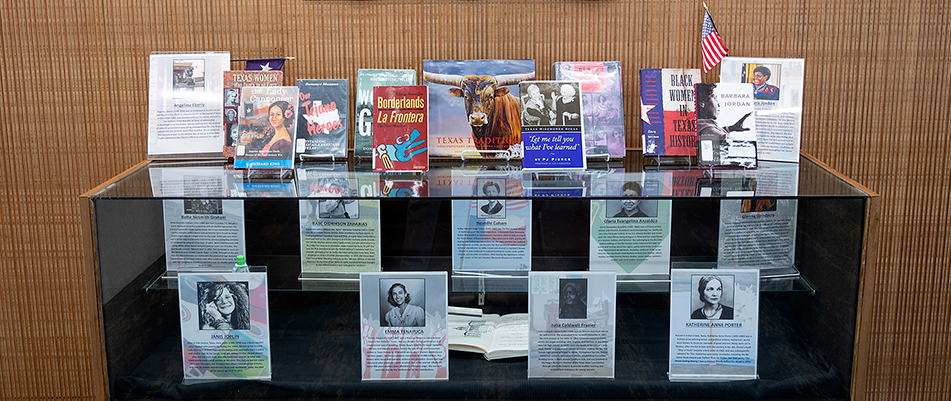 ---
"If You Ask Me (And of Course You Won't)" by Betty White
Any discussion of the contributions and achievements of American women would be incomplete without acknowledgment of much-loved show business icon Betty White. Considered a pioneer of American television, White reflects on her beginnings in the industry and many other topics in If You Ask Me (And of Course You Won't). Relaxed and delightful, this book feels like an afternoon chat with an old friend. White delivers many brief and entertaining anecdotes covering a range of topics including growing older, friendship, loss, her love of animals, fans, Hollywood, and the world of a celebrity. Taken from a lifetime of lessons learned, she candidly blends truth and humor while avoiding acrimony, giving this book a very cozy, personable tone. White also includes several photographs from her personal collection which nicely compliments the stories presented. Her wit, wisdom, and appreciation of success infuse this uplifting, pleasant, and amusing work making it an easy and enjoyable read.
-Dianna Kim
Criminal Justice Librarian
---
"Men We Reaped" by Jesmyn Ward: – print book, EDS record at https://ezproxy.shsu.edu/login?url=http://search.ebscohost.com/login.aspx?direct=true&db=cat00667a&AN=sam.1527171&site=eds-live&scope=site
Men We Reaped does double-duty: illustrating the experience of a Black woman growing up in the South, while also illuminating common threads that tie together the experiences of Black men in the South. In this memoir, Jesmyn Ward, an American novelist and associate professor of English at Tulane University, shares both the exhilaration of being young and the tragedy of young lives lost in a web of economic inequality, psychological depression, and systemic racism. She structures her story around the lives and deaths of five young men in her life and the substance misuse, violence, depression, and suicide that took their lives—risks that can become all too common among young Black men in the South trapped by poverty and institutional failures. Although sometimes nearly too sad to bear, this is an important work with deep truths to reveal to those willing to listen and learn with an open heart.
-Erin Owens
Professor, Access Services Coordinator & Scholarly Communications Librarian
---
"In My Own Words" by Ruth Bader Ginsburg
https://ezproxy.shsu.edu/login?url=http://search.ebscohost.com/login.aspx?direct=true&db=cat00667a&AN=sam.2430856&site=eds-live&scope=site
Call#: KF 373 .G565 G56 2016
In the audiobook edition of My Own Words, Justice Ruth Bader Ginsburg and Linda Levin narrate the selected chronicle of Ruth's life through her own eyes and the voices of others that were impactful in her life. The entertaining dialog spans the lessons learned and exemplars lived from growing up in a Jewish neighborhood in working-class Brooklyn, in the shadow of World War II, through her shattering of the glass ceiling as a rising female litigator and justice. Historians of the U.S. legal system will find Ginsberg's discussion of landmark legal cases and the culture and collegiality of the U.S. Supreme Court and its Justices. The audiobook enriches presentation of others' essays, speeches, and articles about Ginsburg through archived audio clips.
-Heather Adair
Research and Instruction Librarian
Mathematics & Statistics, Library Science & Technology, & Children's Literature Liaison
---
"Joni: An Unforgettable Story" by Joni Eareckson Tada with Joe Musser.
https://unicorn.shsu.edu/uhtbin/cgisirsi/x/0/0/57/5/0?searchdata1=277995%7BCKEY%7D&searchfield1=GENERAL%5ESUBJECT%5EGENERAL%5E%5E&user_id=WEBSERVER
During our current time of hardship and uncertainty, reading the book "Joni: An Unforgettable Story" by Joni Eareckson Tada, provides great comfort and even excitement to face whatever comes next. Joni, pronounced "Johnny", is a book about a woman who suffered an accident that left her a quadriplegic. She faced an uncertain future with no control over herself or her surroundings. She lost all the hopes and dreams she once had and was forced to start over. Slowly, she was able to seek out and find comfort, hope, peace, thankfulness, and even excitement and joy over her situation and the future before her. Her growing understanding and faith in Jesus Christ and the love of God the Father helped to mend her spiritually and mentally. She discovered an ability in drawing and was able to gain a platform in art and exhibits which led to speaking engagements around the country. She shares her story with people all over who need to know that their darkest days do not have to stay dark but can become bright lights of hope. During the pandemic, many have faced difficult and even dark days. This book is immensely encouraging to read and shows us the courage and strength of character this amazing woman has that we can attain if we are willing.
-Kristina Claunch
Research and Instruction Librarian
History, Military Science, Geography, and Government Documents Liaison
---
"My Beloved World" By Sonia Sotomayor
https://ezproxy.shsu.edu/login?url=http://search.ebscohost.com/login.aspx?direct=true&db=cat00667a&AN=sam.1438827&site=eds-live&scope=site
My Beloved World is an intimate and honest memoir by Justice Sonya Sotomayor, recounting her life leading up to becoming the first Latinx member of the U.S. Supreme Court. I really appreciated Justice Sotomayor's candidness in recalling the challenges she had encountered throughout her personal journey, from childhood illness, loss of a parent, to the cultural shock as a first-generation college student. More impressively, was the sense of optimism and grit throughout Justice Sotomayor's triumphs and struggles, and her unwavering love for her family, community, and country. This is an engaging life story, told by an extraordinary yet relatable woman, who continues to make history today.
-Lisa Shen
Head of Research & Instructional (R&I) Services
---
"On All Fronts: The Education of a Journalist" by Clarissa Ward
https://unicorn.shsu.edu/uhtbin/cgisirsi/x/0/0/57/5/0?searchdata1=2932895%7BCKEY%7D&searchfield1=GENERAL%5ESUBJECT%5EGENERAL%5E%5E&user_id=WEBSERVER
Clarissa Ward is one of the foremost contemporary television war correspondents who has covered many of the fiercest conflicts of the past 20 years. Ward, a graduate from Yale, worked for FOX, ABC, CBS, and (currently) CNN news divisions. She covered conflicts in Iraq, Russia, Georgia (the country), Japan, Afghanistan, Ukraine, Yemen, and Syria. This "love letter to journalism" explores not only doing journalism in some of the most dangerous and tragic circumstances imaginable, but also reveals the human experiences that occur behind the scenes that allow the stories to be expressed. Being a Western woman, Ward could enter spaces in these conflict zones that her male colleagues or native colleagues could not. This allowed her to witness and report history being made in a more holistic way than others could have done. These insights help readers understand the depth and breadth of the history described in the book.
-Michael Hanson
Head of Library Technical Services & World Languages Subject Selector
---
"New and Selected Poems" (1992) by Mary Oliver
Location: Available @SHSULibrary PS3565.L5 N47.
New and Selected Poems (1992) by Mary Oliver is a compilation of some her best and most notable works. It won the National Book Award for Poetry in 1992.
You do not have to be good.
You do not have to walk on your knees
for a hundred miles through the desert repenting.
You only have to let the soft animal of your body
love what it loves.
Tell me about despair, yours, and I will tell you mine.
New and Selected Poems provides readers with a curated sampling of her works, beginning with her first collection of poems, No Voyage and Other Poems, published in 1963, when she was 28; and continuing through her Pulitzer Prize winning, American Primitive (1983). Available @SHSULibrary PS3565.L5 A66. She tops the collection with new poems written between 1991 and 1992.
Through her words, Mary Oliver reveals layers of despair within humanity and within the natural world. Many of her poems focus on nature addressing its beauty and its cruelty; comparing the behavior of humans to animals, insects, and birds, or plants, water, and sky; seeking the symmetry within all forms of life. Through these observations, Oliver forces her reader to simultaneously look within and without, highlighting the overlooked and underappreciated.
In 'The Summer Day' (originally published in House of Light, 1990), Oliver recounts the swan, the black bear, and the grasshopper; then asks the reader: "Tell me, what is it you plan to do with your one wild and precious life?"
-Susan Strickland
Research & Instruction Librarian
---
"Texas Dames: Sassy and Savvy Women throughout Lone Star History"
https://unicorn.shsu.edu/uhtbin/cgisirsi/?ps=ILVbciI6dL/0/X/8/1093431/Texas+dames+:+sassy+and+savvy+women+throughout+Lone+Star+history+^2F
'Texas Dames: Sassy and Savvy Women Throughout Lone Star History' by Carmen Goldthwaite is a compilation of authentic Texas tales of achievement from the first female anesthesiologist to the first female Governor of Texas. The descriptions contained within 'Texas Dames' highlight numerous Texas women who overcame the gender barriers of their time and went on to create legacies in commerce, politics, education, medicine, art, athletics, and ministry. "I would recommend 'Texas Dames: Sassy and Savvy Women Throughout Lone Star History' because it offers the reader great insight into local women and their significance to Texas history. I also love the fact that their contributions and legacy influence every facet of our state's culture and identity. This book is wonderful in that it highlights both the well-known women of Texas history and those that are often forgotten."
-Trent Shotwell
SHSU Special Collections Librarian
- END -
This page maintained by SHSU's Communications Office:
Director of Content Communications: Emily Binetti
Communications Manager: Mikah Boyd
Telephone: 936.294.1837
Communications Specialist: Campbell Atkins
Telephone: 936.294.2638
Please send comments, corrections, news tips to Today@Sam.edu