Lasting Tribute Honors Parents
Nov. 17, 2021
SHSU Media Contact: Emily Binetti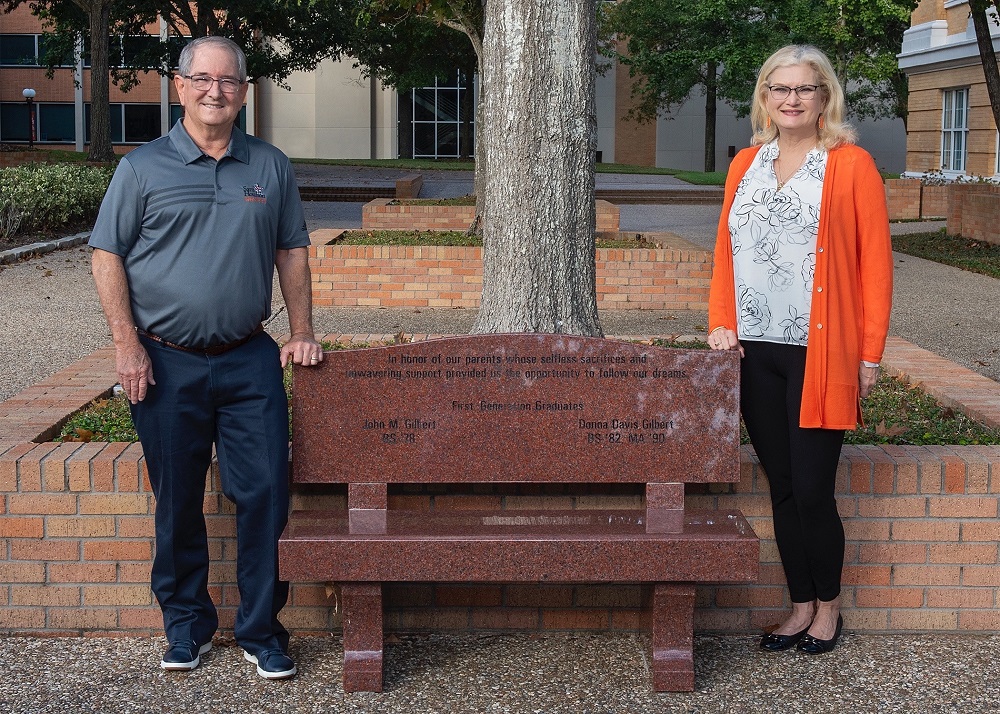 Bearkats often remark on how the beauty of the Sam Houston State University campus was something that drew them to college at SHSU. For John ('78) and Donna ('82, '90) Gilbert, that was certainly true. Taking walks through campus and enjoying the many views is something they still enjoy doing, because it brings back special memories of their time as students.
To honor those college years, and the parents that always encouraged them to achieve and pursue their dreams, the Gilberts decided to give back to the university in a way that had special meaning. Their gift of a bench for the SHSU campus enhances the beauty of the grounds as a lasting tribute.
"Both of us were first generation college students. There was always a heavy emphasis on education in both of our households and we carried that forward when raising our children," John said. "Honoring our parents with a bench on campus is a way to pay tribute and respect for the sacrifices they made in order to provide us a higher education and opportunities for a better life."
The personalized gift of a bench can be placed in a part of campus that bears special remembrances. The Alumni Association is responsible for the bench program and works with interested alumni, to get university approval for desired locations.
"We chose the location for the bench because we love the tree lined walkway from the quad, to the mall. We consider it one of the most beautiful paths on campus. It also has a wonderful view of the bell tower," Donna said.
Now, with a few more Bearkats in the family, the Gilberts hope one day their grandchildren will choose to attend SHSU.
"It will be very special for them to see the bench on campus honoring their great-grandparents. I hope they realize the sacrifices they made to provide the best opportunities for all of us," Donna said.
The gift of a campus bench is a meaningful way to honor a parent, graduating student or give thanks to a favorite professor. It is also a way to leave a little piece of yourself with your alma mater, or to memorialize someone special in your life or the life of the university. Contact the the Alumni Association to learn more at 936.294.1841 or alumni@shsu.edu.
- END -
This page maintained by SHSU's Communications Office:
Director of Content Communications: Emily Binetti
Communications Manager: Mikah Boyd
Telephone: 936.294.1837
Communications Specialist: Campbell Atkins
Telephone: 936.294.2638
Please send comments, corrections, news tips to Today@Sam.edu