City Of Conroe Names New Street To Honor Former SHSU President
April 22, 2021
SHSU Media Contact: Wes Hamilton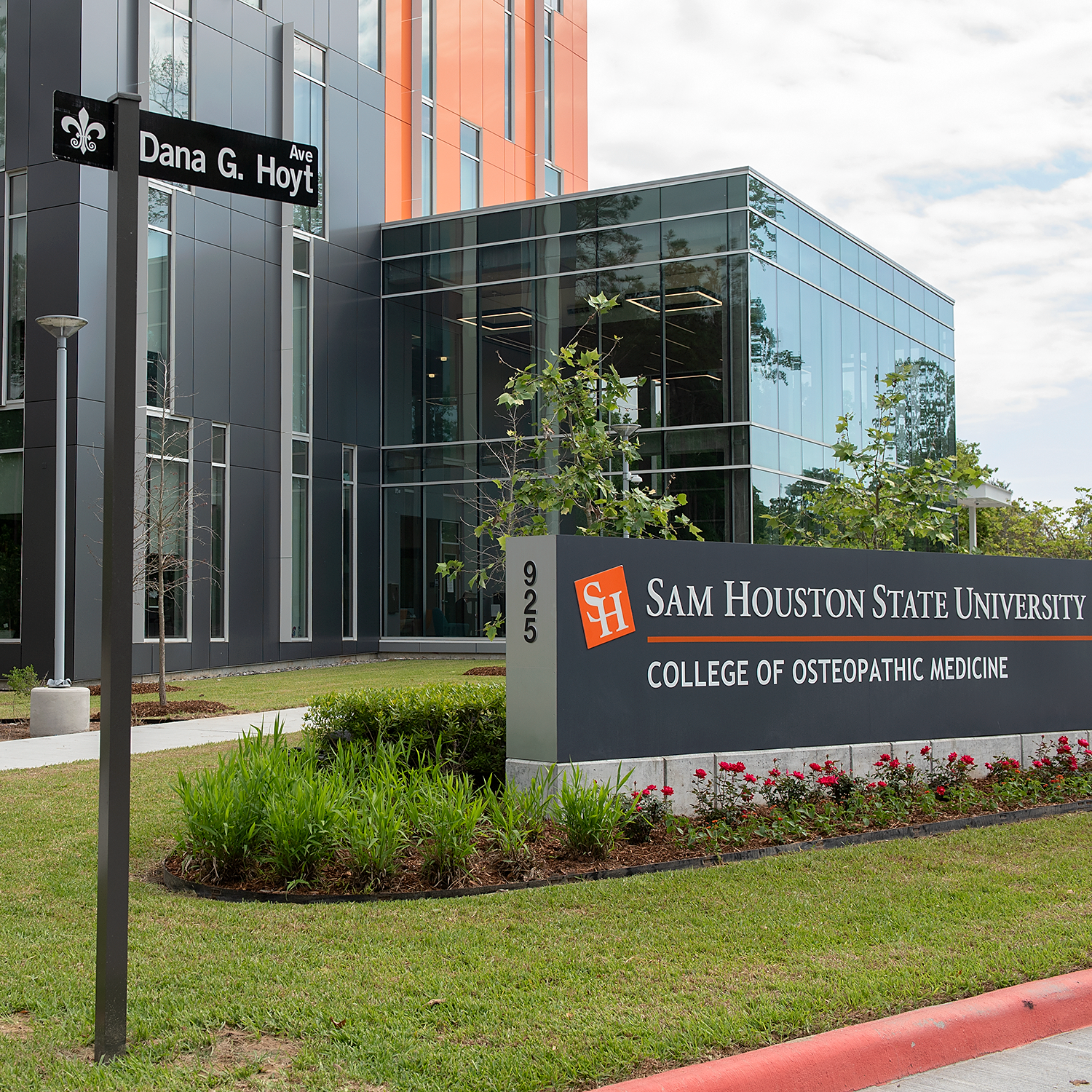 As the 13th and first female president of Sam Houston State University, President Emeritus Dana G. Hoyt, left a legacy as a trailblazer. Before her retirement in Aug. 2020, she was honored for the many ways she made a positive impact on the university. One of Hoyt's biggest contributions during her 10 years as president was her strong commitment in the establishment of the College of Osteopathic Medicine in Conroe, Texas.
On Wednesday, in a joint effort between SHSU and the City of Conroe, the street leading to the college from Interstate 45 was officially designated as Dana G. Hoyt Avenue.
Beginning in 2013, Hoyt spearheaded SHSU's efforts to launch the first College of Osteopathic Medicine in the Texas State University System by approaching City of Conroe officials with her plan. Seven years later, in what she would describe as one of her proudest accomplishments, SHSU accepted its first class of 75 medical students in the fall of 2020.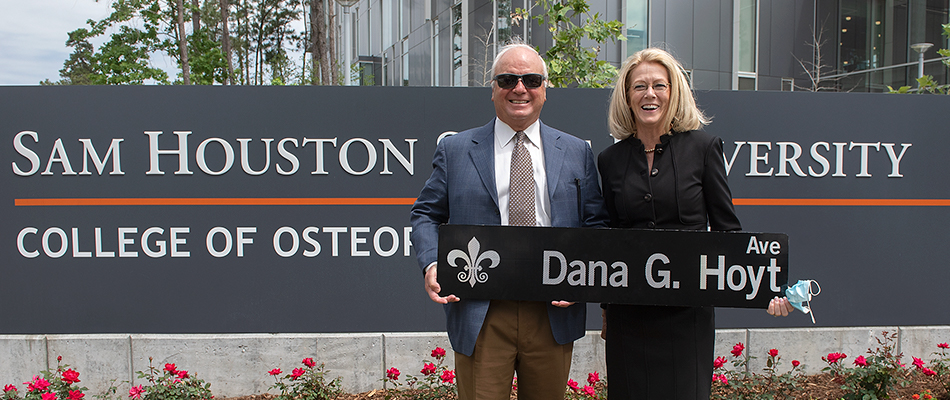 SHSU President Emeritus Dana G. Hoyt with her husband John M. Hoyt
"I can't tell you how much I appreciate this honor," Hoyt said. "Having this sign here by something that took of so much time, effort and passion of my life means so much to me. This College of Osteopathic Medicine came out of what Sam Houston State has been known for and that is producing a strong workforce for Texas and this region. I am incredibly honored that the college will continue to grow next to this street."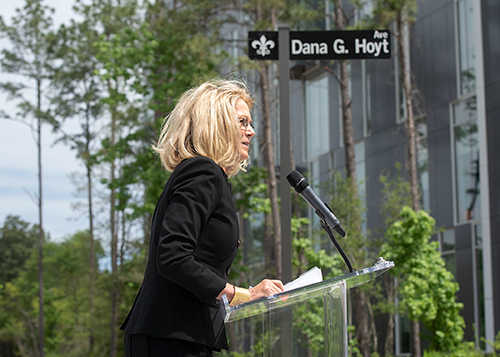 Established by the university to address the physician shortage in the eastern region of Texas, the college's mission is to help rural populations in need.
"Being able to accomplish the mission of having more primary care physicians in underserved areas is really what today is about and it is what this was all about from day one," Hoyt said. "So many great people bought into that and helped along the way, and here we are headed toward our first graduating class in 2024."
SHSU President Alisa White spoke to those gathered at the ceremony on how Hoyt's accomplishments and commitment carried over to those around her.
"This college is an important SHSU initiative, but also a community initiative, and Dr. Hoyt's passion and vision for it is obvious and powerful," White said. "Transformation occurs when the potential visible to some becomes visible to all. Dr. Hoyt cast a vision that the community could see, and that is why we are here today."
The five-story building situated on 7 acres of land donated by the Johnson Development Corporation, was once just a blueprint and dream on Hoyt's desk. During his remarks, Virgil Yoakum, the Johnson Development representative who first met with Hoyt in 2014 as she proposed the partnership, revered Hoyt's dedication and passion.

"It's a great day for a daydream," Yoakum said. "And this is a great day to celebrate Dana Hoyt and her vision for this university."
During the ceremony, Conroe Mayor Jody Czajkoski proclaimed April 21, 2021 as Dr. Dana G. Hoyt Day in Conroe and presented her a key to the city. Proclamations from the offices of Governor Greg Abbott, state Sen. Brandon Creighton and state Rep. Will Metcalf were also read in Hoyt's honor.

"I join my fellow Texans in commending the vital role you played throughout your tenure as president," Abbott wrote. "Your hard work and dedication have assured the success of many young Texans who represent our brightest promise for the future. This avenue will stand as a testament of your legacy of success and as a reminder of the vast potential and promise of the future."
- END -
This page maintained by SHSU's Communications Office:
Director of Content Communications: Emily Binetti
Communications Manager: Mikah Boyd
Telephone: 936.294.1837
Communications Specialist: Campbell Atkins
Telephone: 936.294.2638
Please send comments, corrections, news tips to Today@Sam.edu