Bearkats Against Domestic Violence
Oct. 1, 2021
SHSU Media Contact: Wes Hamilton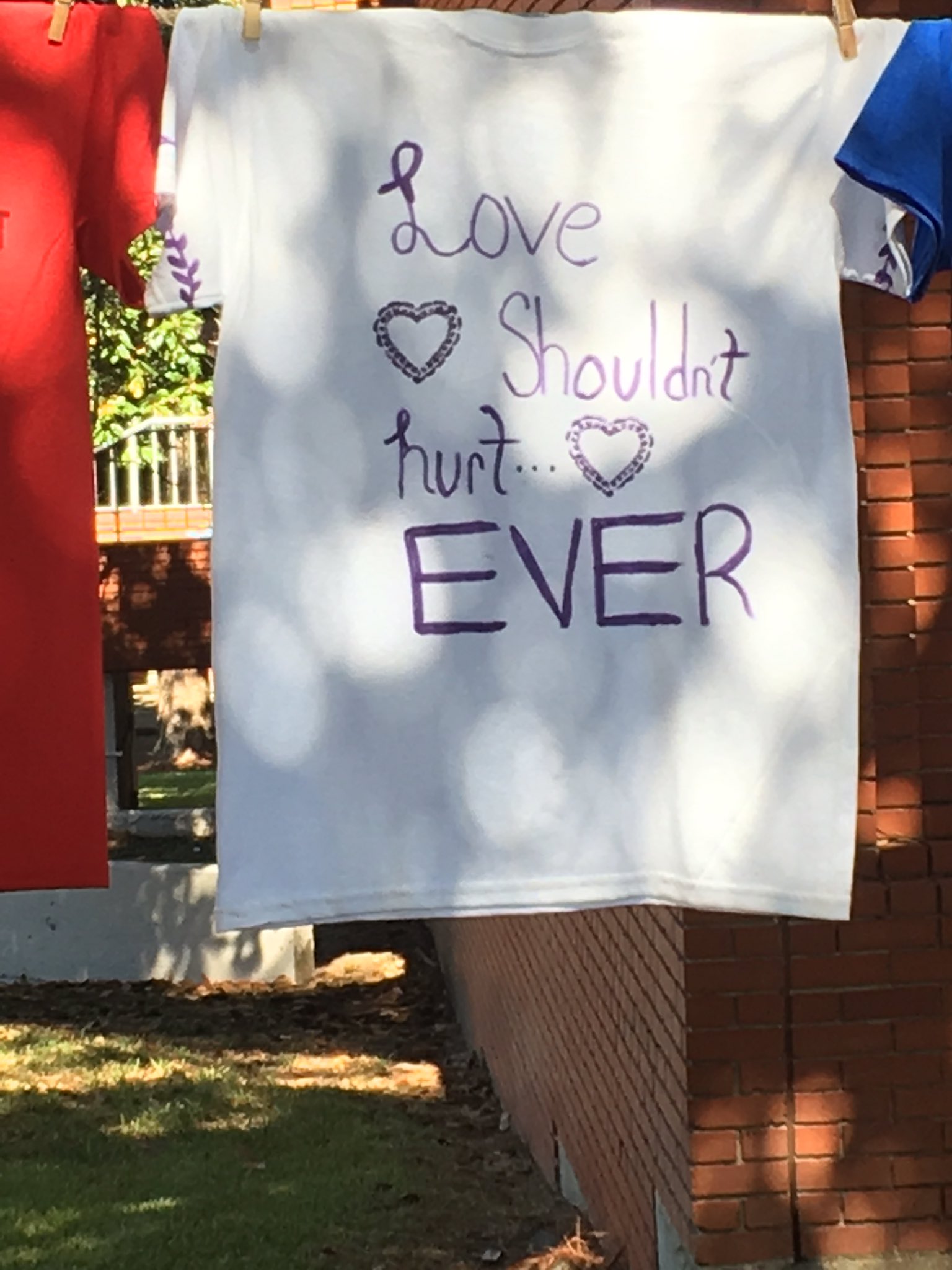 Story by Nicholas Polk
Domestic violence, or intimate partner violence, is deliberate violent behavior perpetrated by an intimate partner against another. Violent behavior is often abusive and part of a pattern to maintain power and control over a partner. It can include acts of verbal abuse, physical attacks, sexual assault, stalking and other abusive behavior. According to the Crime Victims' Intuition (CVI), 1 in 4 women and 1 in 10 men experience some form of domestic violence during their lifetime. Numerous groups and entities at Sam Houston State University have created events to shed light on these striking statistics.
CVI has been conducting research and providing training on victimization-related issues for nearly 25 years. Alyssa Linares is a graduate assistant for CVI and currently in the master's program in the Department of Victim Studies at Sam Houston State.
"Domestic violence is prevalent in all communities regardless of race, age or socioeconomic status. By raising awareness against domestic violence, especially on college campuses, we can teach students the signs of harm and build tools for healthy relationships they can take with them for the rest of their life," Linares said. "We research different types of victimization, create monthly fact sheets and host CVI TALKS which we speak to experts regarding diverse topics."
The Department of Criminal Justice will also host numerous events throughout the month of October.
On Oct. 5 at 2 p.m., David Garlock, a successful returning citizen, reentry professional, and criminal justice reform advocate, will speak in the Hazel B. Kerper Courtroom.
A survivor solidarity demonstration will take place on Oct. 21 from 4 – 6 p.m. Students and faculty are encouraged to show support and solidarity for survivors of domestic violence in front of the Walker County courthouse.
A sexual assault aftercare kit making event will take place on Oct 26., from 10 a.m. – 3 p.m in the Flag Room in the Beto Criminal Justice Center.

From Oct. 27-29 in the Bearkat Plaza, The Crime Victim Services Alliance will host an exhibit raising awareness about various forms of abuse. This student organization strives to raise awareness regarding all forms of violence, such as sexual assault and domestic violence. This exhibit entitled, The Clothesline Project, is a visual display of different color shirts where each color represents a type of violence.
A panel titled "Assisting All Domestic Violence Survivors" will be hosted Oct. 27 at 11 a.m. in the Hazel B. Kerper Courtroom. Panelists will talk about how we can better assist domestic violence survivors, including those that often have been overlooked or received unfair treatment in the system.
Anyone who has witnessed, knows about or has experienced discrimination, harassment (including sexual harassment) or other sex or gender-based discrimination, violence, or harassment is encouraged to seek support and report the concern. SHSU students and employees can report to the Title IX office. External resources include Montgomery County Women's Center, which can be reached at 936-441-7273, and SAAFE House offices can be reached at (936) 291-3529. The National Domestic Violence Hotline can be contacted at 1-800-799-SAFE (7233).
- END -
This page maintained by SHSU's Communications Office:
Director of Content Communications: Emily Binetti
Communications Manager: Mikah Boyd
Telephone: 936.294.1837
Communications Specialist: Campbell Atkins
Telephone: 936.294.2638
Please send comments, corrections, news tips to Today@Sam.edu