SHSU-COM Shakes Up Local Service Scene
April 26, 2021
SHSU Media Contact: Wes Hamilton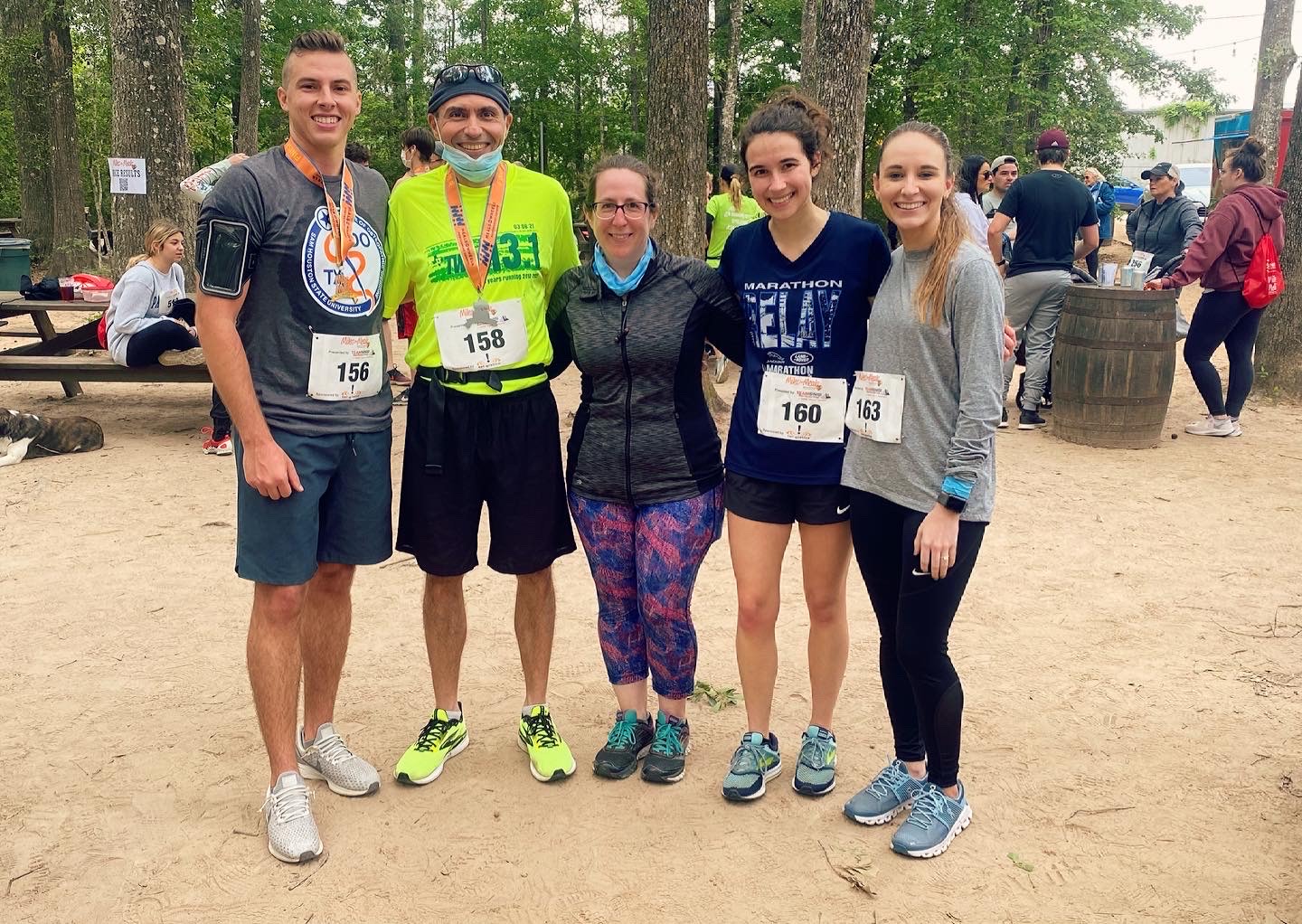 Story by: Hannah Haney
Sam Houston State University's College of Osteopathic Medicine was created to meet a specific need – to address a physician workforce shortage in the eastern region of Texas. However, since its establishment in Conroe, Texas, the medical college's positive influence and service-oriented students are already making an impact in the surrounding community and beyond.
Recently, four student doctors and two SHSU-COM faculty members participated in Montgomery County's 5th Annual MOWMC Miles for Meals 5K/10K Walk Run, on April 17.
Held each year at B-52 Brewing's family-friendly, six-acre wooden biergarten in Conroe, the event was formed to raise funds to provide homebound seniors in Montgomery County with nutritious meals, caring contacts, and transportation. The organization's efforts have proven crucial to combating the top issues of aging: hunger, loneliness, and loss of independence for this population.
In 2020, personal fundraising was added to allow individuals an opportunity to run and raise funds to improve the lives of homebound seniors. Each level of fundraising received benefit incentives for the runner starting at $500 up to $1500. Every $1500 was enough to supplement a homebound senior for a year with nutritious meals. New this year was the Virtual Run; an option if individuals preferred to complete the distance on their own time.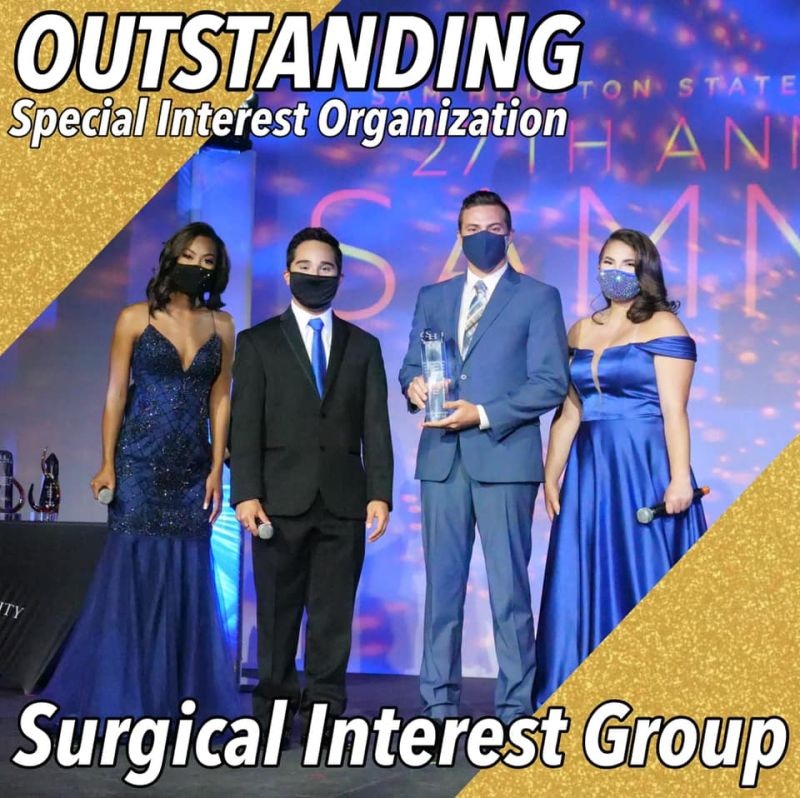 At the helm of the fundraising initiative was SHSU student doctor, Heath Hines, who serves as the COM's president for the SHSU Surgery Interest Group. They were recognized with being the top fundraiser for the Meals on Wheels Event and were even honored with naming the brew served at the event that day at B-52 Brewing and qualified to receive a lunch for four at the Meals on Wheels Kitchen.
In addition, not only did the team raise the most funds, they also all participated in the race with three running the 10K race, and the other three participants running in the 5K. Overall, Dr. Diego Alvarez, founding Chair of the Department of Physiology & Pharmacology, placed fifth overall in the race and three of the six runners placed in the top three of their respective age groups.
In all, $70,000 was raised for the cause, with the SHSU Surgery Interest Group contributing $2,000.
Though their efforts have not gone unnoticed, both Hines and the Surgery Interest Group, were honored with awards at The Sammys, the official university ceremony that recognizes SHSU's outstanding student leaders and organizations each year.
---
In a Q&A with Today@Sam, Hines reflected on his commitment to service.
T@S:

Why did you choose to participate in this event?
HH: COVID-19 had a huge impact on everyone this past year, and it led to a larger number of people going hungry. When lockdowns were announced across the state, people bought up all the food they could find leaving grocery store shelves empty and many people had to go without their basic food necessities. Elderly people were in a tough place because they were more likely to contract the disease and were less likely to fight the crowds for food. Because of this, many elderly people were going hungry. After the winter storm hit, new and different factors were making it even harder for people to have access to food, and the shelves were empty once again. When I saw this happen, it triggered something in me to do what I could to help. I investigated different options, and Meals on Wheels was the best way I found to help. Their list of people in need has grown by an extraordinary amount while having less volunteers than usual. Our organization decided we were going to help raise money through a 10K fundraiser to get funds to Meals on Wheels for the homebound senior citizens of our community. We'd like to let our community know that there are ways to get involved with Meals on Wheels outside of this fundraiser, and the Surgery Interest Group is planning on being part of food drives, food delivery to senior citizens, and more next school year.
T@S:

Can you describe your emotions on the day of the event?
HH: This was the first race I have ever participated in, so I was very nervous at the starting line. Storms had rolled in the previous few days making it a cold morning, yet my palms were sweaty in anticipation. While we raised money for a good cause, competition is in our nature. We all discussed our goals for times to beat and we were off. After the race, it was nice being with faculty outside of a classroom setting and connecting with them on a personal level. Our group also had some runners that were able to medal which was nice to see everyone recognized. Since we were the top fundraiser of the event, we were able to name a beer for the day which we naturally named "The Surgeon". It was really nice hearing people talk about how good it tasted and knowing why it was named that. It was a great day where we all had some laughs and were able to enjoy the fruits of our efforts and join all of the different groups that fundraised alongside us.
T@S:

Why is being involved in the community important to you?
HH: As future physicians, we're called to a career of service. Everything we do is for our patients, now and in the future. The SHSU motto is "The measure of a Life is its Service", and the Surgery Interest Group embodies this. We require a minimum of four community service hours from each of our members every semester. Our organization has spent around 300 hours serving our community this year and will increase that number next year as we welcome our second class of students. Serving our community in non-medical ways keeps us grounded as medical students as we interact with people at more of a relationship level as equals. Our future goal is to build a network in our community and have people know that we are here to serve whether it is medically related or not. Our calling to be physicians lies in being a man or woman of the people, as they will be putting their health in our hands not too far from now. By serving others, we can build their trust and increase the level of care we hope to provide.
- END -
This page maintained by SHSU's Communications Office:
Director of Content Communications: Emily Binetti
Communications Manager: Mikah Boyd
Telephone: 936.294.1837
Communications Specialist: Campbell Atkins
Telephone: 936.294.2638
Please send comments, corrections, news tips to Today@Sam.edu