Battle Of The Piney Woods Events Return
Sept. 27, 2021
SHSU Media Contact: Hannah Crandall
10/01/21 UPDATE: Due to bad weather, the Alumni Association and Student Activities have canceled the Sat. pre-game tailgate at NRG Stadium.
Continuing one of the oldest rivalries in Texas, which began in 1923, Sam Houston State University and the Department of Student Activities encourage students to participate in Battle of the Piney Woods activities this week. Sam Switch and Firefest will take place Thursday, Sept. 30, and the Bearkat football team will pursue their 10th consecutive BOTPW win Saturday, Oct. 2 at 4 p.m. at NRG Stadium in Houston.
Sam Switch serves as a great way to share the daily aspects of being a university president by having a student switch places with her for a day. President Alisa White will go to a student's classes, their club meetings, their on-campus job and even have lunch or coffee with their friends, while the chosen student will sit in meetings and participate in other functions as the president.
"We post on Twitter asking students to tweet why they would like to be president for a day, and from there, we pick students that would be fitting for the role to write us an essay," said Steven Begnaud, assistant director for traditions and special events. "With those essays, we choose a winner who is heavily involved and has a busy schedule to fill the president's day."
Following Sam Switch, the SHSU community will attend the official pep rally for BOTPW, Firefest, at 8 p.m. in Bowers Stadium. There will be free food for the first 500 attendees, and the annual Firefest t-shirt will continue to poke fun at the rivalry. Every in-season Bearkat Athletics team will have the opportunity to speak, and the Bearkat Spirit teams will perform. There will be an on-field competition among three randomly selected students, and fireworks will conclude the event. For the first time since 2017, a bonfire will follow Firefest in the retention pond near the Bowers North Lot.
"This is a really fun event to build up excitement for the game on Saturday," Begnaud said. "It's a great way to bring the Bearkat spirit and energy to BOTPW."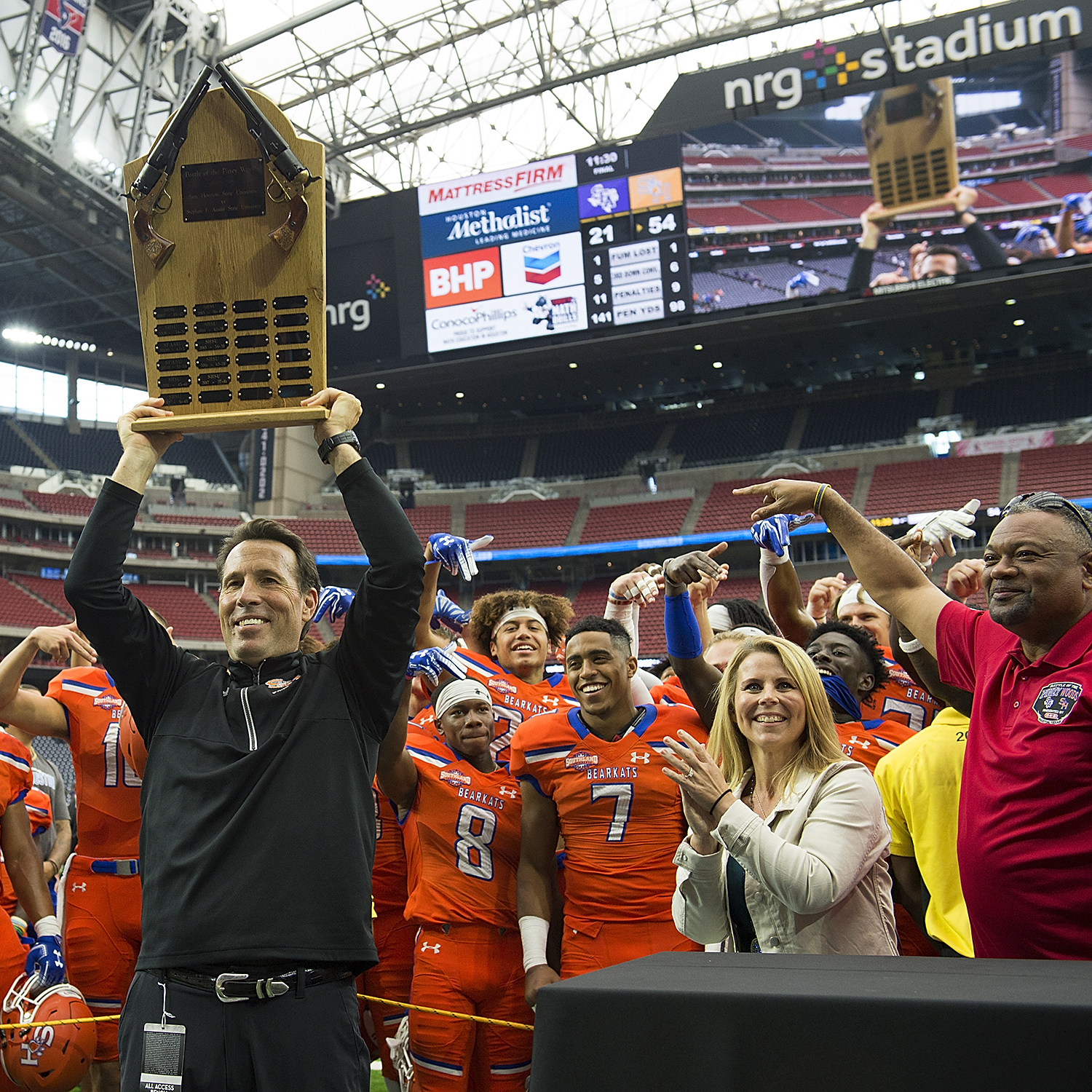 SHSU is providing transportation for students to attend the BOTPW game in Houston Saturday, and prior to the game, Bearkat Alley will be at noon in Blue Lot 17 outside NRG Stadium.
"A lot of our students have never seen a BOTPW because we missed it last year," Begnaud said. "We'll be with alumni, the bookstore, and various other departments and student organizations with tailgate setups. We want to encourage as many of our fans as possible, including current, former and prospective students, to be there and cheer on our football team."
With a capacity of 72,000 people at NRG Stadium, BOTPW is by far the largest attended event with nearly 30,000 SHSU attendees. The majority of game attendees are typically Bearkat fans, and SHSU wants to continue that tradition with the stadium filled with orange.
"That's the most exciting thing is that we're able to play there every year and bring such a demand from our fans, alumni, students and stakeholders who make SHSU what it is," Begnaud said. "I always feel like we contribute to the final score with the atmosphere of our fans cheering the team on. It's a great opportunity we have as an institution to play in that game, in that stadium, in the middle of fall."
- END -
This page maintained by SHSU's Communications Office:
Director of Content Communications: Emily Binetti
Communications Manager: Mikah Boyd
Telephone: 936.294.1837
Communications Specialist: Campbell Atkins
Telephone: 936.294.2638
Please send comments, corrections, news tips to Today@Sam.edu