Alumni Spotlight: Jessica Rodriguez-Wahlquist
July 6, 2021
SHSU Media Contact: Emily Schulze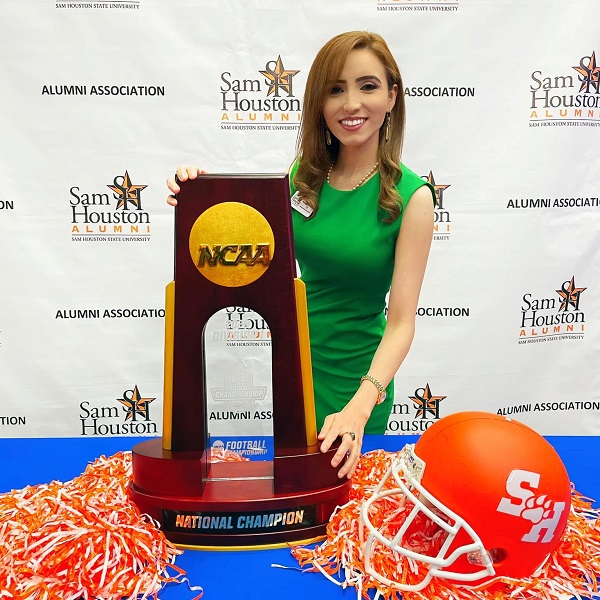 While double majoring in economics and international business at Sam Houston State University, Jessica Rodriguez-Wahlquist was inducted into Omicron Delta Epsilon (an international society in the field of economics) and was a member of the distinguished Political Science Junior Fellows and Center for Law, Engagement, And Politics.
After graduating in 2015, she was offered a scholarship to DePaul University College of Law in Chicago. During her third year at DePaul, she became a visiting student at South Texas College of Law in Houston where she was chosen to be part of the No. 1 moot court team in the nation.
As an trial attorney, she has worked at some of the largest personal injury and commercial litigation firms in Houston and Chicago, assisting with dozens of multi-million-dollar personal injury, mass torts and commercial dispute cases.
In 2021, she joined the Sorrels Law team in Houston, where she handles cases arising from severe personal injuries and wrongful deaths.
Giving back to her community, she volunteers her time with the Houston Bar Association's LGBTQ+ committee and AIDS Outreach committee, immigrant rights organizations, Texas Trial Lawyers Association, the Montrose Counseling Center, and as a coach for South Texas College of Law's varsity moot court team.
She enjoys staying actively engaged with her alma mater and serves as a member of the SHSU Alumni Association Board of Directors.
---
Why did you choose to attend SHSU?
JRW: Initially, I wanted to study forensic science, and I heard about the prominent program SHSU had. However, by the time I attended SHSU, I decided to pursue an international business and economics double degree. At the time, surprisingly, there were not many schools in Texas that offered such degrees.
The other beneficial factor was the relatively close distance to Houston, which would allow me to visit my parents in Humble, Texas, and obtain jobs/internships in Houston without a problem.
I am so glad I chose SHSU. I have fallen in love with Huntsville since, and I have made great friendships with community members, students, and professors. They continue to be a part of my life to this day.
Were you a first-generation student at Sam?
JRW: Yes, I was the first member in my family to graduate from an American high school and the first one to graduate from college entirely. If I had not attended SHSU, I do not know whether I would have made it into law school. SHSU was crucial in my decision to become a lawyer.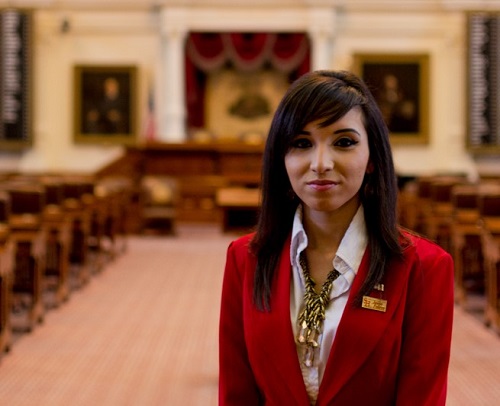 How did your experience at SHSU prepare you for your career?
JRW: In law, it is vital to have a sharp and flexible personality that allows you to be both a leading force in your field and knowledgeable enough in other fields to work with a variety experts. SHSU built exactly that personality for me through extracurricular activities and my academic courses.
Concerning extracurricular, throughout my college experience I was involved with the Political Science Junior Fellows and Center for Law, Engagement, And Politics (LEAP) led by Professor Mike Yawn. The LEAP Center transformed me into a well-rounded professional, opened doors to valuable internships and jobs, provided volunteer opportunities, and diligently walked me through the LSAT and applying for law school. LEAP also taught me basic business etiquette and how to network and maintain connections. As a result of my strong resume, I was offered a $90,000 scholarship to DePaul University College of Law. It is a prestigious catholic law school that educated many Chicago mayors and the children of politicians at the national level. That alone was a massive victory for me.
Academically, my economics courses at SHSU helped me develop critical thinking skills through the intense mathematical and logical reasoning needed. My international business degree prepared me to run a business. The professors at Sam are top-notch. I loved their approach to teaching in a practical and real-world manner, rather than in theory. What I learned at Sam continues to be of use to me every single day.
SHSU's motto is "The measure of a Life is its Service." What does service mean to you?
JRW: The motto has become a closely held personal mantra for me. "Service," in my opinion, means the steps and actions we take throughout our lifetime to help others and our communities overall. It is living with a profound purpose that extends beyond helping oneself, therefore, benefiting others. I live by this motto daily as I pursue justice on behalf of my clients. On the other hand, outside of the courtroom, I remain actively engaged in causes important to my spouse and me, like racial equality, LGBTQ+ rights, immigrant rights, helping homeless youth, and access to education.
What advice would you give to those aspiring to go into a career in law?
JRW: First, join the LEAP Center and follow its guidance. Second, learn to read fast and write well. That was advice that Supreme Court Justice Sandra Day O'Connor gave me while I was a student at Sam. Law school is 20 times more complex than any course you will take in college, so use the college classes as an opportunity to train yourself to handle the workload. Third, build healthy professional habits. Learn to be self-motivated, ambitious, punctual, hardworking, and diligent. Fourth, start building a solid resume years before applying to law school. Do not leave it for the last minute. At the same time, study for the LSAT.
What do you do as a member of SHSU's Alumni Board of Directors?
JRW: As a relatively new member, I recently served on the golf tournament and legislative committees. I am also working with Alumni Association leadership on ways to better connect our current alumni network with the latest technology, and also how to become the leading alumni association in the state. I strongly believe reaching that goal is just around the corner.
Why is it important to stay connected to SHSU through the Alumni Association?
JRW: To honor our motto. To be a helping hand to students and recent graduates, but also to benefit that Bearkat who may have graduated decades ago and now needs support in finding a connection to a new job opportunity. SHSU graduates are opening doors for each other more and more every day, as we grow in number. My goal is to educate alumni about all the wonderful benefits one can receive by staying involved and ways in which they can support our communities and future generations.
- END -
This page maintained by SHSU's Communications Office:
Director of Content Communications: Emily Binetti
Communications Manager: Mikah Boyd
Telephone: 936.294.1837
Communications Specialist: Campbell Atkins
Telephone: 936.294.2638
Please send comments, corrections, news tips to Today@Sam.edu