Partnership Builds New Career Paths
Jan. 20, 2021
SHSU Media Contact: Emily Binetti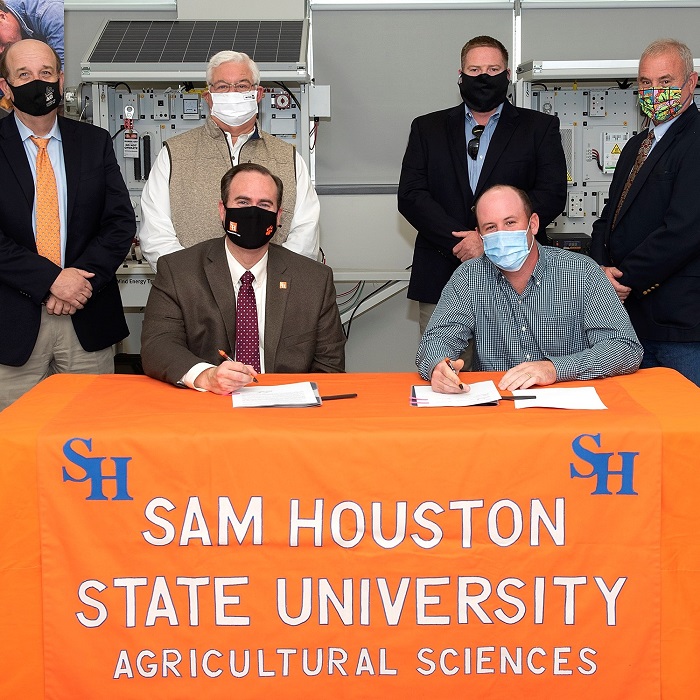 In the Sam Houston State University School of Agricultural Sciences, innovative career paths have been developed for students by addressing the needs of industry employers in a new partnership established with Mustang CAT.
As a Caterpillar equipment dealer providing construction equipment, machinery and power systems, Mustang CAT has had an informal partnership with SHSU's Agricultural Engineering Technology (AGET) program since the late 1990's with company guest speakers, participation in campus career fairs and student field trips to their facilities.
Recently, that partnership grew even stronger through a new agreement; thanks to the help of Ryan Saucier, associate professor in the School of Agricultural Sciences, and SHSU alumnus Scott Weaver ('03, '05) service manager for Mustang CAT.
Weaver, a former SHSU agricultural mechanization student, believes this initiative will offer new recruiting prospects for his company and give graduates a competitive edge entering the industry.
"Mustang has a long history of hiring excellent SHSU agricultural engineering and agricultural business majors, but even as skilled as these students are when they enter our workforce it takes another one to three years of on-the-job training to really get them up to speed with what we do," Weaver said. "By partnering with Sam Houston State, we are able to add a focus on the business, finance and management skills needed in the heavy equipment industry as students receive hands-on product training aboard the latest Caterpillar machines."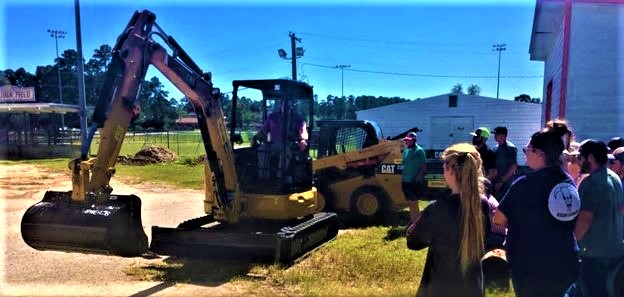 Through the collaboration, SHSU will soon offer a new course of study that provides both a classroom and on-site educational experience to agricultural sciences students related to modern construction equipment. SHSU's Power Machinery Management degree concentration (slated for Fall 2021) will add a focus to the existing agricultural engineering degree plan.
"This opportunity will give students the operational and management skills of machinery provided by Mustang," Saucier said. "It also provides a direct route to employment for students in the management side of the power machinery industry, at the local and regional level but also nationally."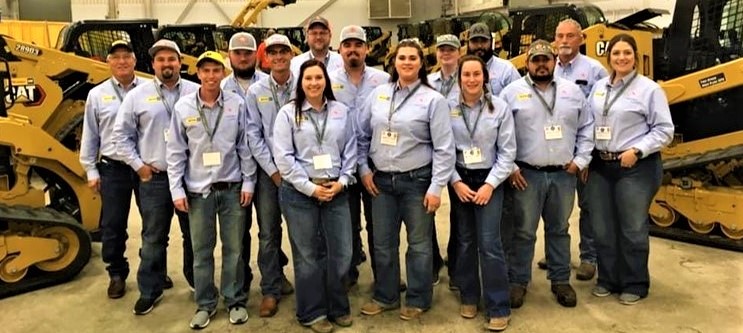 According to Doug Ullrich, Chair of the School of Agricultural Sciences, agricultural engineering technology students will now have modern Caterpillar equipment and technology resources available to use in several classes.
"Students will be able to learn theory of operation and maintenance, as well as how to use diagnostic and maintenance scheduling technology specific to power machinery equipment," Ullrich said. "The skills learned and practiced in these classes are highly sought after in the industry and these students will be very marketable."
In Ullrich's view, the partnership between SHSU and Mustang CAT is a major game changer.
"It is the first agreement linking a world class heavy equipment corporation with a university," Ullrich said. "This is huge as a recruiting opportunity - not only for the AGET program but for the School of Agricultural Sciences and SHSU as a whole. It also opens the door to similar agreements linking higher education to the needs of the work-force in Texas and the nation."
Top photo: (L to R) Front: Christopher Maynard, Sam Tucker. Back: Doug Ullrich, Dyke Rasco, Scott Weaver, Richard Ford.
Note: Student group photos above were taken prior to the pandemic.
- END -
This page maintained by SHSU's Communications Office:
Director of Content Communications: Emily Binetti
Communications Manager: Mikah Boyd
Telephone: 936.294.1837
Communications Specialist: Campbell Atkins
Telephone: 936.294.2638
Please send comments, corrections, news tips to Today@Sam.edu