Faculty Unite In Advocacy For The Innocence Project
Sept. 10, 2020
SHSU Media Contact: Jackie Swan
For nearly 30 years, The Innocence Project has worked to exonerate the wrongfully convicted in the United States. Since its foundation in 1992, the program has freed 375 innocent people based on DNA exoneration who have served a total of 5,284 years in prison.
This is not a process that happens overnight. The average years served is 14, with the average age at the time of conviction being in the mid-twenties and the average age of exoneration in the mid-forties. That is 14 years of one's life, sitting in a prison cell as the result of a wrongful testimony or failed science.
John Lane, professor of Percussion at Sam Houston State University, teamed up with his former professor at the University of Cincinnati, Allen Otte to advocate for this cause.
In 2006, they collaborated with Otte's colleague, Michael Burnham, on a music piece for a photography exhibit by Taryn Simon at the Cincinnati Contemporary Art Museum. Since then, they have worked with other advocates and developed their own concert-length presentation to tour nationally. Lane and Otte have also presented at the Innocence Network Conference, an annual gathering of nearly 1000 lawyers and advocates from around the nation, as well as exonerees.
"We hope to engage an audience and promote critical thinking about these issues," Lane said. "Our experience is that a non-partisan, socio-political issue, presented not as didactic instruction, but rather as creative art delivered with the highest level of expertise and commitment, elicits stimulating, thought-provoking comments and questions."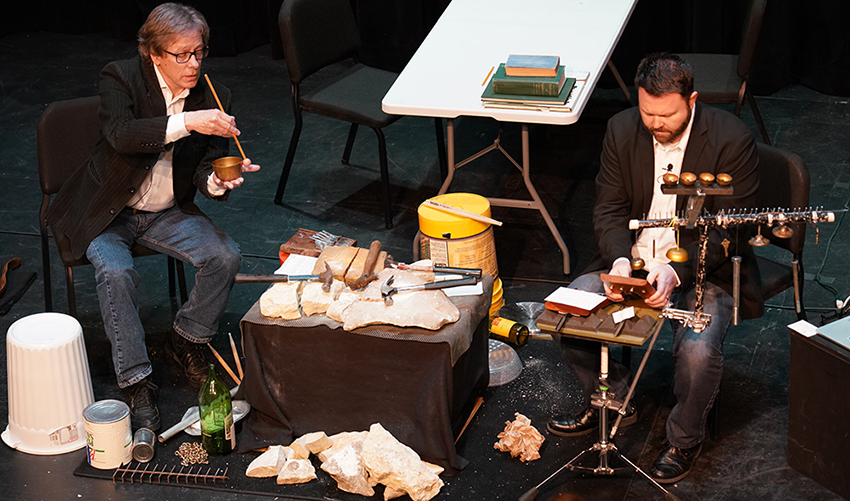 The pair were also surprised with their visits to junior high and high schools after they produced a version specifically for schools.
"We were believably a bit nervous about how younger kids would react to this. We knew that whatever it was going to be, it was going to be a raw and honest reaction," Otte said. "It has been wonderful and so encouraging."
Recently, Lane and Otte teamed up with SHSU Associate Professor of Film Wojciech Lorenc to produce a documentary about their journey.
"Allen and John's performance is as much about the sound as it is about how the sound is created. The audience is treated to world-class percussionists playing wonderful music by dragging books on the table's surface, hitting rocks with hammers, or playing a homemade canjo (banjo made with a can) and a washboard. This is justified by the culture of music making and performing present in American prisons," Lorenc said. "The film is about pursuing social justice by using your talents, and the abilities, and resources that are available to you in your current situation."
Although COVID-19 has put a pin in their school visits and other performances, Lane and Otte have no intentions in halting their advocacy. They believe that not every person has to be involved with a socio-political issue, but rather there is power in "lifting your voice for something other than yourself," words spoken by composer Herbert Brün that the team uses frequently in their presentations.
"I think the conversations Americans are having right now about race, equality and policing are going to make our project even more timely when we are able to resume our touring and performing," Lane said. "In some ways, audiences may even be more primed to engage with these issues."
"For those interested in becoming an advocate for racial equity, support local by getting involved with Innocence Project of Texas​ or visit the Equal Justice Initiative​."
Stay up to date with this project and the documentary release at the-innocents.com.
- END -
This page maintained by SHSU's Communications Office:
Director of Content Communications: Emily Binetti
Communications Manager: Mikah Boyd
Telephone: 936.294.1837
Communications Specialist: Campbell Atkins
Telephone: 936.294.2638
Please send comments, corrections, news tips to Today@Sam.edu