SHSU Earns National Recognition For Low Student Loan Debt

SHSU Media Contact: Hannah Haney
Sam Houston State University has been nationally recognized by LendEDU for having one of the lowest student loan debt figures in the country for the Class of 2019.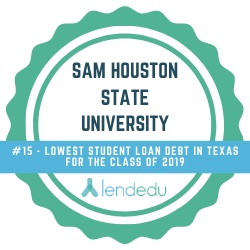 LendEDU's "Student Loan Debt by School by State Report" presents an in-depth analysis of the most recent student loan debt figures at hundreds of colleges and universities across the United States. Ranking No. 15 in Texas, SHSU offers a variety of resources to curb costs and help students overcome financial hurdles associated with receiving an education.
One such resource is the award-winning SHSU Student Money Management Center. For the past three years, LendEDU ranked the SHSU Student Money Management Center among the Top Ten Collegiate Financial Literacy Programs in the United States.
The SMMC is a financial outreach and educational program, administered by the Division of Enrollment Management, that aims to empower students to achieve financial independence. They offer assistance through personal consultations, workshops and presentations that work to foster financial literacy and personal success.
"The SMMC works with SHSU students to ensure they understand the costs associated with attending school at SHSU. We work to make sure students understand that the decisions they make, such as the dorm they live in or the number of credit hours they take each semester, have a cost related to those decisions and those costs have an impact on their budget. We also help students to create a personal budget, so they have a full understanding of their expenses. We then help students to determine income streams, one of these being financial aid. While it is great to be awarded grants and scholarships, those don't always cover all of the expenses. That is often when students turn to loans," Haley Rothrock, assistant director of SMMC said.
"The SMMC helps students determine if and how much students may need to accept in loans. Often students think that they have to accept a loan in the amount it was offered, that is actually not the case. We often recommend that students only take out a portion of what they have been offered in loans and we work to make sure they take advantage of the loan with the best benefits to them. Taking out a portion of the loan rather than the full amount can dramatically decrease a student's debt burden, especially over the course of four to five years."
By publishing the Student Loan Debt by School by State Report each year, LendEDU hopes that both current and future college students, in addition to lawmakers and education administrators, can have productive conversations about student loan debt and the cost of college in the U.S.
According to Michael Brown, director of Communications at LendEDU, the topic of student loan debt and the rising cost of college in the U.S. is more important now than it has ever been before.
"As the pandemic continues, students and parents are now carefully weighing their financial options for college, and Sam Houston State University looks like a place where they can expect to have a minimal student loan debt burden," Brown said.
- END -
This page maintained by SHSU's Communications Office:
Director of Content Communications: Emily Binetti
Communications Manager: Mikah Boyd
Telephone: 936.294.1837
Communications Specialist: Campbell Atkins
Telephone: 936.294.2638
Please send comments, corrections, news tips to Today@Sam.edu