Everyday Heroes: Service Through Sewing
April 14, 2020
SHSU Media Contact: Karen Leonhart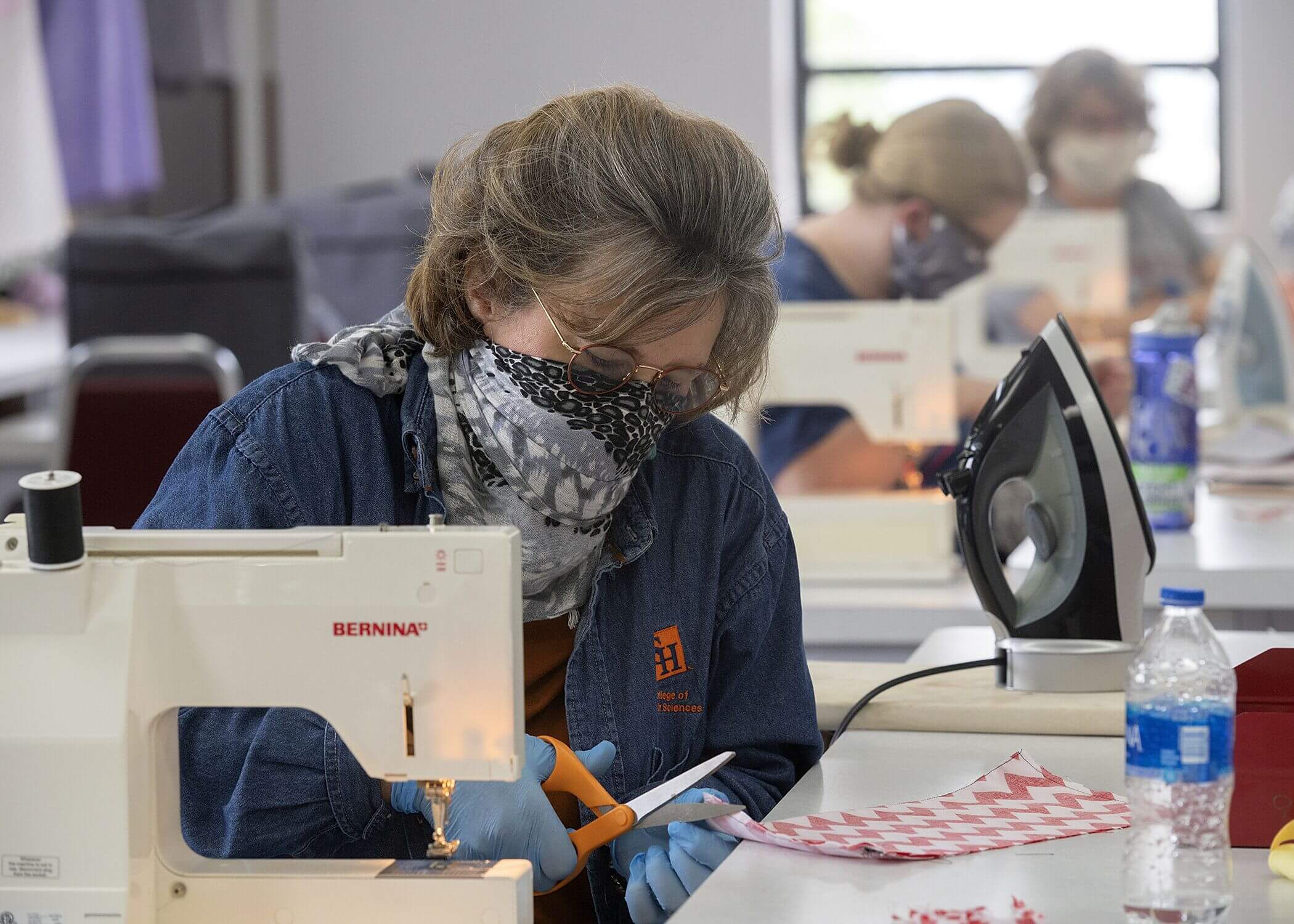 Sam Houston State University College of Health Sciences faculty, staff and alumni truly put into practice the university motto of service as they opened the doors to the Family and Consumer Sciences (FACS) sewing laboratory for the construction of cloth face shields. The overall goal of the effort is to provide personal protective equipment to students, faculty, staff, custodians, and administration that are in need, since they are now recommended by the CDC. These cloth face shields are recommended for the public over surgical masks or N-95 respirators, so that those supplies stay reserved for those working on the front lines of the COVID-19 crisis.
The volunteers were led by Rosanne Keathley, assistant chair in the Department of Population Health, with social distancing and sanitation guidelines closely followed the entire time. Sewing stations were set up 10 feet apart with protective gear and each sewing station was disinfected on an hourly basis.
"A few weeks ago, I lightheartedly spoke to FACS Department Chair, Ron Reed, about using the sewing lab to make masks. This was before COVID-19 had reached pandemic state," Keathley said. "Then, last week, I asked Mr. Reed what he thought about this, and he was very supportive of the effort. I crafted an e-mail to Dean Runyan on Friday, and by the end of the day he responded that he thought it was a great idea. The provost and the dean wanted to ensure that the production team maintained social distancing, proper sanitation, and general safety guidelines."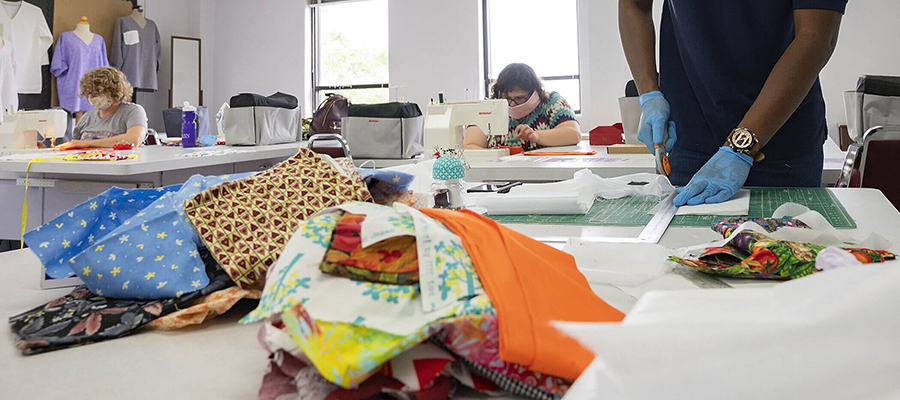 The sewing lab, located in the Margaret Lea Houston Building, was equipped with the tools and materials required to create the much-needed shields, they just needed volunteers to come in and make it happen.
"The sewing lab was available, waiting on us to help serve in this International crisis," said Valencia Browning-Keen, FACS faculty member.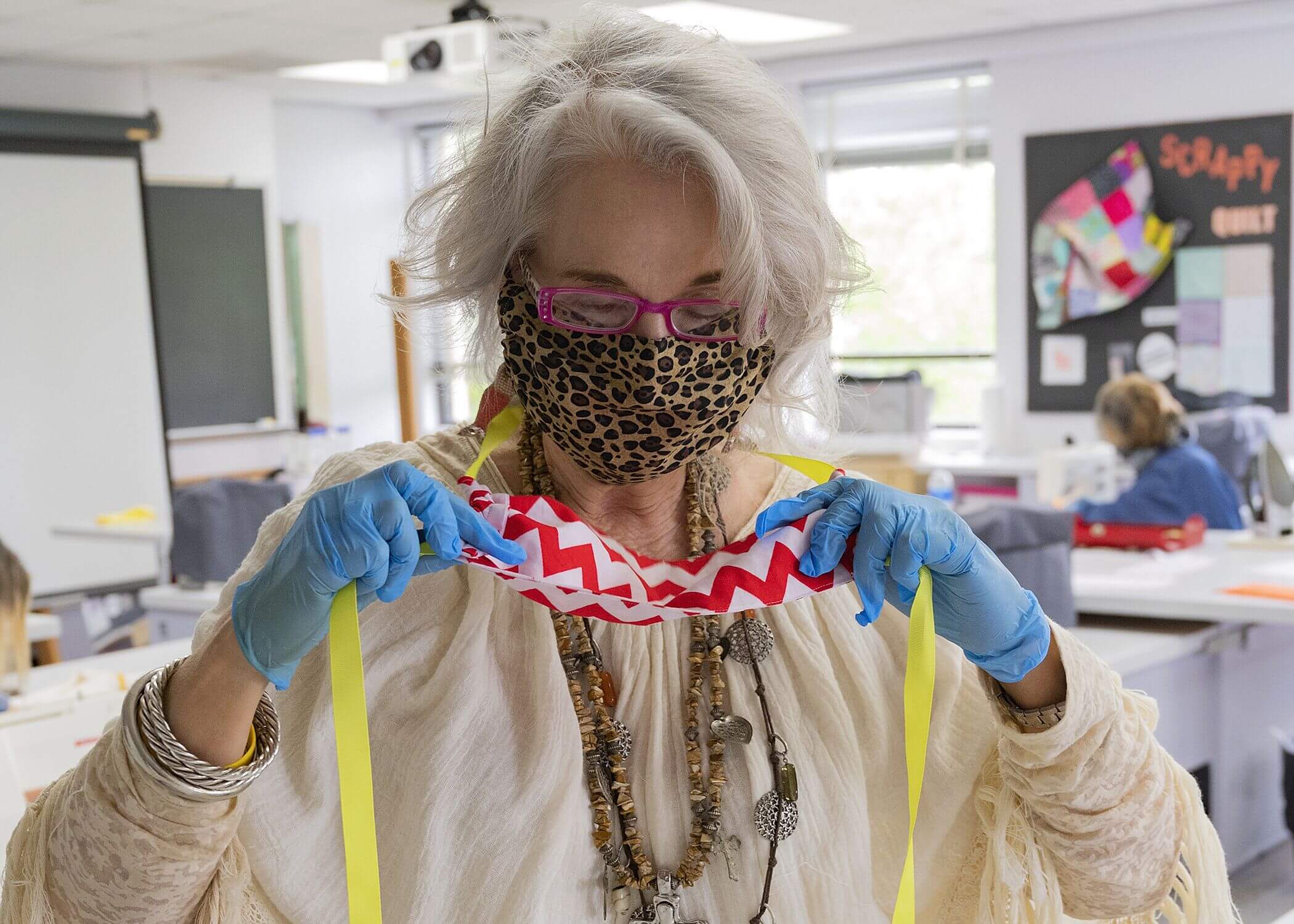 A combination of 11 seasoned sewers and non-sewers from across the College of Health Sciences participated in the service project over two days to produce about 100 face shields. Those who don't sew were busy ironing, measuring, cutting fabric and threading elastic strips and ribbon through the masks, while sewers handled the machines.
"​​​We all know by now that our new normal involves social distancing, good hygiene and self-quarantining. Earlier in the week when I heard about this project, I immediately thought yes, absolutely. Over these past weeks, I have encouraged my students to practice all of the CDC guidelines which our newest one is to wear masks when we are out in public," said Susie Stone, Population Health faculty member. "Throughout this pandemic experience we have not only been told the facts about this virus, we have been asked to demonstrate kindness and love. The goal of this project is to protect lives and to send the message of human kindness."
This project represents the heart of the College of Health Sciences Vision to "empower society to cultivate the enduring health of individuals and communities".
You can locate information on how to construct your own face mask at https://www.cdc.gov/coronavirus/2019-ncov/prevent-getting-sick/diy-cloth-face-coverings.html.
---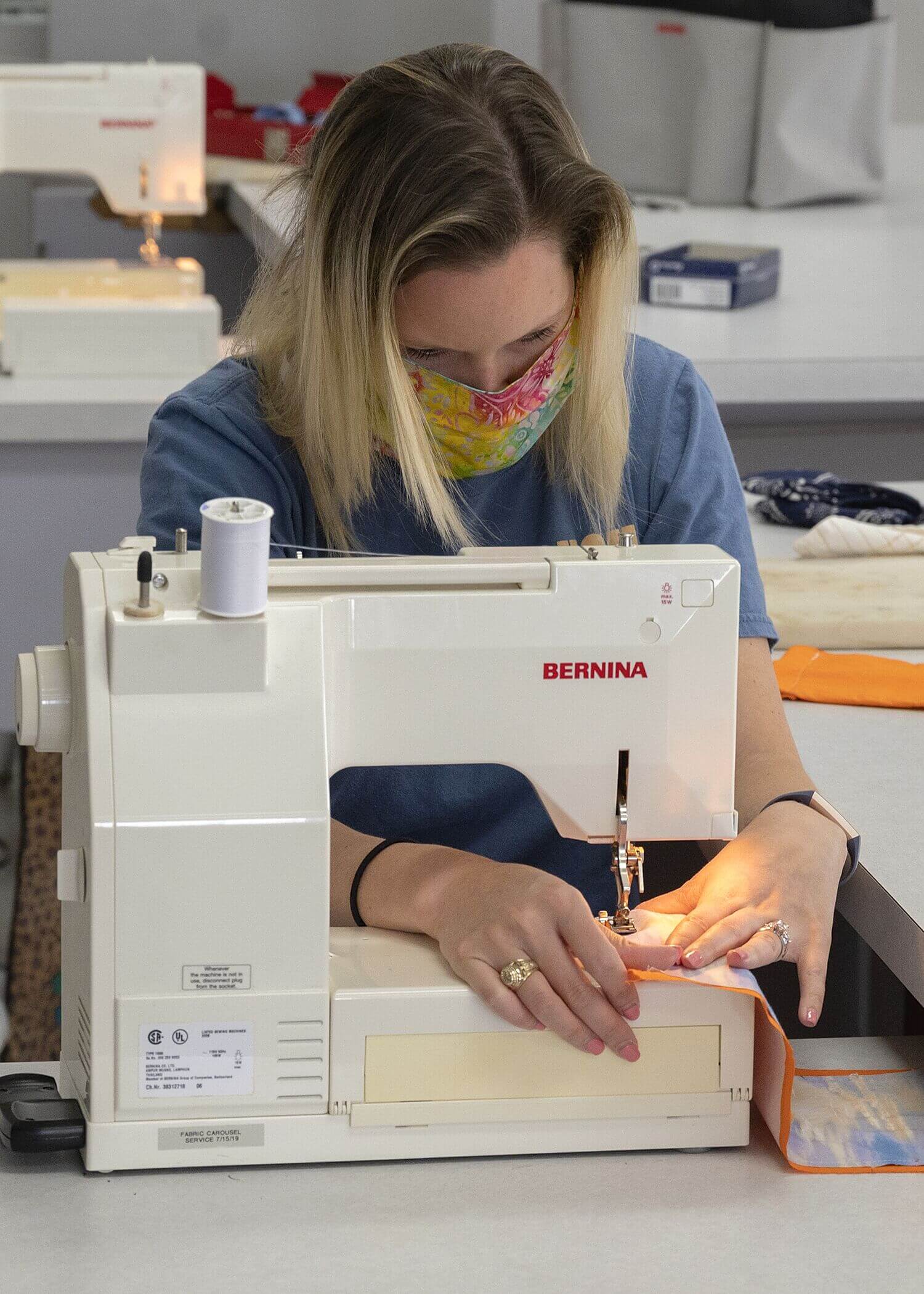 Volunteers
Rosanne Keathley - Population Health Assistant Chair
Susie Stone - Population Health Faculty
Linda James - SON Faculty
Pam Slagle - Nursing Faculty
Kevin Randall - FACS Faculty
Kim Childress - COHS Office of the Dean, Assistant to the Dean
Rachel Bubela - COHS Office of the Dean- SHSU alumni, SHSU Grad Student
Andrea James - FACS Alumni
Amber Diehl - COHS Student Worker
Brittany Rebeles - COHS Student Worker
Quincy Wolfe - Population Health Student Worker
---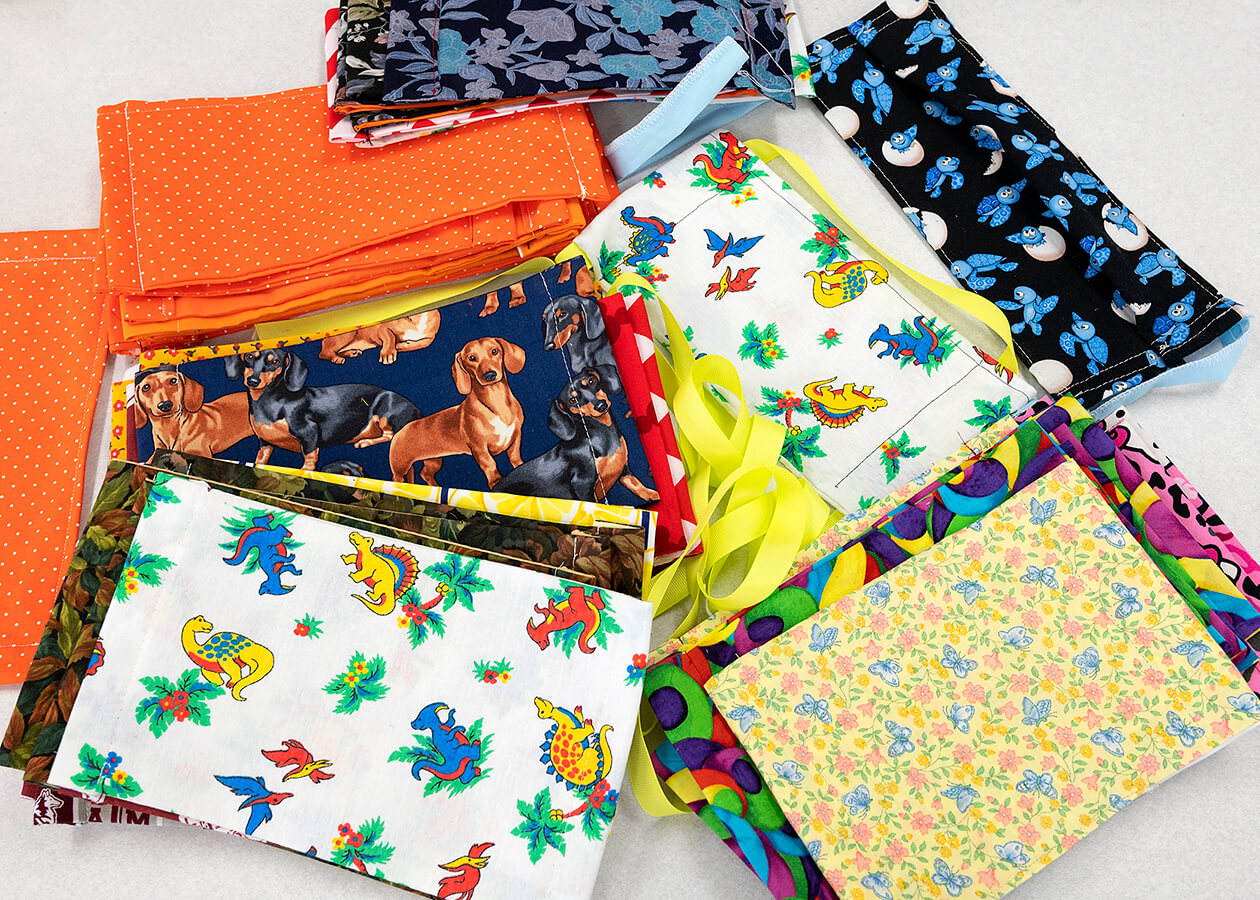 Other Bearkats have also chipped in on their own mask making effort.
"In this time of uncertainty and chaos, sewing every evening is our time to bond and relieve stress," said Ericka Dupclay, assistant chair in the Department of Biological Sciences. "This has become the new norm in my home."
Dupclay and her daughter, a current Bearkat student, have made over 100 masks and have been donating them to first responders as well as everyday unsung heroes such as post office employees, and elderly facility employees.
"We have also donated masks to New York and New Orleans the heaviest hit areas of the pandemic," Dupclay said. "We want everyone to stay safe, practice social distancing and be informed because it may save a life."
If interested in helping, Joann's fabric is a drop off point for any donated masks, follow the link here https://www.joann.com/make-to-give-response/ for more information, including sewing patterns you can download and use for helping out at this time.
---
Barry Doss, costume designer in the Department of Dance, stepped up and volunteered time recently to create masks for those essential personnel who are continuing to work on campus. Doss was sure to even keep them Bearkat themed with the blue and orange.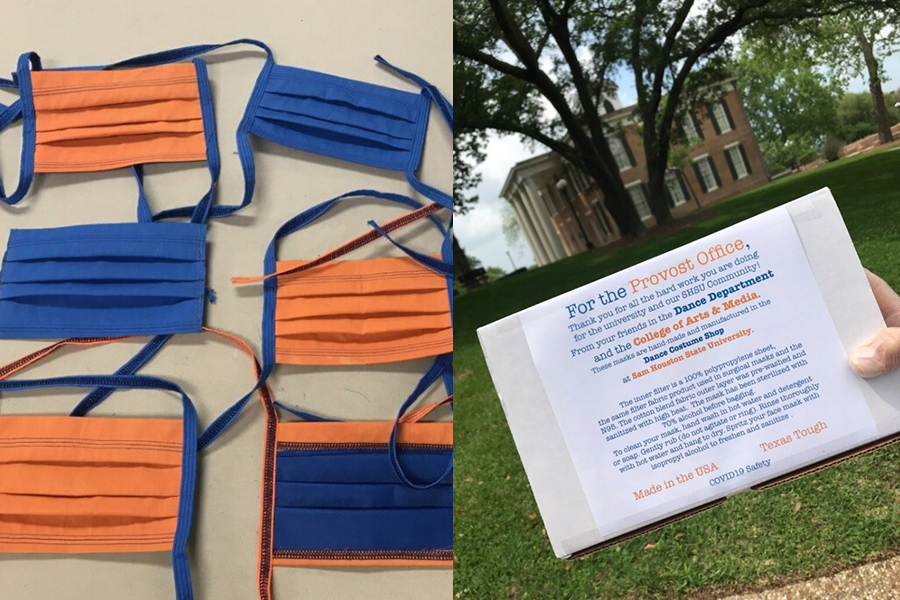 - END -
This page maintained by SHSU's Communications Office:
Director of Content Communications: Emily Binetti
Communications Manager: Mikah Boyd
Telephone: 936.294.1837
Communications Specialist: Campbell Atkins
Telephone: 936.294.2638
Please send comments, corrections, news tips to Today@Sam.edu