Rec Sports Challenge Offers Chance To Compete Remotely
Sept. 30, 2020
SHSU Media Contact: Wes Hamilton
By Melissa Fadler
Have you been neglecting your fitness since COVID happened? Are you suffering from the "Quarantine 15?" SHSU Rec Sports, in collaboration with the National Intramural and Recreational Sports Association, Riddle & Bloom, Ocean Spray, Microsoft Teams and more than 100 colleges and universities, recognized that fitness has been a challenge for our community, and is therefore happy to announce the continuation of the 2020 Recreation Movement Fitness program. Over the summer, thousands of students, faculty and staff across the country logged millions of active minutes in support of their schools, competing to see whose campus is the most active. SHSU finished in 14th place out of more than 110 schools this summer, and we want to continue this fantastic trend!
Health professionals recommend 150 minutes a week of activity or exercise, or 20-30 minutes a day, but people's quarantine-adjusted routines have forced them to find creative ways to remain active while being mindful of the risk of exposure. To maintain these recommended active minutes, Rec Sports has developed an incentive program to encourage the SHSU community to stay active and healthy.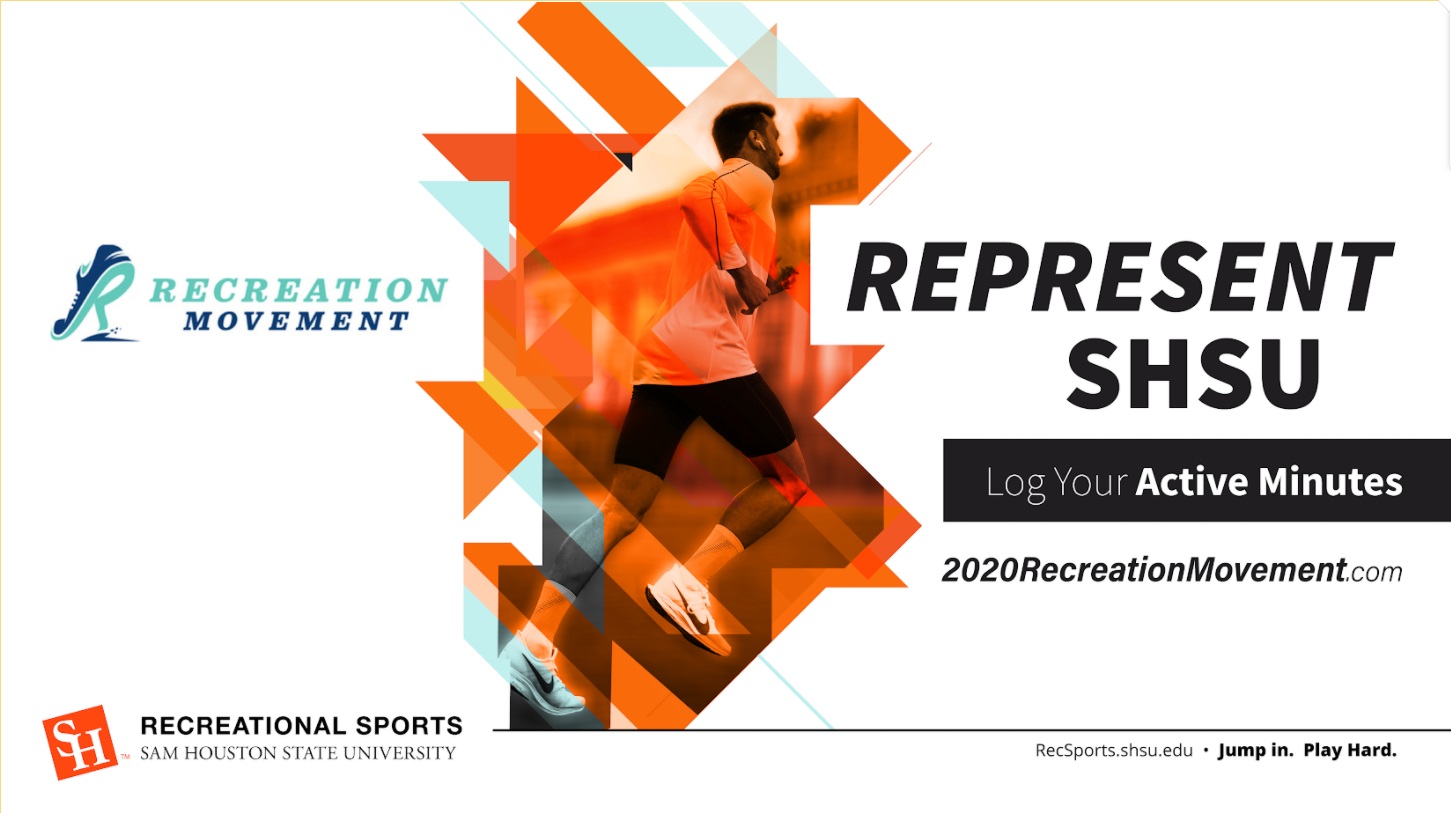 From Oct. 1 to Nov. 30, log your active minutes on www.2020RecreationMovement.com to earn prizes such as t-shirts, water bottles, and backpacks, in addition to those provided by the national program. All you need to do is login with your "shsu.edu" email address. You will gain access to hundreds of live and on-demand classes from different universities around the country each day. Log your active minutes by taking some of our group fitness classes, climbing the rock wall, walking your pet, or doing your own workout. All activity counts so start logging your activity now. The incentive program is free of charge and open to all members of the SHSU community.
---
Step 1 – Register for the Rec Movement using your shsu.edu email
Step 2 – Participate in a free nutrition education meeting with our dietetic interns to calculate your macros and set your nutrition goals
Step 3 – Log your activity minutes throughout the challenge
Step 4 – Win prizes and get fit this semester!
---
Bronze Level – Complete 450 minutes of activity (roughly 30 minutes a day for 2 weeks) and participate in nutrition education macro counting – Rec Sports lunch bag
Silver Level – 900 minutes by October 31 (average 30 minutes a day for 1 month) – Rec Sports t-shirt
Gold Level – 1800 minutes by November 30 (average 30 minutes a day for 2 months) – Rtic water bottle
The Top 10 participants – Under Armour backpack
---
Be sure to follow SHSU Rec Sports on Instagram, Twitter, and Facebook, as well as download the SHSU Rec Sports app for notifications about contests, prize opportunities, or to get encouragement about the Rec Movement program.
Let's make fitness and health a priority for the rest of the semester. Join us today!
- END -
This page maintained by SHSU's Communications Office:
Director of Content Communications: Emily Binetti
Communications Manager: Mikah Boyd
Telephone: 936.294.1837
Communications Specialist: Campbell Atkins
Telephone: 936.294.2638
Please send comments, corrections, news tips to Today@Sam.edu