Photography Students Leave Their Mark with "QuaranZINE"
Aug. 25, 2020
SHSU Media Contact: Jackie Swan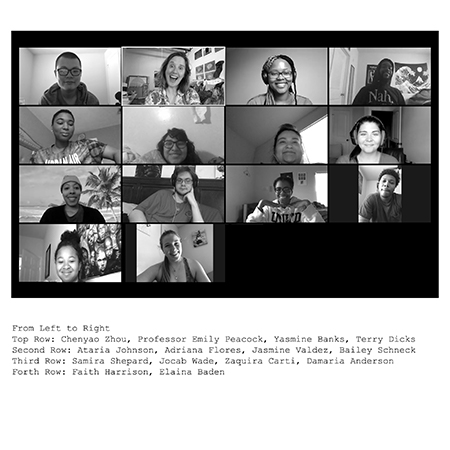 Written By: Jackie Swan
When COVID-19 caused a sudden switch to remote delivery in the spring, university students debated enrolling in hands-on courses since they lacked access to equipment and feared having nothing to show for their effort during the semester. Assistant Professor of Photography Emily Peacock decided that was not going to happen to her students.
"QuaranZINE" is a magazine collage of her 13 photo visualization students' experiences during remote learning.
"They all exceeded my expectations. They rose to the occasion by pushing themselves to make creative, dynamic and poignant photographs with what was around them," Peacock said. "Trash, food, selfies, yards, boyfriends, kitchens all make appearances in QuaranZINE."
Because this was originally a dark room course, her class kept with the black and white theme and included their own creative descriptions of their submissions. Some chose a sentence; others chose poetry or a paragraph.
Bailey Schenck's poem reads, "The bluebonnets didn't miss us. I think they have enjoyed our distant appreciation this year. I have never seen so many. Maybe a little distance is all we need to thrive sometimes. And that's okay." Her words ring true for all types of natural areas that have blossomed due to a decrease in social gatherings and foot traffic.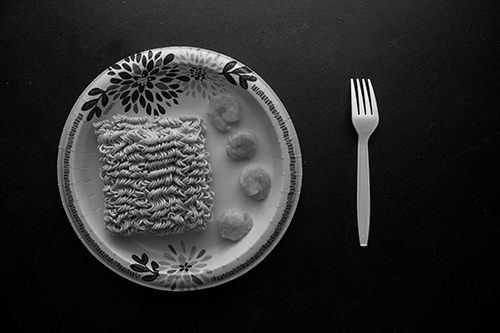 Chenyao Zhu chose a collage of how people have changed their diets and face coverings over the course of quarantine. "Because of not enough masks, people have to make their own. In order to reduce the frequency of going out, people will choose foods that are easy to preserve instead of fresh foods," he wrote. "My photos record my diet and how people make DIY masks."
The booklet includes images of everyday life, boredom, and acceptance of the simple things in life. Many of the photos capture what most people are feeling while staying at home.
"This semester has been pretty wild ever since the COVID-19 outbreak," Damaria Anderson said. "One thing I've learned is to be more creative with the materials I don't normally use."
To Peacock, this project serves as documented history and proof that these students were not only present, but thriving during one of the worst global pandemics. She chose to innovate out of her own pocket to make up for her students being put at a disadvantage with photography resources. She has also tried to keep the mood light during virtual classes.
"I joked on our first Zoom meeting that they would be required to build their own at-home darkrooms. Their faces were priceless," Peacock said. "We figured it out and are excited to share it with you."
- END -
This page maintained by SHSU's Communications Office:
Associate Director, Communications: Emily Binetti
Telephone:936.294.4406
Communications Manager: Mikah Boyd
Telephone: 936.294.1837
Communications Writer: Campbell Atkins
Telephone: 936.294.2638
Thomason Building: Suite 102
Please send comments, corrections, news tips to Today@Sam.edu