Museum To Host TV Anchor And Historical Author Brian Kilmeade
Feb. 28, 2020
SHSU Media Contact: Emily Binetti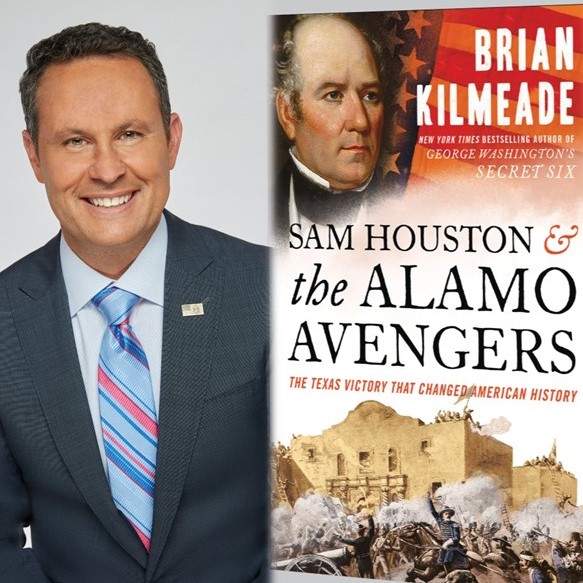 New York Times bestselling author and Fox News anchor, Brian Kilmeade, will be the featured guest speaker on March 6 at 2 p.m. in the Katy & E. Don Walker, Sr. Education Center on the grounds of the Sam Houston Memorial Museum.
The "Fox & Friends" co-host will discuss his latest book, "Sam Houston and The Alamo Avengers: The Texas Victory That Changed American History," which describes the fight for Texas and how General Sam Houston led Texans after the Alamo massacre of 1836.
In addition to his work as a Fox TV anchor and syndicated radio talk show host, Kilmeade hosts the Fox Nation series, "What Made America Great," with the first episode focused on the Alamo.
In his earlier books, Kilmeade has written about Thomas Jefferson, George Washington, Andrew Jackson, and the Culper Ring that spied for the Patriots during the Revolutionary War. He said he became interested in Sam Houston while doing previous research on Jackson.
"On Jackson's porch... It would be James K. Polk, President Buchanan, Martin Van Buren, Sam Houston and Andrew Jackson. They used to try to solve the world's problems, and they used to talk about Manifest Destiny and did it, they used to talk about Texas and took it. They used to talk about taking Florida and he had it in 1819, so to me, it was an impactful group of guys," he said.
While the story of the Alamo is familiar to most, Kilmeade believes few remember how Houston led Texans from a crushing loss to a shocking victory that paved the way for America's growth.
"The Sam Houston story is a story of one of the most miraculous military victories in modern military history," Kilmeade said.
Following his talk, Kilmeade will meet with guests and sign copies of his book, which will be available for purchase. For more information contact Megan Buro, museum marketing coordinator, at 936-294-3839 or email mlb044@shsu.edu.
- END -
This page maintained by SHSU's Communications Office:
Director of Content Communications: Emily Binetti
Communications Manager: Mikah Boyd
Telephone: 936.294.1837
Communications Specialist: Campbell Atkins
Telephone: 936.294.2638
Please send comments, corrections, news tips to Today@Sam.edu