Healthy Hobbies While You Are At Home
April 20, 2020
SHSU Media Contact: Wes Hamilton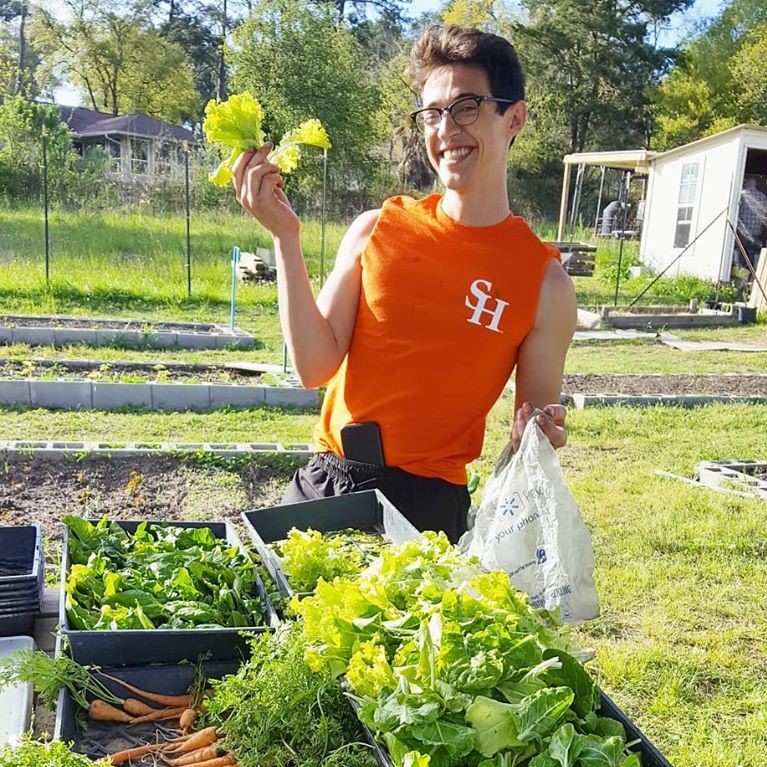 Story by: Mikah Boyd
As students stay at home during the pandemic, they may have an abundance of free time that was previously occupied by class or work. Since stay-at-home orders are in place, it can be hard for students to find ways to keep their minds busy.
Charlotte Jackson, a clinical counselor told us how stress relief practices such as confiding in friends have changed since social distancing was implemented.
"The fact that social engagement is a key to positive mental health, the social distancing that we have to practice now goes against our nature to reach out and spend time with others," Jackson said. "Many of the activities that we do to relax and destress are not available to us at this time."
One way to fix this is finding a creative outlet or picking up a new hobby such as gardening. Engaging in creative activities stimulates the brain and provides a diversion from stress caused by the pandemic. Some people have started gardening, others have turned to painting or knitting. Whatever hobbies you may choose, creating something on your own can be very fulfilling.
In Jackson's view, engaging in creative activities can help in reawakening the child within, as well help maintain one's mental health.
"I think it is good to get back in touch with the kid inside all of us," she said. "As adults, we sometimes forget how to play and just spend time in the present moment, enjoying the activity right in front of us."
Puzzles, paint/color by numbers and building LEGO sets are some of the ideas recommended by Jackson, as they engage the mind by providing a task to be completed and the satisfaction of the creation of something new.
Staff Psychologist, Michelle Castanon told us via email how creative activities can help students cope.
"Creative activities are a great way to help reduce stress and anxiety. Engaging in creative activities helps you be more in the present moment," Castanon said. "It allows you to get out of your mind and can help you become more relaxed. Expressing yourself creatively is a great stress management technique."
If you do not consider yourself an artist, that is perfectly fine. Creativity is for everyone and can be part of a self-care routine, which is important during this stressful time, according to Castanon.
Self-care can include many things such as; taking care of yourself by getting enough sleep, eating good nutrition, creating a sense of structure in your day, getting daily physical activity, limiting media and social media activity, getting outside and being in nature, doing deep breathing exercises, practicing mindfulness and meditation or prayer, keeping a journal, expressing yourself creatively, avoiding alcohol or drugs and reaching out to friends and family via online platforms.
Participating in self-care and creative activities can help relieve stress during this time of uncertainty and create good habits to carry on into your daily life. As a final tip, Jackson reminds students to recognize that this is temporary and that you can learn a lot about yourself and those around you while this pandemic unfolds.
- END -
This page maintained by SHSU's Communications Office:
Director of Content Communications: Emily Binetti
Communications Manager: Mikah Boyd
Telephone: 936.294.1837
Communications Specialist: Campbell Atkins
Telephone: 936.294.2638
Please send comments, corrections, news tips to Today@Sam.edu