Displaying The Miracle of Light For All To See
Aug. 14, 2020
SHSU Media Contact: Jackie Swan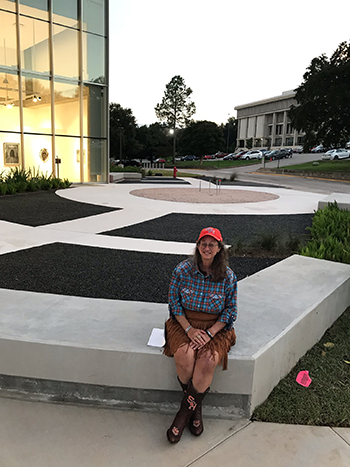 The simple nature of eyesight is something many people take for granted. For SHSU alumna Jill Adams, the gift of sight is a miracle that she decided to share with her alma mater. Standing tall in front of the new Art Complex is a brilliant stained-glass sculpture. With Adams' generous contribution, the university was able to provide this sculpture with the beautiful showcase patio that it deserves.
Born Teresa Jill Adams and weighing just over two pounds, she spent most of her infancy in the NICU. Her nurses referred to her as "Jill," claiming "Teresa" was too long of a name for a 2.6-ounce baby. Growing up a tomboy, her new name stuck. Due to complications with her premature birth, Adams suffered from severe eye damage.
Her doctors informed her parents that it would be a miracle if Jill survived, let alone not have blindness or brain damage. Not only did Jill survive, but she thanks God for gifting her all three miracles: life, vision, and a healthy brain. She received her first pair of glasses when she was just 16 months old and began reaching for everything in sight.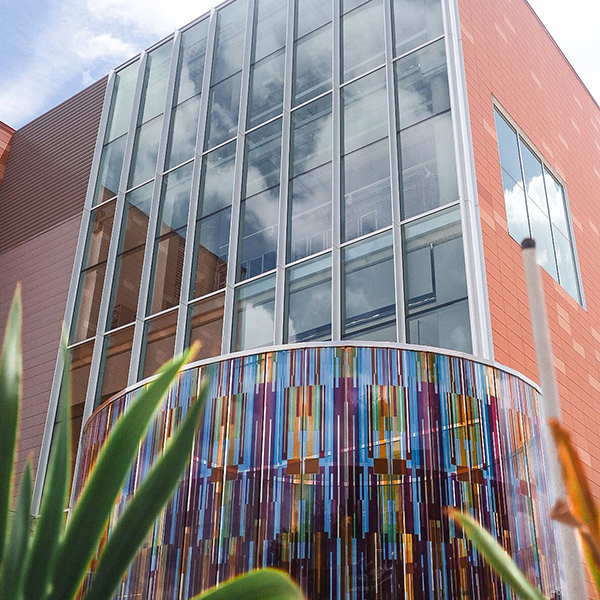 Jill showed immense artistic talent at a young age. During her elementary years, she took art lessons and was advanced by her teachers several months quicker than other students. She also had a passion for animals and hoped to become a veterinarian. However, she struggled with math and science. As she grew up, Jill realized she would not be able to perform veterinary surgeries considering the issues she maintained with her eyesight. She decided to pursue her passion for art instead and obtain a teaching degree so she could share her gift.
Adams received her BFA at Stephen F. Austin University in 1979 and went on to achieve her Master in Elementary Education from Sam Houston State University in 1986. She taught art and reading for over three decades throughout the northern Houston area before retiring in 2011.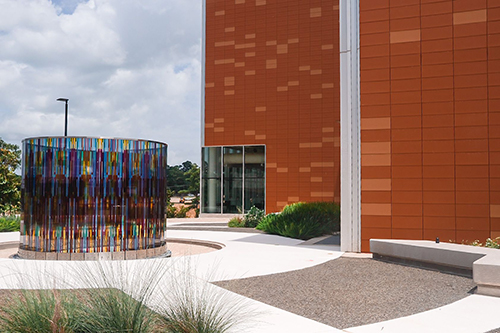 Since retirement, Adams enjoys spending time with her son and still likes to live on the wild side. She grew up loving water sports and riding motorcycles, despite her doctors warning her to be cautious. "I refuse to live my life wondering 'What if?' because life is too short," she said. "Growing up, I had to learn to keep up or get left behind, so I learned to keep up and outrun."
Now, the SHSU Art Complex has the Teresa Jill Adams Plaza to share her colorful attitude with other artists. "I wanted to share a part of myself with other artists," she said. An engraved plaque on the plaza will read "Miracle of Life, Vision, Color, and Light. Fine Arts For All To See."
The College of Arts and Media extends gratitude to Jill Adams for her outstanding contribution.
- END -
This page maintained by SHSU's Communications Office:
Associate Director, Communications: Emily Binetti
Telephone:936.294.4406
Communications Manager: Mikah Boyd
Telephone: 936.294.1837
Communications Writer: Campbell Atkins
Telephone: 936.294.2638
Thomason Building: Suite 102
Please send comments, corrections, news tips to Today@Sam.edu