Coming Up In Performing Arts
Oct. 29, 2020
SHSU Media Contact: Emily Binetti
Written by: Laura Avery and Madeline Aldana
The College of Arts & Media continues to present exciting student-led performances this fall with both in person and virtual options for audiences. In the first week of November, two new productions open with "Let Me Down Easy" and "Virtual But Live Dance Experience."
---
Let Me Down Easy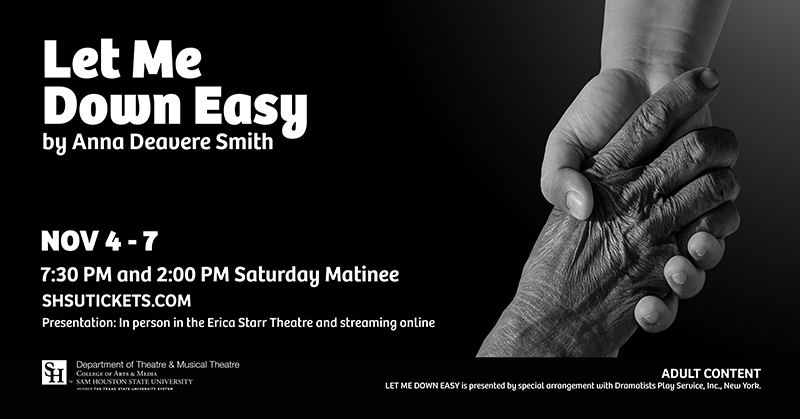 Compiled from dozens of interviews conducted by the author, Anna Deavere Smith's "Let Me Down Easy" is a bracing, tender, melancholy, and triumphant exploration of death and dying. Presented to a live audience and via online live streaming by SHSU's Department of Theatre and Musical Theatre Nov. 4-7, with 7:30 p.m. showings each evening as well as a 2 p.m. Saturday matinee option. "Let Me Down Easy" is directed by Kevin Crouch.
Actor, playwright and journalist Anna Deavere Smith explores the health care crisis and the people dealing with illness, health and the health care system in the United States. Constructed from verbatim interview transcripts, Smith examines the miracle of human resilience through the lens of the national debate on health care. After collecting interviews with over 300 people on three continents, Smith creates an indelible gallery of individuals, known and unknown—from a rodeo bull rider and a World Heavyweight boxing champion to a New Orleans doctor during Hurricane Katrina, as well as former Texas Governor Ann Richards, cyclist Lance Armstrong, film critic Joel Siegel, and supermodel Lauren Hutton. A work of emotional brilliance and political substance from one of the treasures of the American theater.
A diverse cast of nine actors breathe life into these interviews and tell their stories.
"They speak of the body as a battleground, a tool, a weapon, a joy, a burden," Crouch said. "Smith's great gift has always been her ability to break down her subjects' defenses and present them in their full, complicated beauty. Smith reminds us again and again that in learning to die we learn to live."
Online streaming requires a high-speed internet connection and a modern web browser. Stream is a live feed only; ticket purchase does not provide on demand access. Please visit http://www.shsutickets.com for details on either viewing option as well as our updated FAQ page. For ticketing questions, please email the box office at tickets@shsu.edu or call us at 936-294-2339. Streaming platform hosted by ShowTix4U.com.
---
Virtual But Live Dance Experience
A show without a title? Dance through a screen? The senior BFA class is delivering dance to a smart device near you Nov. 6 & 7 at 8 p.m. Amidst unprecedented times, this class created their own rules for how dance can be experienced through the first live online performance from SHSU Department of Dance. After four years of creating and performing dance on a traditional stage, the senior class has welcomed the challenge of producing an online interface to create, innovate, and captivate. This show is made from a wide range of movement including gestural, pedestrian, contemporary, and ballet featuring dancers from Texas to Canada. These dance works delve into relationships with time, society and self. Reveling in the spirit of their unique circumstances, the senior class has left their show untitled, inviting the audience to watch without bias.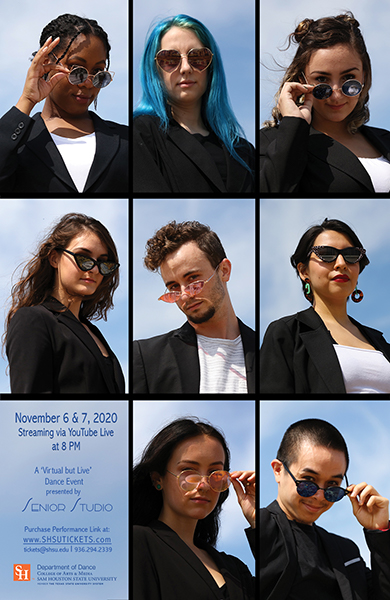 Shows will feature choreographic premieres from the following eight BFA choreographers:
Coffee meets pastry, biscuit meets jam, stranger meets stranger. How do we perceive familiarity? At what point do we feel close to someone and why? "Breakfast" by choreographer Anna Bauer explores these questions with its portrayal of an odd relationship formed between two strangers.
Choreographed by Madeline Aldana, "If You're Reading This, You're In a Simulation" invites the audience along on a journey through an ethereal, mystical dreamscape removed from normality. When was the last time you escaped the monotony and conventionality of daily life, allowing yourself to indulge in the unbound freedom of a dream?
In Zahna Johnson's "One Another," the audience is invited to explore their relationship with sonder: the realization that others' lives are as vivid and complex as their own. Five dancers depict what it's like to walk through life seemingly by ourselves, only to discover just how much our lives are intertwined and dependent on each person we pass by.
How do we experience time passing? Is that dancer moving too fast or are the others moving too slow? Haley Funk's new dance work is centered around humanoid creatures exploring the complexities of time and what it means to manipulate it. "Into Oblivion" is intricate, entangled, and full of unanticipated movement choices in regards to time and dancer relationships to one another in space.
Jason Dang's first choreographic work, "Soul Small," is a breaking / modern inspired choreographic journey through the mind and how it connects human experiences and emotions to stay awake and grounded.
What does it mean to live your life as a satisfied audience member? In "Occupational Hazard," created by Tori Nunn, six dancers break down the fourth wall and blur the lines between artist and viewer until they become one.
"Underscore," choreographed by Dalia Trejo, investigates the ideas of rules, expectations, and anticipation through the use of simple to complex walking patterns performed by the dancers. By starting with the basic concept of mapping in space and finding ways to alter those maps to create moments of surprise, Trejo manages to discover what kinds of choices might be made on pure chance.
"The System" by Evan Warner explores the reality we as Americans have been living in for the last year. Watch along as a quartet of powerful women make art by reflecting on life. How are we supposed to navigate the everyday life of living in the System? What happens when curiosity gets the better of you? What will it take to finally see real change occur?
Online streaming is available via YouTube Live with general ticket purchase at www.shsutickets.com.
- END -
This page maintained by SHSU's Communications Office:
Associate Director, Communications: Emily Binetti
Telephone:936.294.4406
Communications Manager: Mikah Boyd
Telephone: 936.294.1837
Communications Writer: Campbell Atkins
Telephone: 936.294.2638
Thomason Building: Suite 102
Please send comments, corrections, news tips to Today@Sam.edu