Organizations Collaborate To Register Bearkats
Sept. 22, 2020
SHSU Media Contact: Wes Hamilton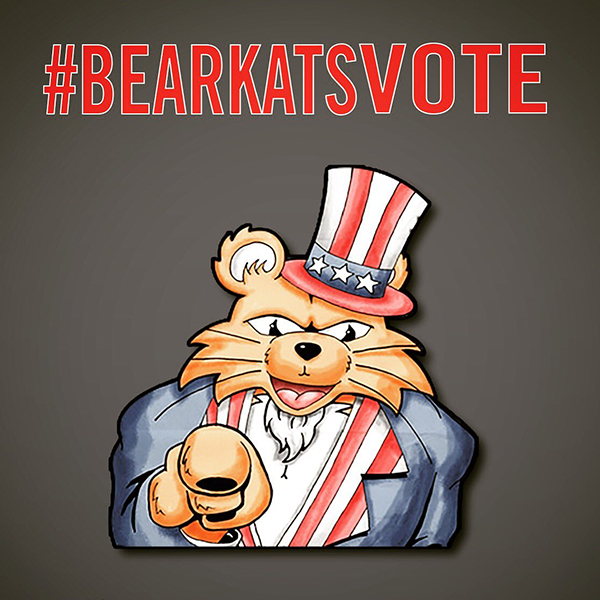 The 2020 presidential election is fast approaching on Nov. 3. For Sam Houston State University students interested in voting in the election, the deadline to register on Oct. 5 is less than two weeks away.
Several organizations on campus, including the Center for Community Engagement, the American Democracy Project, the Student Government Association and the Department of Student Activities, are collaborating to help students register and get to the polls on Election Day with the #BearkatsVOTE campaign.
"We originally conceptualized and implemented #BearkatsVOTE during the 2016 general election, as a way to ensure that students understand the voting process. As an institution of higher education, it is our responsibility to encourage civic engagement and responsibility with our students," said Brandon Cooper, director for the Department of Student Activities. "It is our goal with #BearkatsVOTE to give students the information and tools they need to be able to register and ultimately vote in the 2020 general election."
For students interested in registering, there are several opportunities around Huntsville locations including: the Walker County Annex, Student Government Association (LSC 314), the Center for Diversity & Intercultural Affairs (LSC 315), and the Diversity Council's office (LSC 241).
---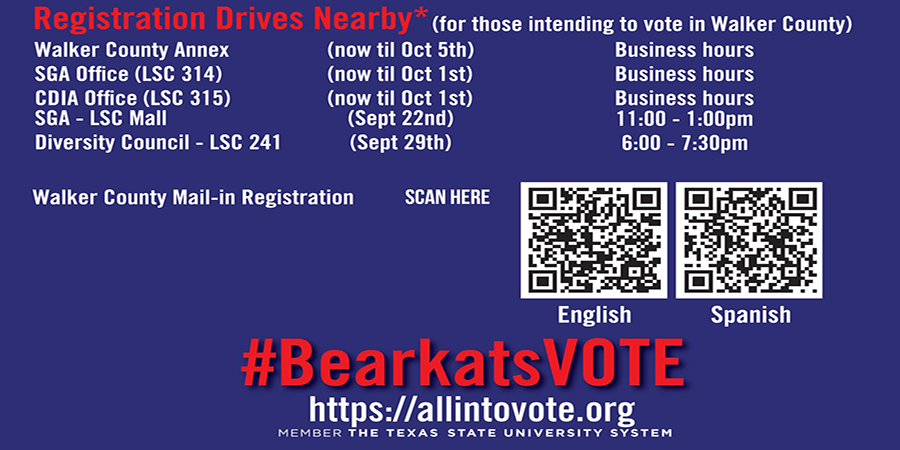 ---
"The initiative is, and has always been, non-partisan. It is the voter's right and duty to make the selections that they feel are the best choices," Cooper said. "We simply want to ensure that students are encouraged, and know the details surrounding when, where and how to vote."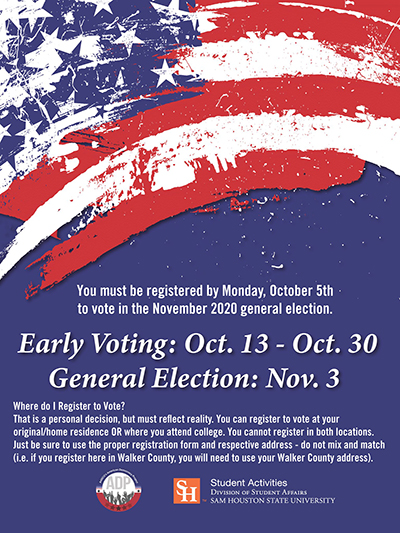 SHSU's Student Government Association will register students outside the Lowman Student Center every Tuesday, 11 a.m. to 1 p.m. until Oct. 5. They are also producing a #BearkatsVOTE video campaign to educate students on registering, voting by mail and more.
"With everything happening in the world it's more important now than ever that young people become civically engaged. Our vote is just as important and as valuable as anyone else's and it's time we take action," said Jordan Johnson, Student Government Association president. "Ultimately, at the end of this election cycle, we want students to feel educated and empowered. We hold so much power and we can't let it go to waste. It's time to register, show up and vote!"
The #BearkatsVOTE initiative will also help students find and get to polling locations for early voting, with more plans to come for Election Day activities on campus.
"We will be facilitating a 'drive to the polls' initiative on Tuesday, Oct. 27 during early voting," Cooper said. "This program is designed to aid students in knowing where to go for early voting in Walker County."

According to the National Study of Learning, Voting, and Engagement, anywhere from 70% to 78% of SHSU students are registered to vote each election cycle. However, voting rates are much lower at 42% in 2016 and 36% in 2018.
"Students can register either back home or where they go to school, but can only register at one location. So it is important to weigh the options. Students must use the correct/corresponding address when registering to vote. For instance, if a student registers in Walker County, they need to use their campus address on the registration form," said Steven Koether, chair of the American Democracy Project. "We suggest students double check that they are registered before Oct. 5, make a plan for when and how they will vote, remember to bring their ID, and download a sample ballot before going to the polls. Please remember, with COVID-19 precautions, voting locations may have changed."
For more information on voting in Walker County, visit https://www.co.walker.tx.us/department/index.php?structureid=39
---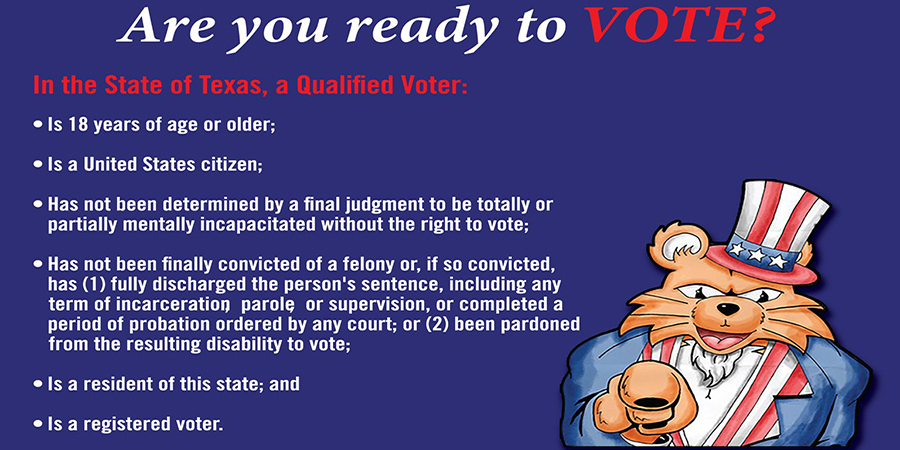 - END -
This page maintained by SHSU's Communications Office:
Director of Content Communications: Emily Binetti
Communications Manager: Mikah Boyd
Telephone: 936.294.1837
Communications Specialist: Campbell Atkins
Telephone: 936.294.2638
Please send comments, corrections, news tips to Today@Sam.edu