Bearkats Boldly Putting Their Education To Work
May 4, 2020
SHSU Media Contact: Karen Leonhart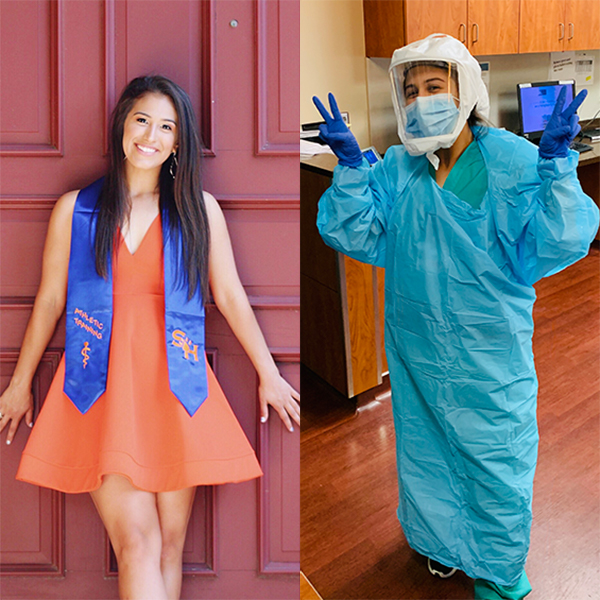 Just six weeks ago Victoria Pineda, a 2018 graduate of the SHSU Athletic Training Program, was at a baseball tournament working as a high school athletic trainer for the Houston Methodist system. Now with schools across the nation closed and sporting events at a standstill, Pineda is putting her athletic training background to work on the frontlines of the COVID-19 pandemic by serving alongside the doctors and nurses who are treating patients in the ICU at Houston Methodist Sugarland Campus.
"It was an interesting transition going from athletic training injuries to the ICU," Pineda said. "I don't think people give credit to athletic trainers. They do more than wrap ankles and hand out water. They are first on the scene for potentially serious and life-threatening injuries."
She is joined by alumna, Cassidy Burke ('19) and faculty member, Hope Parker, as more and more athletic trainers are putting their education and unique skill set into action by stepping into the hospital setting to help with COVID-19 patients.
"Houston Methodist has done a wonderful job utilizing the skill set of athletic trainers to have them help on the frontlines. Many ATs are doing symptom screening, but more recently they have been on prone position teams in the ICU," said Mary Williams, SHSU Athletic Training program director.
Prone positioning is when a patient is placed on their stomach in order to help increase the amount of oxygen flow to their lungs. Often these patients are in a medical coma using a ventilator which makes repositioning them a challenge. Usually a prone position team consists of two respiratory therapists, one nurse and four athletic trainers and a physical therapist. Teams typically re-position patients every 4 hours.
"The team's activities are directly related to skills learned early on and reiterated throughout the SHSU Athletic Training program," Pineda said.
Students enrolled in the Athletic Training Program at SHSU take a variety of courses, such as Prevention and Care of Injuries and Lab, that ensures they are armed with the abilities and understanding that allow them to transfer what they know about disease transmission and personal protective equipment to a new setting with additional equipment.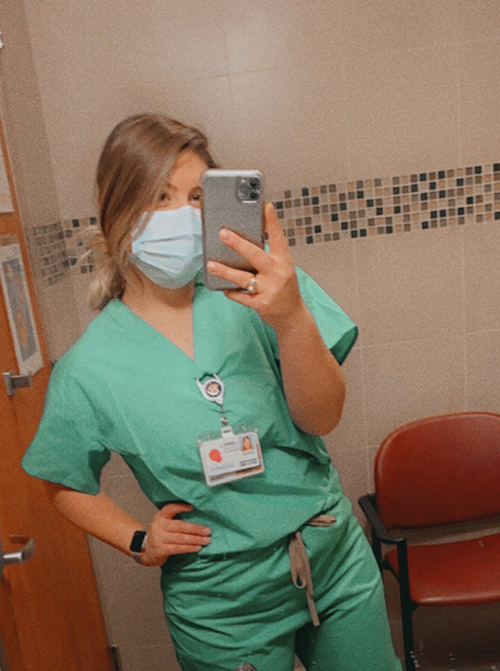 "Being able to appropriately move a patient without hurting them is the main goal. We learn how to position patients that may have been post-operative and/or unconscious," Burke said. "My training at SHSU helped me get to a point of comfort and knowing I can do anything I put my mind to. When moving these patients in ICU, we are using the same SHSU techniques every single time we walk into a room."
Experience both in simulations and in clinical settings, allows students to work with a variety of patients and medical issues. All athletic training programs accredited by the Commission on Accreditation of Athletic Training Education require students to complete clinical rotations in non-orthopedic settings.
"We spend a great deal of time focused on the delivery of patient-centered care and healthcare delivery including how to communicate appropriately with patients and families," Williams said. "Students in our program engage in interprofessional education activities. This training allows students to develop the skills that are necessary to work in interdisciplinary teams and how to practice collaboratively while also maintaining a mutual respect for the varied scopes of practice across healthcare professions."
This pandemic has given many professionals, such as athletic trainers, an opportunity to serve their community in new ways.
"There has been many days of lack of sleep and hard work, but I wouldn't have wanted anyone in my spot," Burke said. "I stand by patients when their family can't and although they can't see, they can hear so we try and encourage the patient as much as we can. Being able to see patients turn around for the best is so exciting and so encouraging."
- END -
This page maintained by SHSU's Communications Office:
Director of Content Communications: Emily Binetti
Communications Manager: Mikah Boyd
Telephone: 936.294.1837
Communications Specialist: Campbell Atkins
Telephone: 936.294.2638
Please send comments, corrections, news tips to Today@Sam.edu