Honoring The 2020 Faculty Excellence Winners
July 21, 2020
SHSU Media Contact: Hannah Haney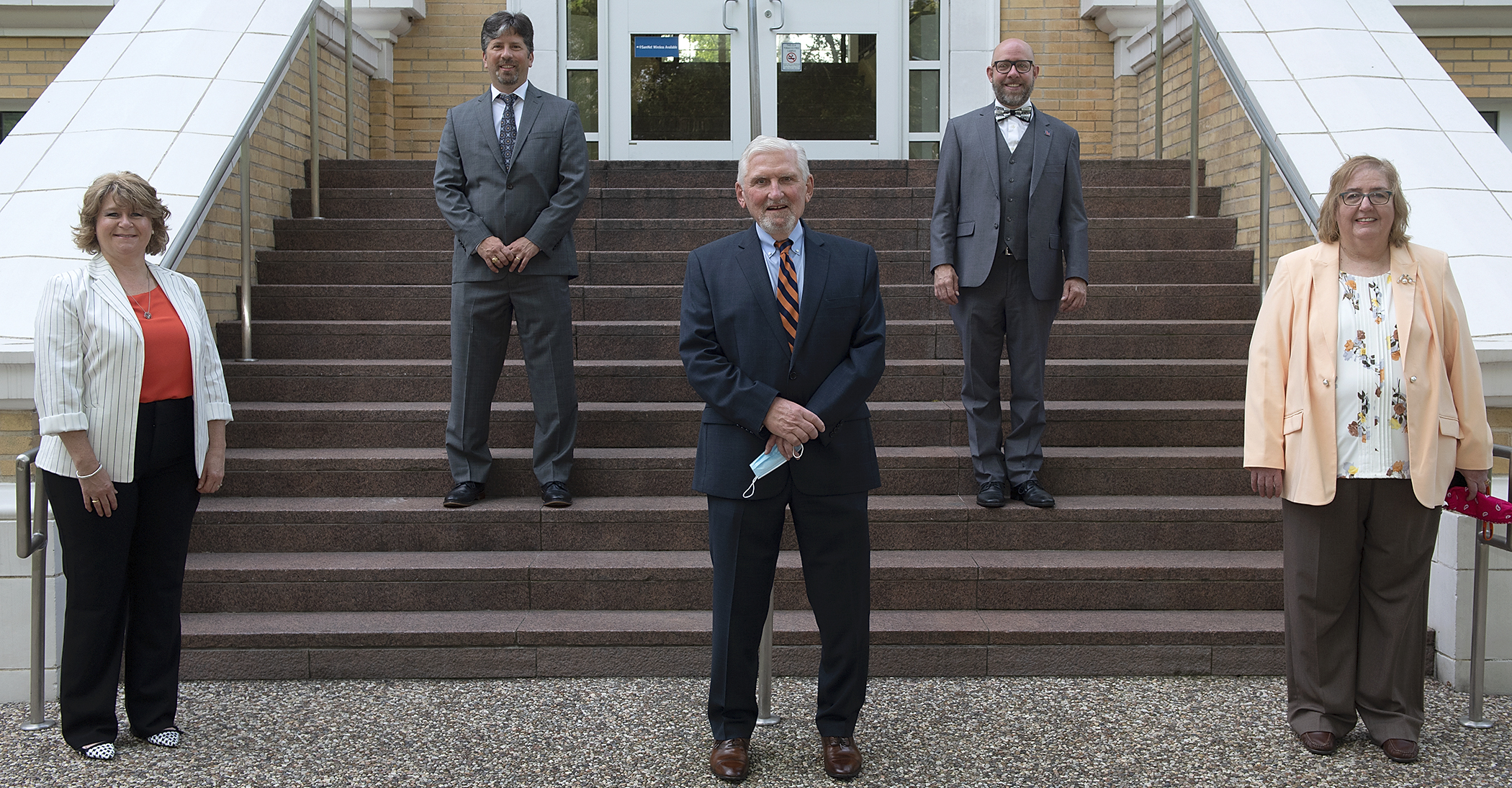 Provost Richard Eglsaer (center) recently recognized the 2020 Faculty Excellence Award recipients. They are (from left) Linda James, Gene Theodori, Paul Eaton and Pamela Zelbst.
---
Sam Houston State University professors whose teaching, scholarly accomplishments, service and academic engagement stand out among their peers have been honored with the 2020 Faculty Excellence Awards.
The recipients are Paul Eaton, Excellence in Teaching; Gene Theodori, Excellence in Scholarly and Creative Accomplishments; Pamela Zelbst, Excellence in Service; and Linda James, the David Payne Academic Community Engagement Award.
---
Excellence in Teaching
Paul Eaton, Assistant Professor of Education Leadership, COE
This year, the Excellence in Teaching committee received over 550 nominations from students, faculty members and alumni. Overall, 284 faculty members were nominated for this award. One candidate was seen as being the best example of teaching excellence for 2020, Paul Eaton.
Perhaps more than his reputation for creating academically rigorous courses, is Eaton's reputation for producing active scholars and change agents for higher education and the world.
Eaton has been recognized as being especially impactful in his teaching work, his teaching philosophy and in his efforts to ensure connection and interaction with all of his students.
---
Comments supporting his nomination included:
"Professor Eaton is unique because he listens to student concerns and pushes students at the same time. He does everything that he can to make the learning environment both enjoyable and rigorous. He is an enthusiastic learner and teacher. He is comfortable in the ambiguous and yet he maintains a laser-like focus on higher education institutions doing well for students. Anyone who meets Professor Eaton knows that at the core of his heart is a love for students."
"Dr. Eaton not only provides academic and logistical support to students who are struggling, he is unabashedly empathetic. This is not a skill that can be learned, it is a trait rooted deep in his personality. Whereas some professors may react to student struggles with disregard, or perhaps worse, by "dumbing down" the material, Dr. Eaton has a unique way of identifying and acknowledging student struggles, meeting said students where they are, and lifting them up to be the successful emerging scholars he knows them to be."
---
Excellence in Scholarly and Creative Accomplishments

Gene Theodori, Professor of Sociology, CHSS
Theodori joined the SHSU faculty in 2007 and currently works as a professor of Sociology, having previously served as department chair and the founding director of the Center for Rural Studies.
During his 20-year professional career, Theodori has been the recipient or co-recipient of more than $2.5 million in extramural funding from national, state, and local sources, almost $1 million in grant awards since coming to SHSU. He has authored or coauthored one book, over 70 publications, 51 journal articles, five book chapters, 11 proceedings, and has presented over 125 papers at professional meetings. As well as given 65 research-based talks and countless presentations to professional and community groups.
Theodori's commitment to scholarly and creative pursuits is consistently recognized by his peers, earning him the College of Humanities and Social Sciences' Excellence in Research Award three times (2008, 2010, 2012). In 2019, he received the Distinguished Rural Sociologist Award from the Rural Sociological Society, the most prestigious award given for scholarly accomplishments in the field.
---
Comments supporting his nomination included:
"Dr. Theodori uses his tenure as a highly successful researcher and scholar, and allots spare time helping others become successful as well. His patience, understanding, and compassion ranks second to none."
"Gene's leadership in and contributions to sociology are evidenced not only by the quantity of his publications, grantsmanship, and awards, but also by the nature and quality of his scholarly contributions. His work has provided both the impetus and inspiration for other scholars who study similar issues."
---
Excellence in Service

Pamela Zelbst, Professor of Management & Marketing, COBA
Zelbst is a firm follower in the university motto, "The measure of a Life is its Service" and has met the obligation head on. Zelbst embodies the ideals of the SHSU Excellence in Service award for her commitment to providing impactful service to her students; her colleagues, the university, the military, and the community.
Zelbst's efforts have played a large role in the efficiency and effectiveness of SHSU's educational environment. Most significantly, she was the faculty champion in the creation of two significant academic programs, the Master of Science in Project Management and the Bachelor of Business Administration in Supply Chain Management. She also serves as director of both the Sower Business Technology Lab and the Center for Innovation and Technology, which she founded. Her work has opened the doors for numerous research, consulting, and training opportunities benefiting the entire SHSU community. Most recently, Zelbst turned the Center for Innovation and Technology into a small manufacturing site for face shields to be used by medical workers on the front lines of the pandemic.
---
Comments supporting her nomination included:
"Dr. Zelbst is dedicated to doing the best she can do in all of her endeavors. She is so committed to service that on occasion I have counseled her to be careful not to overwhelm herself. In spite of an ever-growing collection of service projects, Dr. Zelbst continues to produce at the highest level, making contributions that produce a significant and positive impact on the lives of our students, colleagues, and stakeholders."
"Dr. Zelbst, is eager to help her students shine and achieve in every way possible. When there seems to be no additional time in her day, Dr. Zelbst makes the time to council with her students on anything they might need to achieve their goals."
---
The David Payne Academic Community Engagement Award

Linda James, Assistant Clinical Professor of the School of Nursing, COHS
As a recipient of an award given to a faculty member for upholding the SHSU motto, "The measure of a Life is its Service," James stood out from a group of highly qualified faculty nominees making important contributions to SHSU students, faculty, and surrounding communities because of the numbers of students and families benefiting from her efforts and those of her SHSU students. James teaches her students that the focus of her Academic Community Engagement courses is behavioral change and healthier communities.
James' colleagues noted the large degree of impact her work has had on students through their projects in our local communities such as Huntsville, Livingston, New Waverly, Conroe and The Woodlands. Additionally, her students have worked with the Alabama Coushatta Reservation and developed interactive, developmentally and culturally appropriate presentations for school-age children that address safety, anger management, healthy eating and physical activity.
The reach of James' students is felt internationally as well. ​She helped organize opportunities for nursing students in Costa Rica to work with elementary schools to conduct vision, hearing, and height and weight screenings. Students also visited a nursing home for the elderly in the mountains of Costa Rica and conducted health assessments on the residents.
---
Comments supporting her nomination included:
"Ms. James' work of building community partnerships has been a model for other professors. She works collaboratively with organizations making sure the work that her students do is beneficial to the partner organization as well as providing meaningful learning experiences for the students. In addition, Ms. James works with community partners over time so nursing students can build on existing partnerships to make a real difference."
"Ms. James always collaborates with vital leaders in the communities where our students practice their nursing skills. One of those leaders is the one public health nurse for Huntsville. Because of this connection, our students have been able to enter the Huntsville schools and assist the school nurses in caring for and teaching children."
---
- END -
This page maintained by SHSU's Communications Office:
Director of Content Communications: Emily Binetti
Communications Manager: Mikah Boyd
Telephone: 936.294.1837
Communications Specialist: Campbell Atkins
Telephone: 936.294.2638
Please send comments, corrections, news tips to Today@Sam.edu