Solving Student Legal Needs Leads To Award
Jan. 28, 2019
SHSU Media Contact: Wes Hamilton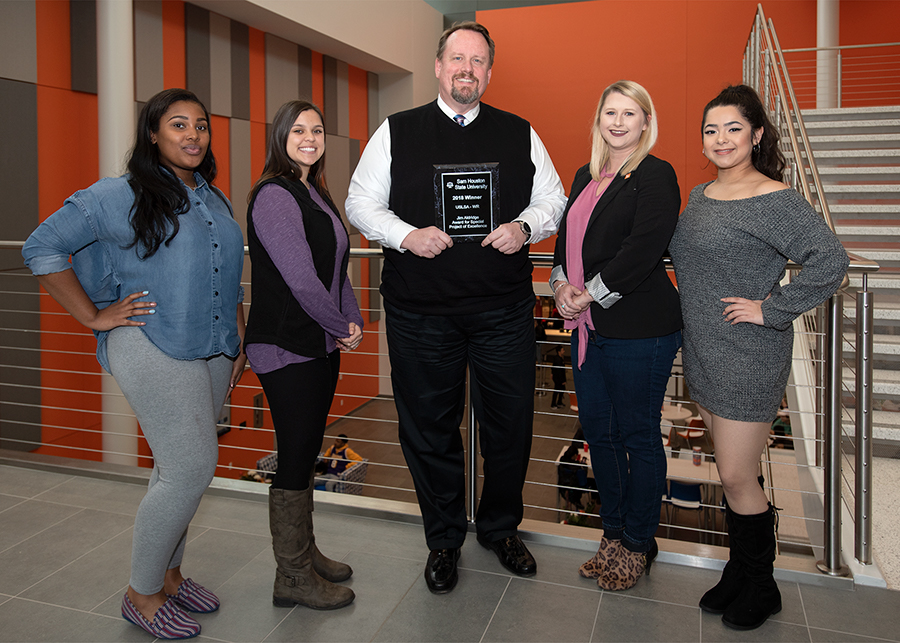 Pictured above (left to right): Le'Brittany Smith, Taylor Olivas, Gene Roberts, Jessica Begnaud, Aysiah Garza
Sam Houston State University's Student Legal and Mediation Services (SLMS) was recently awarded the 2018 Jim Aldridge Award for Special Project of Excellence, presented by the University Student Legal Services Association-Western Region, for its background reports project.
The award is presented to a student legal services office to honor "an outstanding legal project" during the previous academic year.
"Our professional organization recognized the innovative and important work that we provide to the students at Sam Houston State University," said Gene Roberts, director of SHSU's Student Legal and Mediation Services.
Because of threats of identity theft and the need for students to understand better what may appear on a background report before they apply for graduate school, professional work, or licensure, SLMS invested in a background report service. Students can obtain a comprehensive snapshot of public records that may impact them.
"We started this because of the needs of our students. Some students would schedule a consultation with our office because a question appeared on their background, but they found out about it just a few weeks before graduation and there was not enough time to fully help," Roberts said. "
As students become graduates that information can become critical in the hiring process. Roberts explained that any blemish on a background can be a deal breaker in a competitive employment market.
"We are now able to provide this service to students earlier in their academic career so we can help them resolve issues before they need to present themselves to others," Roberts said.
One of the advantages of the background report service is that students are finding that there are items associated with them that they did not know about.
"We've had students discover unusual addresses, multiple Social Security numbers, and even car sales that have not been properly documented, extending potential liability when the student believed the deal was completed," Roberts said.
This is the second time in three years that SHSU was honored with this award.
"This recognition shows that our office is looking for new ways to serve students and the commitment of the Division of Student Affairs and the University to provide critical services to students. It is nice to receive this type of recognition from peers," Roberts said.
The USLSA-WR includes the University of Texas, University of California Los Angeles, University of California Berkeley, Colorado State, Kansas State, Texas Tech, University of North Texas, University of California San Diego, University of Illinois, and West Virginia University, among others.
For more information on the services offered by Student Legal & Mediation Services, please visit shsu.edu/slms or contact 936-294-1717.
- END -
This page maintained by SHSU's Communications Office:
Associate Director, Communications: Emily Binetti
Telephone:936.294.4406
Communications Manager: Vacant
Telephone: 936.294.1837
Communications Writer: Campbell Atkins
Telephone: 936.294.2638
Thomason Building: Suite 102
Please send comments, corrections, news tips to Today@Sam.edu