Professor Receives Distinguished Rural Sociologist Award
Sept. 18, 2019
SHSU Media Contact: Wes Hamilton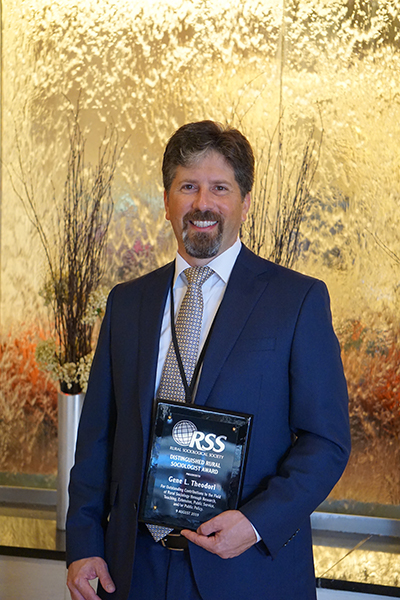 Story by: Mikah Boyd
Gene Theodori, professor of Sociology, received the 2019 Distinguished Rural Sociologist Award from the Rural Sociological Society at its annual meeting in August.
The award recognizes recipients' outstanding contributions to the discipline of rural sociology through research, extension, teaching, public service, and public policy and is based on overall professional accomplishments. Those who nominated Theodori for this award agree that his work extends and amplifies the application of community theory, community development, sociology of natural resources and energy development.
"Gene's passion for his field of sociology, especially rural sociology, has been consistent and impressive," Richard Eglsaer, provost and vice president of Academic Affairs stated "Through his research and public service, he has stressed and demonstrated the benefits his profession can provide to our state and community. Through his teaching, Gene is sharing his passion with future sociologists."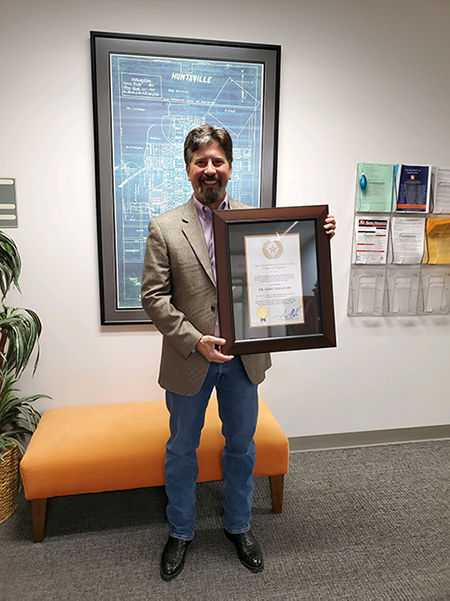 Theodori has been teaching at SHSU since 2007, starting as an associate professor and becoming the Department of Sociology Chair in 2011. Theodori grounds his research and teaching with the belief that sociology is important to rural communities all over the nation. He states that issues affecting rural populations and places are becoming a larger part of our national conversation, making it more important to research and study rural sociology.
"Here in Texas, for the millions of residents who live and work in rural areas, the challenges associated with rural livelihood remain relevant in today's society. Transformations in economic, demographic, and social and spatial organization have had – and continue to have – profound effects on rural Texans," Theodori said. "In many small town Texas localities, pressing needs exist for job creation, increased incomes, economic growth, modernization, improved service delivery, business retention and recruitment, and enhanced social well-being."
Theodori continues to research timely issues such as rural health, education, community and economic development, land use, energy development and natural resource-related concerns in rural areas, and his work informs practice and public policy.
- END -
This page maintained by SHSU's Communications Office:
Associate Director, Communications: Emily Binetti
Telephone:936.294.4406
Communications Manager: Vacant
Telephone: 936.294.1837
Communications Writer: Campbell Atkins
Telephone: 936.294.2638
Thomason Building: Suite 102
Please send comments, corrections, news tips to Today@Sam.edu