Houstonian Editor-In-Chief Selected For Dan Rather Internship In New York City
June 3, 2019
SHSU Media Contact: Wes Hamilton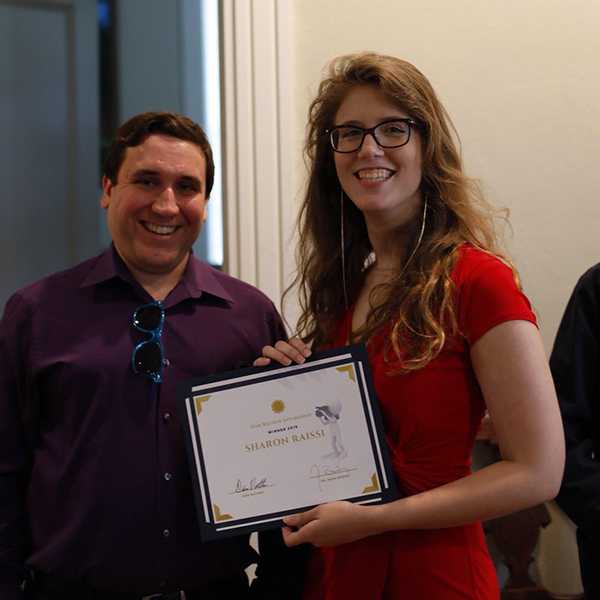 Photo credit: Gavin Guinther
With the spring semester over, and internships beginning for many Sam Houston State University students, one summer opportunity stands unique to most. Years ago, while still broadcasting at CBS, alumnus Dan Rather established an internship for SHSU mass communication students. That internship continues today, as Rather provides a chance for one student to spend the summer at his New York City based company, News and Guts Media.
This year, the selection committee poured through essays and interviewed several applicants who were all deserving before choosing Sharon Raissi. It seems only fitting that the junior was selected, as Raissi holds the same position Rather once did on campus, editor-in-chief of the student newspaper The Houstonian.
"It feels heavy, but good, to follow his footsteps," Raissi said. "When we walk in the office of the Houstonian every day we are all following in the footsteps of someone really great. The opportunity in front of me has not sunk in yet. It is wildly above anything I dreamed of being able to do in college. I am going to take it one step at a time, and work as hard at it as I did to get it, and I think that will serve me well."
Raissi attended Jacksonville High School, where her passion for journalism began. She helped reestablish the high school newspaper after the program disappeared for almost a decade, serving as editor-in-chief her junior and senior year.
"I think working so hard for so long to get that up and running and in a stable place to where it could sustain itself after I left solidified the love of journalism for me," Raissi said.
Raissi's SHSU campus tour only further validated her choice to come to Sam Houston State. She recalls seeing Rather's name on the communication building on campus and feeling inspired.
"During my campus tour, we were passing by the Dan Rather building, and I knew it was a big deal," Raissi said. "But, I did not realize how much he does for the university and the mass communications department. I think about that a lot, I am very lucky as a journalism student to go here. He has shown us that you can get to the top from SHSU if you work hard enough. Now he is giving us opportunities to make it a little easier to break into the business."
Raissi sees Rather's career as a road map, and she looks forward to sitting down with him over the summer for a chance to hear his stories from years of success in the journalism industry.
"Everything that I could want to do with my career he has already done. He has not only been in the industry his entire life, but been on top of it and wildly successful," Raissi said. "He's covered every event imaginable and at times even the more dangerous or daring stories or interviews. For people who love journalism, that is your dream."
The prospect of being in the presence of greatness is not lost on Raissi. She plans to keep track of every detail of her trip to "the big apple."
"I owe this opportunity to the university and to Mr. Rather not to waste it now that they have selected me," Raissi said. "The plan is to keep a journal all summer. I want to take notes, treat it like a class, and bring those back to the Houstonian, this is an incredible opportunity and I want to share it with others as much as I can."
Like any college student, Raissi previously had other summer plans. An internship locally or relaxing at home in between semesters. Those plans quickly faded when she got the call.
"My summer plans don't matter anymore, it doesn't matter at all," Raissi said. "I will not hesitate to turn someone down quick at this point if they offered me anything else. It doesn't matter what my plans were, this is going to be so much better than anything else I could have come up with or done."
- END -
This page maintained by SHSU's Communications Office:
Associate Director, Communications: Emily Binetti
Telephone:936.294.4406
Communications Manager: Mikah Boyd
Telephone: 936.294.1837
Communications Writer: Campbell Atkins
Telephone: 936.294.2638
Thomason Building: Suite 102
Please send comments, corrections, news tips to Today@Sam.edu