Police Chief, Author Draws Inspiration From LEMIT
Jan. 31, 2019
SHSU Media Contact: Veronica Gonzalez Hoff
Andy Harvey, Palestine Police Department Chief and a graduate of the Bill Blackwood Law Enforcement Institute of Texas (LEMIT) Leadership Command College (LCC), recently published his latest book, "Excellence in Policing, Simple Ways to Exceed Citizen Expectations in Every Encounter."
The LEMIT program consists of three modules held at Sam Houston State University, Texas A&M University and Texas Woman's University, which focus on the strengths of each institution. LEMIT is dedicated to the advance of education for law enforcement leaders and cooperation with College of Criminal Justice at SHSU helps the program to remain at the cutting-edge of research in criminal justice and criminology.
Harvey, a command-level law enforcement leader with over 23 years of experience including working and retiring from the Dallas Police Department, and a member of LEMIT's 66th LCC class, attributes the time he spent working through the program's rigorous curriculum as a huge influence on his leadership ethics and the message behind his book.


"LEMIT was one of those programs that really challenged me and made me think differently," Harvey said.

Participants in LCC are required to produce a research paper, called Leadership White Paper, as a requirement to graduate. The paper provides officers the opportunity to develop applied research and communication skills for command and policy levels and emphasizes research methods to better equip practitioners for duties. At the time, Harvey was a Lieutenant with the Dallas Police Department.

"My [Leadership White Paper] topic was on community and I wanted to know how the community perceived us, so that we can police in a way that's impactful," Harvey said. "When I was doing research, I came across the concept of procedural justice and police legitimacy, which was really a new concept back then. The more I read about it, the more I knew officers needed to hear this message."

From that paper, Harvey developed a training curriculum which he called, "Excellence in Policing," and began training and presenting, eventually leading him to train entire police departments. His training and book include topics on the three-phase police-citizen model, legitimacy, procedural justice, and difference between authority and power, which were included in the President's Task Force on 21st century policing.

"Because I was presenting it so much, I knew that it was a powerful message and decided to write the book," Harvey said. "It's an easy read, but I did it because I wanted to be simplistic. I wanted it to feel like a conversation. Officers need to hear this message."

It took a couple of years to put the book together, but it was finally published in 2018.

"Andy's understanding of police legitimacy, procedural justice and the importance of community makes his work a very timely read," said Neil Moore, retired Fort Wayne Police Department Chief of Police.

Harvey promotes his work when he can through social media, but most of his leadership training and resources have been promoted through word of mouth. He admits he must limit his speaking engagements but is passionate about sharing his leadership knowledge.

"As I get more experience, my message evolves so I'm constantly trying to add value to it," Harvey said. "I really believe this message will make officers safer."

Harvey is dedicated to supporting officers and adding value to them. The Palestine Police Chief is already expanding on his leadership topics to include officer resiliency.
Harvey holds a Master of Science in Criminal Justice, a Bachelor of Applied Arts and Sciences, and an Associates in Avionics Systems Technology. He is a Master Peace Officer, a TCLEOSE Instructor, a graduate of LEMIT Leadership Command College, and the Caruth Police Institute in Dallas. He is a member of the Dallas Police Association, the National Latino Law Enforcement Officers Association, and the Leadership Command College Alumni Association.

If you are interested in learning more about Harvey's message and book, you can contact him at andy@excellenceinpolicing.tv.
---
For more information on College of Criminal Justice updates visit their blog The CJ Mandate, where stories are highlighted monthly by Veronica Gonzalez Hoff. Most recently, a feature about Police chiefs representing a wide variety of law enforcement agencies in Texas meeting at SHSU.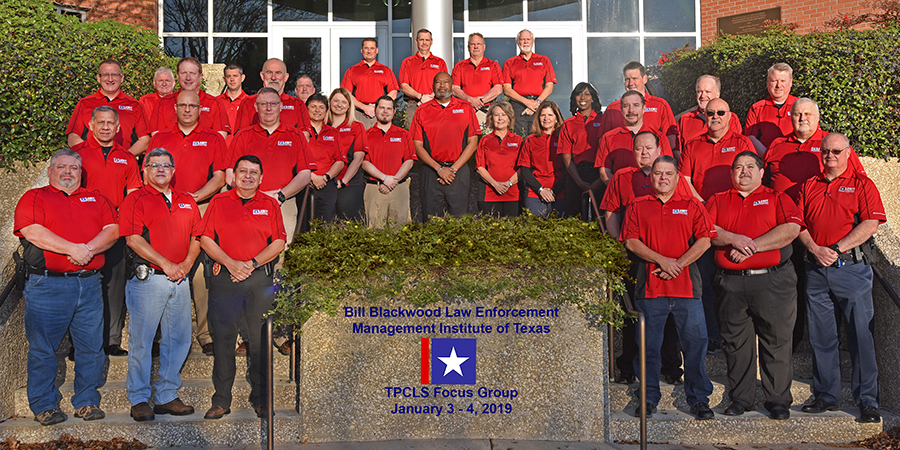 ---
Upcoming CJ events include: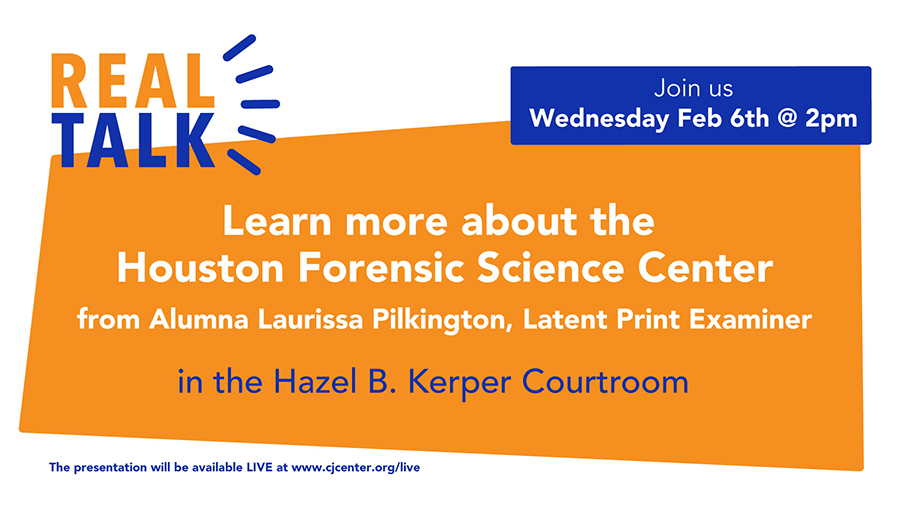 On Feb. 6 the College of Criminal Justice is hosting their first "Real Talk" series of 2019 beginning at 2 p.m. in the Hazel B. Kerper Courtroom.
Learn more about the forensic technology used at Houston Forensic Science Center and the various areas of working in a forensic lab from alumna Laurissa Pilkington and her colleagues.
Laurissa Pilkington is a Latent Print Examiner with the Houston Forensic Science Center. She has been working with HFSC since 2014, beginning as a Senior Evidence Technician, then working up to become a Latent Print Technician, and now a Latent Print Examiner. She received a B.S in Forensic Science at the University of New Haven and a M.S. in Forensic Science at Sam Houston State University. She is also a member of the International Association for Identification (IAI) and the Texas Division of the IAI.
Amber Smith is a Forensic Biology Analyst with the Houston Forensic Science Center where her duties include screening evidence for the presence of contact DNA and bodily fluids using an array of serological tests, and processing sexual assault kits. She attended Lake Forest College in Lake Forest, Illinois, graduating in 2015 with a bachelor's degree in Biology and History, and attended Arcadia University to receive her Master of Science in Forensic Science in 2018. Amber has previously worked for the Philadelphia Police Dept. Office of Forensic Science in the Crime Scene Unit and at the Center for Forensic Science Research & Education in Willow Grove, Pennsylvania as a forensic toxicologist and instrumental analysis teaching assistant.
The presentation also will be streamed LIVE online at cjcenter.org/live.

- END -
This page maintained by SHSU's Communications Office:
Associate Director, Communications: Emily Binetti
Telephone:936.294.4406
Communications Manager: Vacant
Telephone: 936.294.1837
Communications Writer: Campbell Atkins
Telephone: 936.294.2638
Thomason Building: Suite 102
Please send comments, corrections, news tips to Today@Sam.edu