Forensic Science Student Receives SMART Scholarship
Aug. 28, 2019
SHSU Media Contact: Veronica Gonzalez Hoff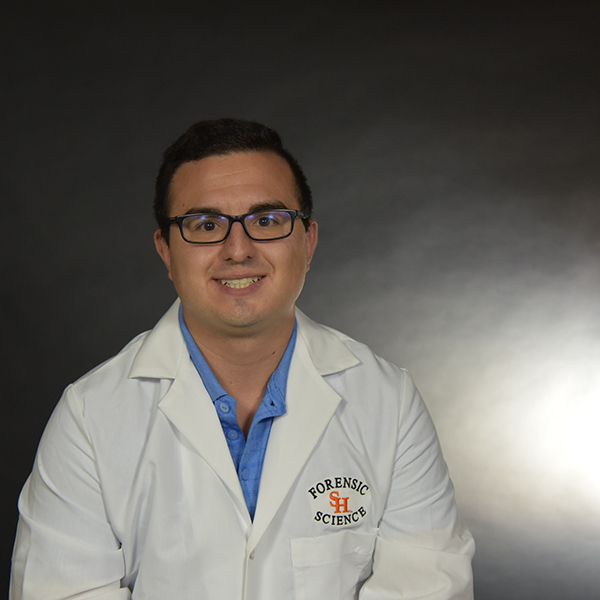 Ryan Gutierrez, a third-year Forensic Science Ph.D. student at Sam Houston State University has recently been awarded the Department of Defense (DoD) Science, Mathematics and Research for Transformation (SMART) Scholarship.
This prestigious award provides students with a unique opportunity to pursue a STEM degree and begin a rewarding career with the Department of Defense upon graduation. Benefits include full tuition, an annual stipend, book and health insurance allowance, summer internships and a guaranteed civilian position with the Department of Defense upon graduation. During the summer internships, SMART scholars work directly with an experienced mentor, while gaining valuable fieldwork and skills at their facility. Upon graduation, scholars begin their service commitment at the same facility where they will work full-time as civilian employees and contribute to protecting national security.
"This type of achievement proves our students are leaving here with a competitive edge and are prepared to address current needs of the forensic science community," said Sarah Kerrigan, chair of the Department of Forensic Science and director of the Institute for Forensic Research, Training, and Innovation.
With the SMART Program, Gutierrez will have the opportunity to begin a full-time career with the Defense Forensic Science Center in Ft. Gillem, Ga. For every year of funding awarded, Gutierrez will work the same amount of time at his designated facility.
Gutierrez applied for the scholarship last year in November after a professor recommended the opportunity to him. He visited the Ft. Gillem lab for the first time this summer and was excited to see so many familiar instruments he currently works with in his research.
"Their lab is state of the art, high tech, a lot of what we have here [at SHSU] actually," Gutierrez said. "It felt like putting familiar gloves on. It's a relief knowing whenever I'm done here [at SHSU] that I have a quality experience waiting for me."
Gutierrez is another testament to the cutting-edge research SHSU forensic science students are pursuing. His research focuses on new techniques to recover genetic information from rootless hair shafts, which are hairs without an intact hair bulb. The bulb, or root, contains the best quality DNA, Gutierrez explained. He chose to pursue this avenue of research because of the challenges presented.
"The goal of a PhD is to contribute to the body of knowledge of science and that's what he's doing," said Bobby LaRue, associate professor and Gutierrez's dissertation chair. "Ryan deserves the credit for all the work he is doing and I enjoy mentoring students like him who are driven."
Gutierrez's research in the lab also led him to the opportunity to test the latest instrumentation and assays from Verogen, a leading company in designing solutions for forensic DNA labs, under the direction of LaRue.
"Using new techniques, assays, and technology, like that being innovated by Verogen, I can get more information from a single hair," Gutierrez said. "I am hoping to improve the ease with which we can conduct our current tests on hair while also pushing the boundaries of the information that can be recovered from hair."
For more information on the SMART Program or to learn how students can apply, please visit www.smartscholarship.org. The application window is open from August through December every year.
- END -
This page maintained by SHSU's Communications Office:
Director of Content Communications: Emily Binetti
Communications Manager: Mikah Boyd
Telephone: 936.294.1837
Communications Specialist: Campbell Atkins
Telephone: 936.294.2638
Please send comments, corrections, news tips to Today@Sam.edu