Comedic Opera (Literally) Moves Audiences
March 12, 2019
SHSU Media Contact: Jamol Simon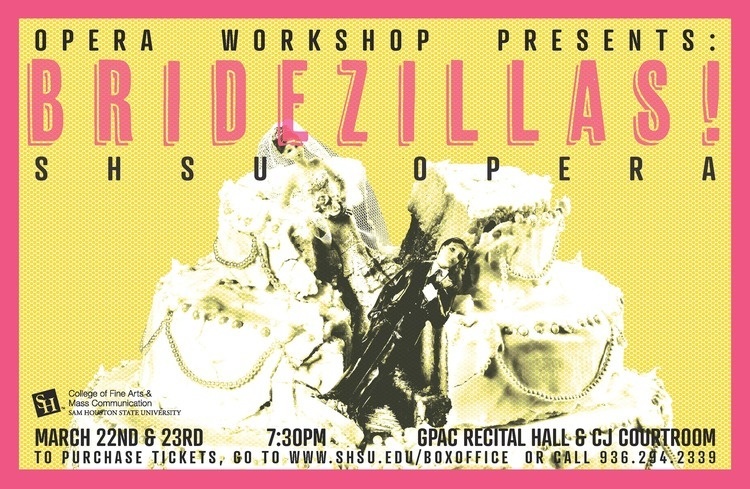 Sam Houston State University Opera introduces a not-so-ordinary night of wedded bliss with "Bridezillas!" From big swords to even bigger voices, the double-billed show is bound to fill the Gaertner Performing Arts Center (GPAC) with laughter on March 22-23 at 7:30 p.m.
"Bridezillas!" consists of two comedic, one-act operas that some may consider as a far departure from traditional opera. There are no heart-wrenching ballads or languishing maidens and certainly no painful deaths. That's exactly what Dan Shore, the composer of the first act, was looking to avoid.
"Usually an opera department will do one huge show a year. So I thought, 'What is going to work well for a group to put on their program,'" Shore said. "It shouldn't be too long and maybe let's have something fun because they're doing so many other dreadfully awful, horrendous, violent, heart wrenching things with people dying right and left."
Shore's opera, "The Beautiful Bridegroom," tells the tale of an aging mother who sets out to seek husbands for her daughters, but unexpectedly finds a peculiar groom of her own.
"It's important to know that operas like this were written to be fun and entertaining," Shore said.
At the end of the first act, the audience will walk across 17th street from the GPAC to the court room of the Beto Criminal Justice Center for the second half of the evening.
Appropriately set, the second act is a 1980s adaption of Gilbert and Sullivan's comic opera "Trial by Jury." Hilarity ensues as a scorned bride takes her former fiancée to court after he leaves her at the altar.
Director Rebecca Renfro proposed the idea and was doubtful that she'd be able to get approval to use the court room, but things worked in her favor.
"I thought about it and though it would be a lot of work, we asked and they said 'Yes,'" Renfro said.
No one has used the court room as a performance space, so stage manager Emily Kneisler knew she had her work cut out for her from the very beginning.
"Moving from the recital hall to the court room is going to be interesting," Kneisler said. "We're going to have to figure out the setup because there is no backstage, there is no booth. It's an actual court room."
SHSU Opera sets out to not only entertain, but to change people's perception of the operatic experience. Even Kayla O'Malley, who plays Larencia Jacobson in "The Beautiful Bridegroom," had preconceived notions of opera before she became a part of the department.
"I had this stereotypical image of ladies in Viking hats." O'Malley said. "I thought, 'I don't have a big voice like that. I can't do it.' My friends were in it and they said it was fun, so I did and it's been a crazy ride since."
O'Malley believes "Bridezillas!" poses as more than just another production. It is an invitation into the world of opera.
"The whole point is telling the story. You can build an appreciation for opera by watching more comedic operas. It's how I was able to dip my toes in," O'Malley said.
Eleanore Scott, who plays Leonora Jacobson, the younger sister of Larencia, hopes to show people that opera can be more than emotional tragedies.
"Opera can be lighthearted and crazy, not just serious," Scott said. "There are operas that are super serious where someone dies and it's tragic and it makes you cry at the end. This one is comedic and, as Dr. Shore said, it's for entertainment. We're really trying to make people laugh and have a good time."
For more information and to purchase tickets, please visit http://www.shsu.edu/boxoffice or call (936) 294-2339.
- END -
This page maintained by SHSU's Communications Office:
Associate Director, Communications: Emily Binetti
Telephone:936.294.4406
Communications Manager: Vacant
Telephone: 936.294.1837
Communications Writer: Campbell Atkins
Telephone: 936.294.2638
Thomason Building: Suite 102
Please send comments, corrections, news tips to Today@Sam.edu