Alumnus Inspires The Next Generation
Nov. 20, 2019
SHSU Media Contact: Wes Hamilton
Story By: Mikah Boyd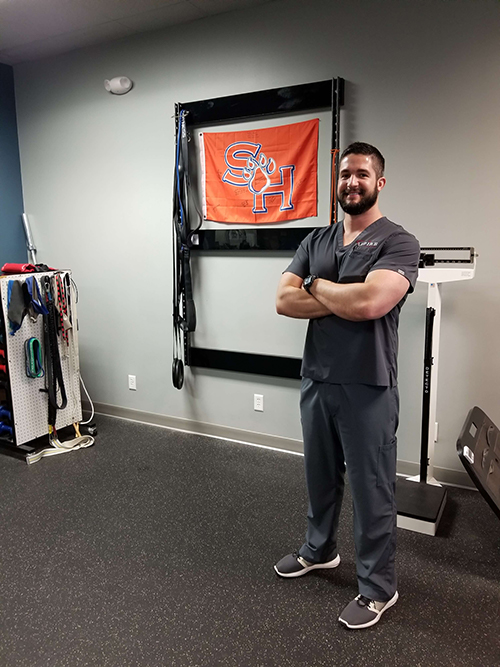 Dr. Justin Bickford graduated from Sam Houston State University with a bachelor's in kinesiology and a concentration in exercise science and health in 2008. After pursuing a doctorate in physical therapy from the University of St. Augustine in San Diego, California and completing an internship, he returned to his Huntsville roots. Today, he directs the Aspire Hospital Center for Rehab and mentors physical therapy majors, prepping them for their future careers.
Throughout high school and college, Bickford was a student athlete and he received various injuries that landed him in physical therapy. It was during this time he discovered flaws in the system and found a desire to become a physical therapist and be the change that he wanted to see. His journey to becoming a physical therapist began at SHSU, which prepared him for his career.
"Getting a degree in exercise science gave me the background needed for applying to physical therapy school. The curriculum was exactly what I was interested in, so I was excited to progress through my coursework and expand my knowledge," Bickford said.
He is now paying it forward as a lecturer for the Department of Kinesiology at SHSU and mentors students that are following in his footsteps.
"As an adjunct professor at Sam, I strive to educate students with real world concepts that are directly applicable in their everyday lives," Bickford said. "I give them mentorship, advice and the training that I wish I would have had when I was in their shoes."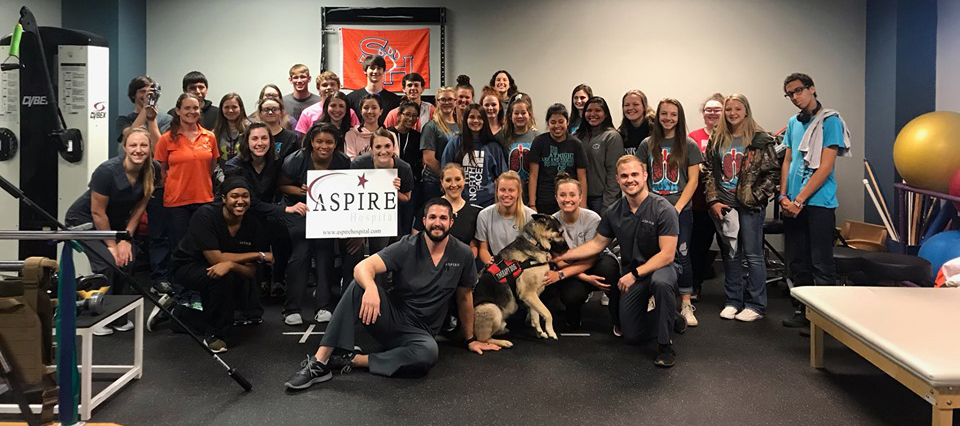 He understands the challenges that PT school presents to students and offers support by encouraging them to focus on their goals and to strive to be the best in their field.
"Education is the key to success in health care," Bickford said.
Student success is very important to Bickford; he keeps an SHSU flag in his office at the rehab center and has his students sign it when they are accepted to PT school. The flag stands as a testament to his years of hard work in order to get where he is today and inspires students to push themselves to be the best that they can be.
"Here at Aspire I strive to inspire the next generation of health care providers and give them the opportunities, so that they can change our profession one patient at a time," Bickford said.
Bickford has been the clinic director for the rehab center for almost three years, performing evaluations, creating care plans, establishing short and long-term goals and assessing patient progress. The work has been rewarding, allowing him to spend more time with his patients and help improve their quality of life.
"Being able to figure out something that multiple other specialties have missed and have my patients walk out of my clinic better than they walked in without using medications, injections or surgeries is the most rewarding part of my job," Bickford said.
Bickford is driven to make a difference as he continues to work at the rehab center and teach at SHSU.
"If you want to see a change, you must be the change you want to see," Bickford said. "So if the health care system is broken, we are the health care system and it is up to us to change it."
- END -
This page maintained by SHSU's Communications Office:
Associate Director, Communications: Emily Binetti
Telephone:936.294.4406
Communications Manager: Vacant
Telephone: 936.294.1837
Communications Writer: Campbell Atkins
Telephone: 936.294.2638
Thomason Building: Suite 102
Please send comments, corrections, news tips to Today@Sam.edu