Faculty Excellence Winner Honored For Scholarly And Creative Accomplishments
Nov. 25, 2019
SHSU Media Contact: Wes Hamilton
Each year, Sam Houston State University honors faculty members whose teaching, scholarly accomplishments, service and academic engagement stand out among their peers. Aaron Lynne, associate professor of Biological Sciences, is the recipient of the 2019 Excellence in Scholarly and Creative Accomplishments for his tremendous impact on others in his time at SHSU.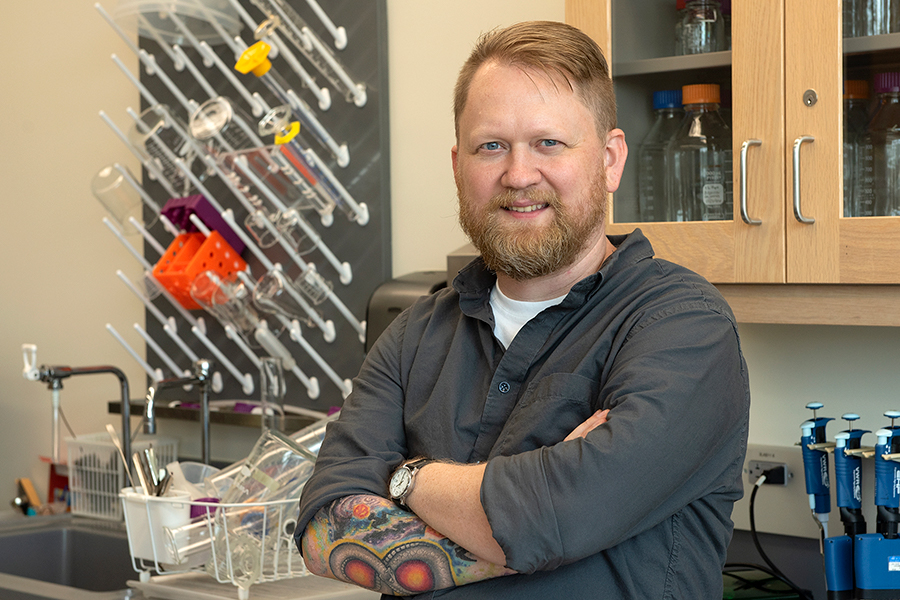 Walking into Aaron Lynne's office, you might think you have stumbled into an arcade. However, behind all the video games, comic books and Star Wars memorabilia there is a serious academic in Lynne.
Don't let his laid back style fool you. Lynne is a dedicated scholarly researcher whose commitment to creative pursuits is evident through 41 peer-reviewed publications, two review articles, eight book chapters and 10 grants funded totaling $1,400,000.
"This is a great honor and I did not really expect it. Just getting a nomination was a big honor to begin with because there is a lot of good research going on this campus right now, so to get this award feels great," Lynne said. "As a professor we are here for the education of students, but as a scientist I am here to add to the scientific knowledge overall. I think Sam Houston State allows those two sides of my job to go together really well. That is why SHSU stood out to me years ago when I was starting my career, the balance between education and research."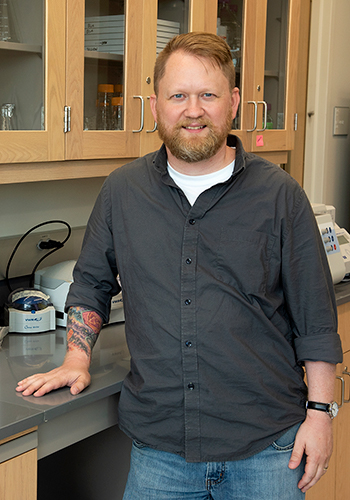 Much of Lynne's research has involved collaborations with researchers at the departmental, university, state and national level. Research grants are never easy to come by as Lynne explains.
"I have been rejected by more grants than I have received, which is typical of all scientists and researchers. So, when you do receive a grant, it is validation, that is a big deal," Lynne said. "When you get momentum and start producing good work it pushes you forward to want to do more for the field and for the university."
He also has contributed to the advancement of many student's careers through his mentorship of 10 graduate and 31 undergraduate students. Another way he helps his students is in making sure they are included in his research.
"In all the grants that I write we are sure to include financial support for students. I remember what it was like to be a college student, it is hard to focus on your research when you are broke," Lynne said. "That is why it is helpful to my students to be able to be in the lab 10 or 15 hours a week and be financially supported for their work."
Lynne credits Sam Houston State in helping further his research through interdisciplinary studies across several colleges and programs.
"One of the best things about being at SHSU is being able to have the freedom to come up with new ideas across disciplines. Whenever I reach out to people in other colleges, they are always willing to come together for research and that is thanks to our strong culture here," Lynne said. "I have worked at other universities where it is very insular, they would not cross research. But, at SHSU interdisciplinary studies are encouraged to produce projects that could have really big impacts and benefits for future generations."
Comments supporting Lynne's nomination included:
"I am impressed with Dr. Lynne's sustained research program since coming to SHSU. He has produced high quality work and brought recognition to the department, college and university."
________________________________________________________________________________________________________
"Dr. Lynne has been active in both research and scholarly activity for the past 10 years. His research has been dynamic during this time and has ranged from the investigation of antimicrobial resistance in foodborne disease to forensic microbiology, in addition to projects aimed toward antibiotic discovery and host-pathogen interactions."
________________________________________________________________________________________________________
- END -
This page maintained by SHSU's Communications Office:
Associate Director, Communications: Emily Binetti
Telephone:936.294.4406
Communications Manager: Vacant
Telephone: 936.294.1837
Communications Writer: Campbell Atkins
Telephone: 936.294.2638
Thomason Building: Suite 102
Please send comments, corrections, news tips to Today@Sam.edu