Celebrating 40 Years Of Bearkat Family Weekend
Aug. 14, 2019
SHSU Media Contact: Wes Hamilton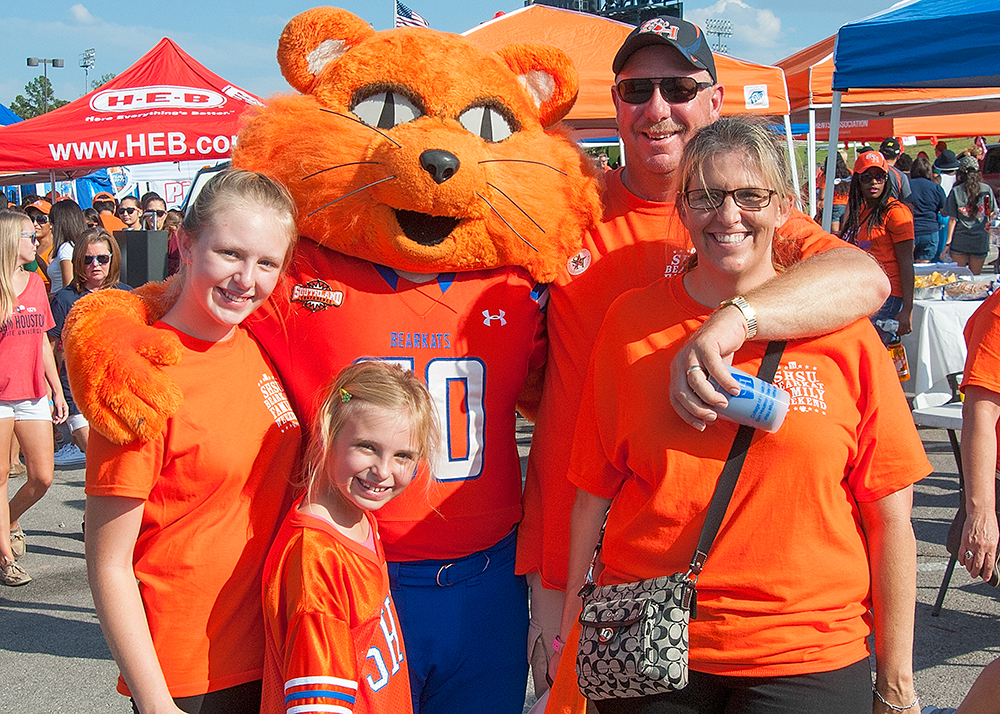 Sam Houston State University is celebrating 40 years of family tradition with Bearkat Family Weekend 2019. Students and their families are invited to be a part of the tradition Sept. 20-22.
Although parent's day started earlier at SHSU, in 1979 it became an official program sponsored by the university. Today, the event has grown to see more than 3500 people in attendance and the demand for this year is no different.
While parents may have taken a campus tour before, or visited on occasion, this program is designed differently and the entire weekend shows families a glimpse into campus life from the perspective of their own students.
"We want students to make themselves at home here in the first month or so of the semester," said Lindsay Lauher, program coordinator. "That way, when their families come back, they are excited to show them around campus. It is a good chance to affirm to parents how their students have become a part of the Bearkat family."
A highlight of events includes a pep rally, college open houses, Bearkat bingo, movie night, a car show, tours, family challenges, brunch and of course the football game and block party.
"I tell parents, this is the best time to come back and pop in on your students because you get to meet their professors, departments, student programs and more," said Chelsea Smith, senior associate dean of students. "It is so much fun for parents to get that connection with their students and to see what they are investing in and it is fun for us too. Putting on Bearkat Family Weekend is one of my favorite roles here at Sam Houston State because this is a great way to show off our campus culture."
For a complete schedule of events, and to register, visit the Bearkat Family Weekend website. Registration costs $20 per person and the deadline to register is Aug. 30.

Football Tickets
Football tickets must be purchased separately through the SHSU Athletic Department.
Enter promo code "family" to receive Bearkat Family Weekend rates.
You do not need to purchase a ticket for your SHSU Student
To sit with your student in the student section, select GA EAST when purchasing
Game time is Saturday, September 21 at 6:00 p.m.
Car Show
Our car show is hosted during the Bearkat Family Weekend Block Party
Time of Block Party and Car Show is dependent upon Football game time
To enter a vehicle in the car show please visit our Car Show Page
- END -
This page maintained by SHSU's Communications Office:
Associate Director, Communications: Emily Binetti
Telephone:936.294.4406
Communications Manager: Vacant
Telephone: 936.294.1837
Communications Writer: Campbell Atkins
Telephone: 936.294.2638
Thomason Building: Suite 102
Please send comments, corrections, news tips to Today@Sam.edu