2019 Faculty Excellence Award Recipients Announced
May 21, 2019
SHSU Media Contact: Hannah Haney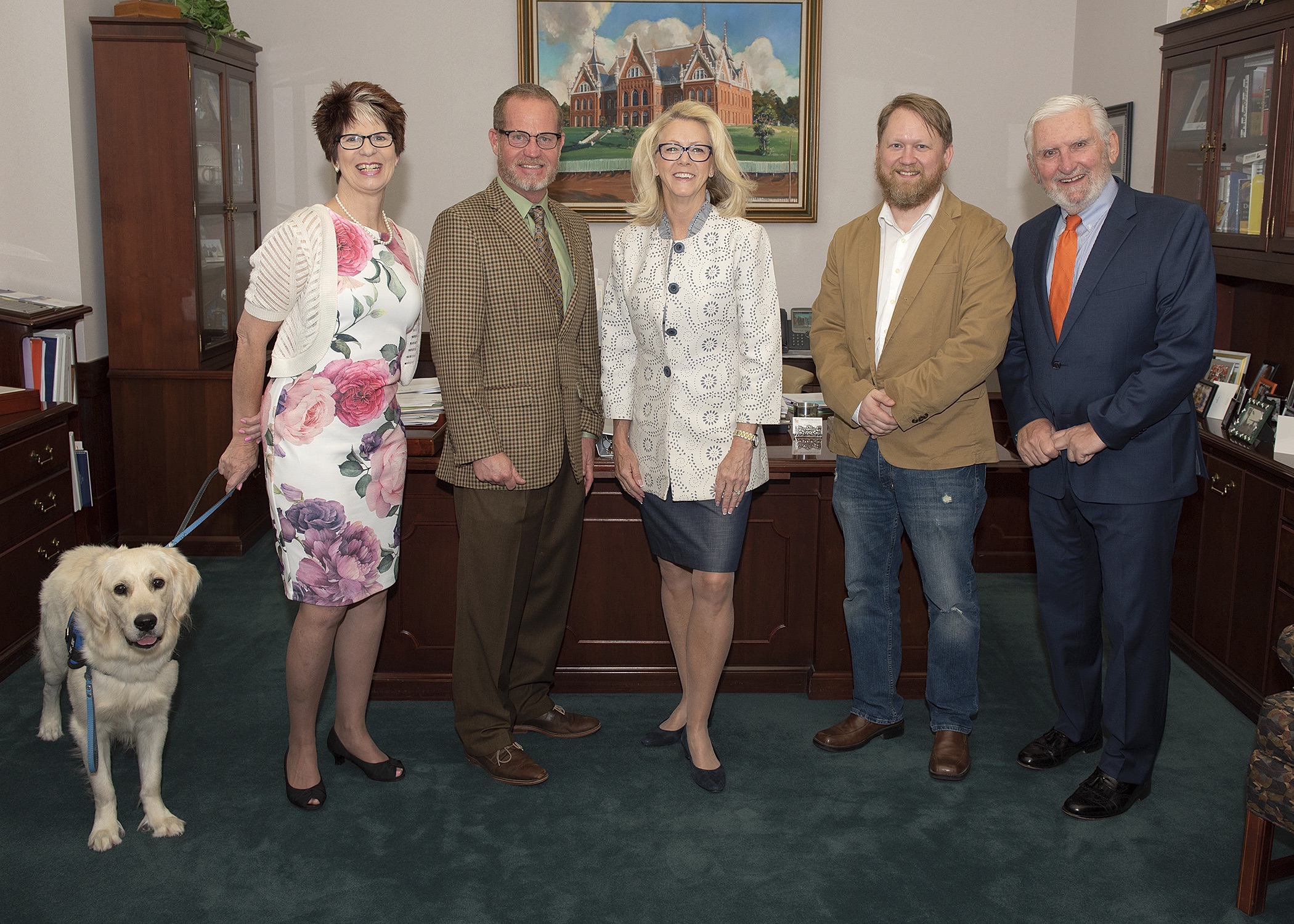 President Dana Hoyt (center) and Provost Richard Eglsaer (far right) recently recognized the 2019 Faculty Excellence Award recipients. They are (from left) Nancy Stockall, Stanley Kelley, Aaron Lynne and Paul Child (not pictured).
---
Four Sam Houston State University professors whose teaching, scholarly accomplishments, service and academic engagement stand out among their peers have been honored with the 2019 Faculty Excellence Awards.
The recipients are Paul Child, Excellence in Teaching; Aaron Lynne, Excellence in Scholarly and Creative Accomplishments; Stanley Kelley, Excellence in Service; and Nancy Stockall, the David Payne Academic Community Engagement Award.
---
Excellence in Teaching
Paul Child, Professor of English, CHSS
Since 1993, Paul Child has served the Department of English and has been instrumental in motivating students to continue to graduate programs and beyond. He is well known for his ability to engage students and consistently receives exceptionally high IDEA scores from student evaluations. He is an official mentor for graduate teaching assistants and mentors both undergraduate and graduate students, inspiring them to continue their English studies and reach high.
Comments supporting his nomination included:
"I frequently heard his class burst into loud laughter. No matter what the topic, with his quiet and thoughtful humor, Dr. Child is able to make all discussions engaging to his students."
"Dr. Child is able to inspire his students and make them love literature. He relates the readings to the students' real-life experiences and is able to make the sometimes dry topics interesting and meaningful."
---
Excellence in Scholarly and Creative Accomplishments
Aaron Lynne, Associate Professor of Biological Sciences, COSET
With 41 peer-reviewed publications, two review articles, eight book chapters, and since coming to SHSU, has had 10 grants funded totaling $1,400,000, Aaron Lynne's commitment to scholarly and creative pursuits is evident.
Much of Lynne's research has involved collaborations with researchers at the departmental, university, state and national level. He also has contributed to the advancement of many student's careers through his mentorship of 10 graduate and 31 undergraduate students.
Comments supporting his nomination included:
"I am impressed with Dr. Lynne's sustained research program since coming to SHSU. He has produced high quality work and brought recognition to the department, college and university."
"Dr. Lynne has been active in both research and scholarly activity for the past 10 years. His research has been dynamic during this time and has ranged from the investigation of antimicrobial resistance in foodborne disease to forensic microbiology, in addition to projects aimed toward antibiotic discovery and host-pathogen interactions."
---
Excellence in Service
Stanley Kelley, Professor of Agriculture Science, COSET
Since joining the faculty in 1993, Stanley Kelley has established an outstanding career at SHSU.
He was a past recipient of the Excellence in Teaching award and many local and national teaching awards, in addition to this, he has maintained a strong and solid service component in his daily life.
Kelley's commitment to service is shown in many capacities, including his outreach activities to enrich learning environments, industry alliances, partners in education, and his establishment of scholarship and educational endowments. These activities have been responsible for curating over $36 million to the university.
Comments supporting his nomination included:
"Dr. Kelley demonstrates his dedication to the university and his profession through his outstanding leadership and significant contributions on a daily basis. I have not encountered a more passionate advocate for Sam Houston State and higher education, which he consistently keeps at the forefront of his endeavors."
"Through his 25 years at SHSU, Dr. Kelley has guided thousands of students and graduates in the field of animal science, not only through education, but job placement after graduation. Dr. Kelley is an advocate for Sam Houston State University, animal science and agriculture. He is the forever recruiter and promoter of SHSU."
---
The David Payne Academic Community Engagement Award
Nancy Stockall, Professor of Special Education, COE
As a recipient of an award given to a faculty member for upholding the SHSU motto, "The measure of a Life is its Service," Nancy Stockall stood out from other nominees because of the number of families and individuals that have benefited from her efforts.
Stockall's colleagues noted the large degree of impact her work has had on students in her ACE classes, local families involved with Project Sunshine, the entire faculty of the Special Education program, and a partner school district in Arkansas. She frequently encourages other faculty to participate in the ACE program and to include meaningful activities in their classes that engage undergraduate and graduate students in community experiences.
Comments supporting her nomination included:
"Dr. Stockall has impacted the special education program in the School of Teaching and Learning in the College of Education in more ways than I have ever seen anyone single-handedly achieve."
"Her work with Project Sunshine has been truly exemplary. As one of the most popular student organizations on campus, Dr. Stockall provides leadership opportunities for students that result in positive impacts on the lives of children with disabilities throughout our region."
- END -
This page maintained by SHSU's Communications Office:
Associate Director, Communications: Emily Binetti
Telephone:936.294.4406
Communications Manager: Vacant
Telephone: 936.294.1837
Communications Writer: Campbell Atkins
Telephone: 936.294.2638
Thomason Building: Suite 102
Please send comments, corrections, news tips to Today@Sam.edu