Alumna Wins CISD Counselor Of The Year
Feb. 26, 2019
SHSU Media Contact: Mackailyn Johnson
The Conroe ISD Board of Trustees presented Ashley Wright with the TSCA Counselor of the Year award earlier this February.
Wright attended Sam Houston State University for both her undergraduate and graduate degrees in early childhood to fourth grade, then later to counseling for her graduate studies.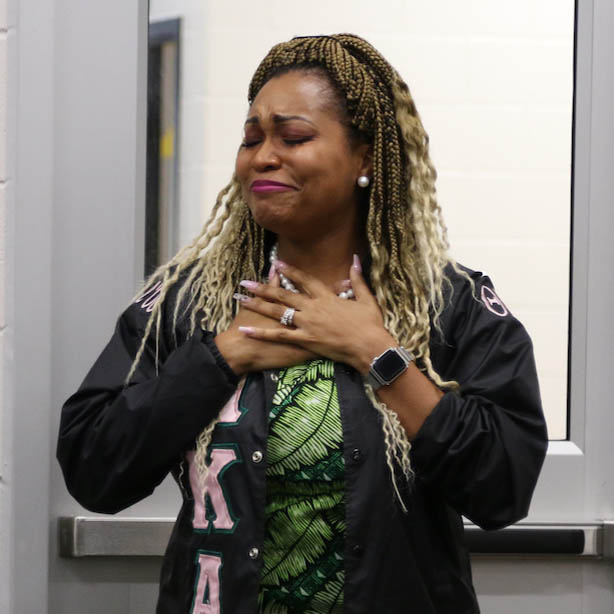 The College of Education at Sam Houston State taught Wright important lessons that she still acknowledges today.
"It not only prepared me to persevere when teaching on the academic side, but also when things get a little chaotic," Wright said. "The biggest piece I took away from the College of Education is to have your passion and know your why. Why are you here? Why are you doing this? You need to have a purpose."
When Wright entered the education work force, she started out as a teacher in Spring ISD then after three years she moved to Conroe ISD.
Although Wright had a definite passion for teaching, over time she began to realize the different ways she wanted to help her students.
"Sam Houston State prepped me for the authenticity of lesson planning and being there for kids," Wright said. "As a teacher your first priority is that you have to teach regardless, and it broke my heart because there was so much that my students needed emotionally, and I was torn."
Wright noticed the emotional needs of her students in her own classroom and changed her lessons to accommodate them. However, she wondered about all of the other students that weren't being advocated for.
---
"I love kids and when I see them in the hallway I want to impact every single one."
---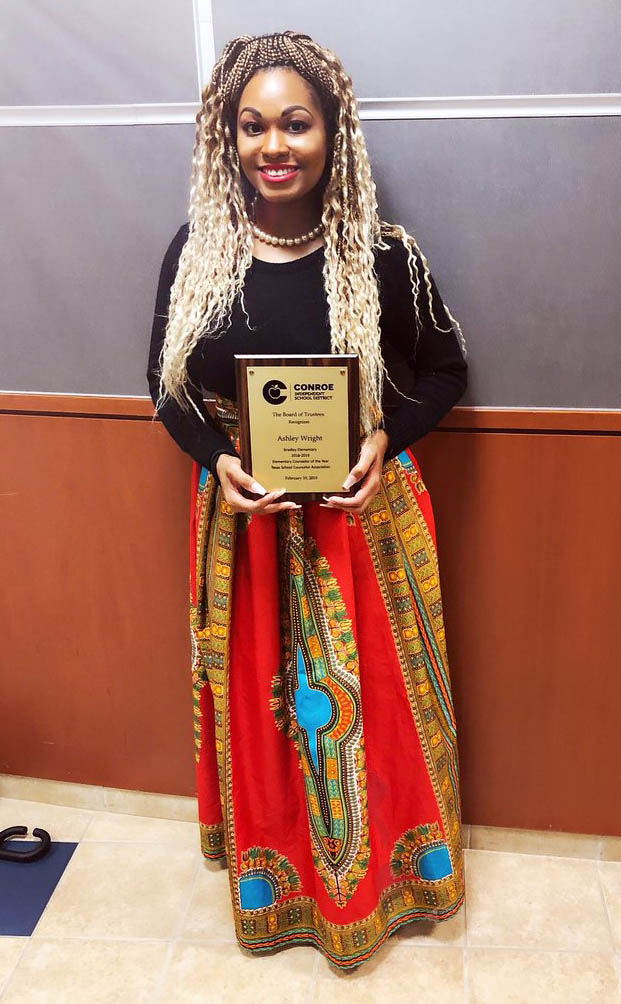 Wright felt as if something was missing and most of her colleagues had ideas of their own about what she should do next.
"The feedback from my administration was that I have a way with words, kids feel empowered by the things that I say and that I do more than the typical classroom teacher," Wright said. "They suggested that I look into being a counselor."
After Wright received her graduate degree, she took her passion and ran with it in order to impact as many students' lives as possible.
"The counselor is the heartbeat of the school," Wright said. "I am not your typical elementary school counselor. I believe every kid needs to know who you are and what you do. I spent two solid weeks at the beginning of the year to go to every single class and introduce my 'counseling tool kit.'"
Faculty and staff at Bradley Elementary took notice of Wright's extraordinary efforts and made sure that Conroe ISD noticed as well.
"Those who nominated me had to write a letter of recommendation and provide supplementary materials," Wright said. "It was awesome to see that they all did that. Once I found out about winning the nomination they had a huge surprise and the whole campus knew about it."
Wright believes that impacting students to feel and to do their best is the most rewarding thing about being a counselor.
"If you go to another school and ask them, 'Do you know your counselor?' more than likely they'll reply no," Wright said. "I make sure my kids know that it doesn't matter if they are happy or frustrated, they can always come talk to me and find help."
- END -
This page maintained by SHSU's Communications Office:
Associate Director, Communications: Emily Binetti
Telephone:936.294.4406
Communications Manager: Vacant
Telephone: 936.294.1837
Communications Writer: Campbell Atkins
Telephone: 936.294.2638
Thomason Building: Suite 102
Please send comments, corrections, news tips to Today@Sam.edu