Time Earning A Degree Decreases For Sam Houston State University Students
Dec. 18, 2018
SHSU Media Contact: Emily Binetti
American undergraduate college degrees historically take four years to complete. However, in recent years, jokes of being on the "five-year plan" have become commonplace. In fact, today, at most public universities only 19 percent of full-time students earn a bachelor's degree in four years.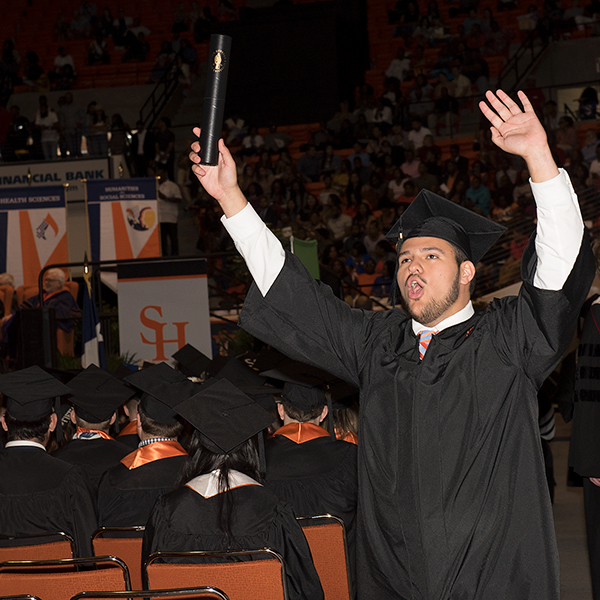 While the "five-year plan" has become the norm at some universities, at Sam Houston State University the amount of time to earn a BS or BA degree is only 4.4 years for non-transfer students. Moreover, the amount of time for Bearkats to earn a bachelor's degree has steadily decreased from 4.9 years in 2014.
"In just four years we've effectively shaved off a whole semester of time required of our students who earn a degree here," said Brian Loft, who serves as director of SHSU's STEM Center and site team coordinator of SHSU's membership in the Frontier Set.
Working with select universities, state systems and supporting organizations, Frontier Set is a national collective aimed to improve student academic success. Funded by the Bill & Melinda Gates Foundation, the student-centered program identifies strategies for improving graduation rates, especially for low-income, first-generation and minority students.
"The project allows us to accelerate our own institutional improvement, work with other universities to build relationships, discuss our findings and share those methods and practices that are proven to contribute to academic progress," Loft said.
At SHSU, the Frontier Set team consists of members across several campus disciplines, from advising to teaching to online course development.
Loft views the decreased time to earn a bachelor's degree as an achievement that directly corresponds with the goals of Frontier Set. He points to specific initiatives he believes contributed to the positive result. Better advising, in particular to students in upper-level courses, has played a significant role. Also, requiring students to choose a major in their first year has decreased the number of extra courses taken that do not contribute to a degree.
With tuition and fees amounting to more than $5,000 per semester for a full-time student, that decrease in time to graduate can amount to significant financial savings to students. For example, approximately 1,500 degrees were awarded to non-transfer students in 2016-17, collectively saving them up to $7.5 million.
While the time to earn a degree at Sam Houston has decreased, the university has also increased the number of degrees awarded over the same time period.
"Each year, we have seen steady increases in the number of bachelor's degrees awarded, with an average increase of 4.1 percent. This is higher than the average enrollment increases over the same time period," Loft said.
Additionally, in the past three years, SHSU has seen impressive growth in the number of degrees awarded to minority students - an increase of 50 percent in three years. In the 2013-14 academic year, 30.0 percent of bachelor's degrees were earned by minority students at SHSU. Just three years later, 40.3 percent of undergraduate degrees were earned by minority students.
"SHSU is on its way to closing the achievement gap for minority students, effectively cutting it in half in just three years," Loft said. "Interventions such as comprehensive academic advising as well as peer mentoring for minority males through the SHSU ELITE program have contributed to these successes."
In recent years, SHSU has been nationally recognized as one of the top public institutions in the nation where minority graduation rates equal or exceed the rate of white students. While these achievements are significant, Loft and the SHSU Frontier Set team recognize there is still more work ahead in their mission of discovering and implementing the best practices in student achievement.
"We have a large, dedicated group of faculty and staff who are committed to increasing the success of our students," Loft said. "It's important when solving large problems such as increasing rates of retention and graduation that divisions and departments work so well together. There's no shortage of that here at SHSU."
- END -
This page maintained by SHSU's Communications Office:
Director of Content Communications: Emily Binetti
Communications Manager: Mikah Boyd
Telephone: 936.294.1837
Communications Specialist: Campbell Atkins
Telephone: 936.294.2638
Please send comments, corrections, news tips to Today@Sam.edu