The Sky Is The Limit
May 11, 2018
SHSU Media Contact: Hannah Haney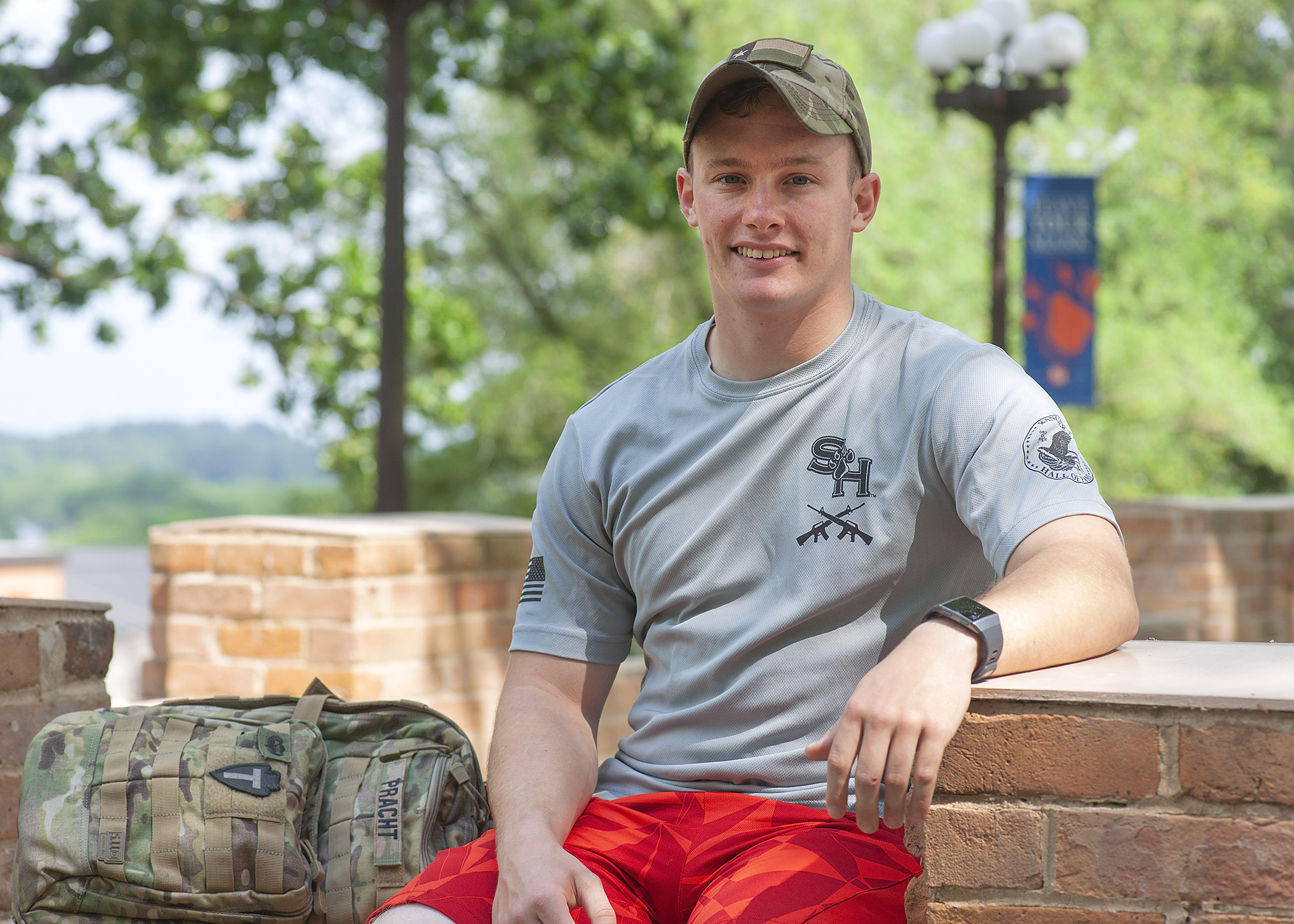 Cadets who commissioned into the Army service branches on May 11 officially took their oaths to become officers in the United States Armed Forces and will soon begin journeys unique to their time at Sam Houston State University. For senior Joshua Pracht, graduating from SHSU as a commissioned officer was just another step in his commitment to a life of service.
"I am very excited to continue my service as a commissioned officer," Pracht said. "I look forward to making a big difference and leading other soldiers into a greater future."
Pracht first committed to a life of service when he was 17 years-old. He joined the United States National Guard to work as an aviation mechanic his junior year of high school. One of his daily tasks included working on helicopters, so it was not long before his aspirations changed from fixing helicopters, to flying them.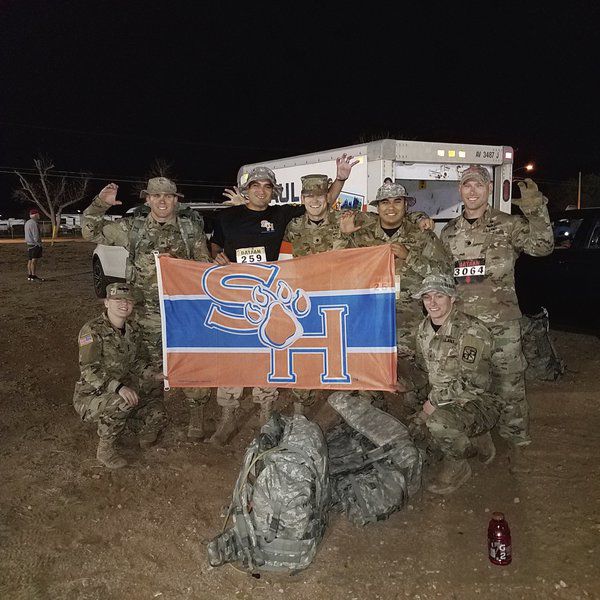 In order to accomplish this goal, Pracht knew he had to eventually complete college courses to meet the requirements to become a Chief Warrant Officer in the United States National Guard.
Pracht enrolled in SHSU's College of Criminal Justice because of the program's prominent reputation. He soon started his freshman year and met with the former professor of Military Science, Lieutenant Colonel Robert McCormick, who influenced him to look into joining SHSU's Army Reserve Officer's Training Corps (ROTC).
"I found I could do the same thing through ROTC while getting my degree paid for," Pracht said.
"I thought that was the better option because I would get paid more, I would get the leadership experience that I needed, and I would get to fly helicopters."
Pracht came to SHSU on a guaranteed Reserve Forces Duty contract which grants a full-ride scholarship pending his commission into the National Guard. Attending SHSU and joining ROTC was the most beneficial way for him to achieve his goals.
Pracht grew as a person upon entering into ROTC and held multiple leadership roles in the Bearkat Battalion.
"I think I have developed massively in my confidence just in day-to-day activity and in my critical thinking," Pracht said. "There has been a great improvement in my leadership abilities immensely over my time in ROTC."
His fondest memory was participating in Airborne School, a three-week course, which teaches soldiers the techniques involved in parachuting from airplanes and landing safely. The final test includes a non-assisted jump.
"The first time I got to jump out of a plane was breathtaking and thrilling. I was given this opportunity by my instructor, I did not even know it was an option at the time," Pracht said.
For Pracht, he credits much of his success from the support of the ROTC instructors, but he stresses the importance of showing initiative.
"The cadre are very supportive," Pracht said. "You have to show your interest in the program and willingness to participate so that they know how to mentor you."
Pracht showed his initiative by participating in the Battalion's, Ranger Company, a team of strong-willed cadets that train in diverse environments and tactical situations.
"Ranger Company tests your ability to lead under pretty harrowing conditions. The facilitators put a lot of stress on the candidates," Pracht said. "It allows us to really see people's leadership ability and I think the biggest moment for me was realizing that I am capable of being a leader."
Now as a SHSU graduate and newly commissioned officer, Pracht will begin his adventure flying AH-64 Apache helicopters and will go to initial flight training at Fort Rucker, Alabama. He plans to eventually return to Texas and predicts he will serve 20 years in the Army. Upon retiring from the military, Pracht hopes to utilize his Criminal Justice degree and serve as a police officer.
"I've always dreamt of making a difference in any way I can to protect those around me," Pracht said.
- END -
This page maintained by SHSU's Communications Office:
Director of Content Communications: Emily Binetti
Communications Manager: Mikah Boyd
Telephone: 936.294.1837
Communications Specialist: Campbell Atkins
Telephone: 936.294.2638
Please send comments, corrections, news tips to Today@Sam.edu