Raven's Call Remembers Fallen Bearkats
April 3, 2017
SHSU Media Contact: Hannah Haney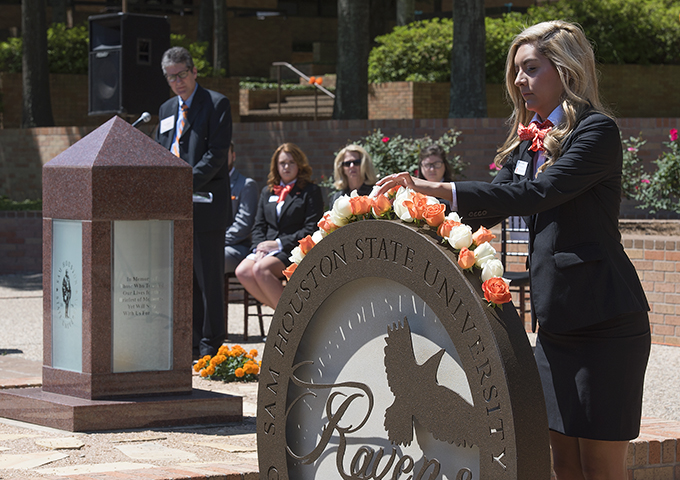 Raven's Call is the Sam Houston State University tradition that forever unites the Bearkats past with the present.
The ceremony has been an annual campus tradition since 2012 that honors the lives of fallen students, faculty and staff who have passed away within the previous year.
"I believe that Raven's call is one of our most important traditions. It enables our SHSU community to come together and celebrate the contributions of those whom we are honoring," Dean of Students, John Yarabeck said. "It also serves as a reminder for all Bearkats that our time on this earth is limited so we should make the most of each day, that we are blessed with and look for opportunities to bring to life our university's motto."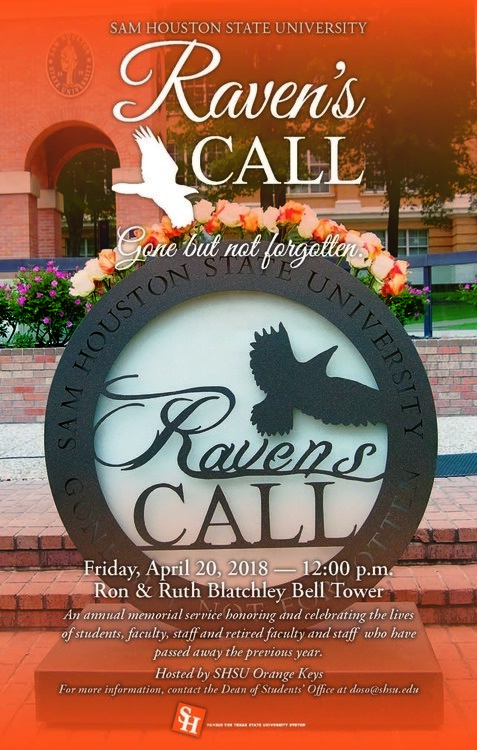 This year, the ceremony will honor eight students, two current staff and faculty and 19 retired staff and faculty on April 20 at noon at the Ron & Ruth Blatchley Bell Tower.
"This special event allows the community to grieve, process and heal from the sorrow of losing someone you loved, knew, or sat next to in class each day but never got to know," Chelsea Smith, associate dean of students for Parent Relations and Special Programs said. "This ceremony is a strong tradition at SHSU and our task is to continue honoring the lives and community of people we are surrounded by every day."
During the ceremony, a flower will be placed on top of the Raven's Call Memorial as each name is read. President Dana Hoyt will give words of comfort to the families and guests and Yarabeck will read the roll call.
Hosted by the Orange Keys, the President, Courtney Shaw will welcome the families and guests and the Vice President of Programming for Orange Keys Bailey-Anne Kaytar will give closing remarks.
"This will be my second Raven's Call as an Orange Key and I am honored to be able to plan such an important ceremony with my fellow Orange Keys. We put a lot of hard work to make sure the ceremony meets the high standards that the people who have passed deserve," Shaw said. "I believe Raven's Call is a true example of how loved everyone is at Sam no matter their role and how we are all part of an amazing school and community."
The students who will be remembered are Nicole L. Billnoske, Dakota R. Goss, Rory C. Grieve, Nancy J. Hill, Tyler Huffman, Sarah E. Sarabia, Shelby R. Whitten and Marshall G. Burleson.
Current staff and faculty who will be remembered are Kailee E. Godeaux and Sheryl K. Murphy-Manley.
The retired staff and faculty honorees are Opal M. Archie, David T. Bailey, Margaret I. Barnett, Paul D. Cobb, Betsy A. Hawes, O.C. Hector, Pauline A. Jarma, Stanley E. Lea, Melvin R. Mason, Thyra Mize, Ngoc D. Nguyen, Elmo "Sonny" O'Bryant, Genevieve W. Sandhop, Allene K. Smith, Jack S. Staggs, Melvin F. Taylor, Donald W. Vick, Betty I. Wimberly and Steve A. Young.
- END -
This page maintained by SHSU's Communications Office:
Director of Content Communications: Emily Binetti
Communications Manager: Mikah Boyd
Telephone: 936.294.1837
Communications Specialist: Campbell Atkins
Telephone: 936.294.2638
Please send comments, corrections, news tips to Today@Sam.edu