Perspectives: How Studying Abroad Can Broaden Your Understanding Of Culture
Jan. 25, 2018
SHSU Media Contact: Emily Binetti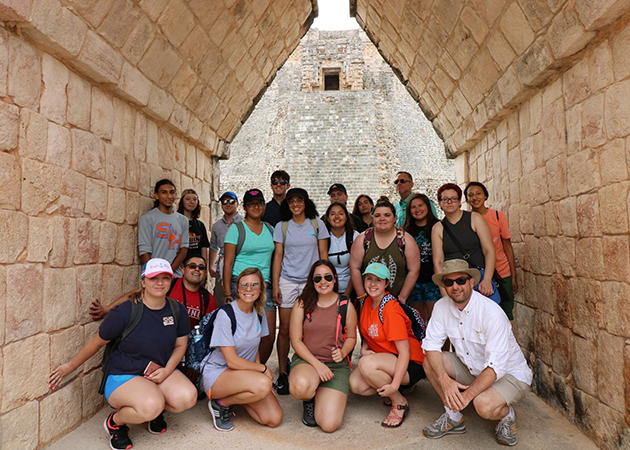 "Perspectives" is a new series that invites students to share their unique stories on how they were positively transformed by a class, organization or community involvement at Sam Houston State University. To submit your story, please contact Today@Sam at Today@Sam.edu.
Story by Tyler Pointer
"One's destination is never a place, but a new way of seeing things."
This quote by American writer Henry Miller didn't mean anything to me before last summer. If you asked me how to define it, I wouldn't have been able to tell you.
As someone who had never traveled outside of the United States, my only idea of other cultures was what I watched through television, read in books and listened to in music. As you might be thinking, none of that can give you a real understanding of a different way of life, quite like experiencing that culture for yourself.
In June of 2017, I was given the opportunity to study abroad with Sam Houston State University's Department of History in our neighboring country of Mexico.
Mexico is one of the most culturally diverse countries in the world, with 68 recognized indigenous languages spread throughout the 758,400 square miles of land with traditions, customs and food dating back thousands of years. I knew when given the opportunity to experience this country in its entirety, I could not let it escape me.
The study abroad, lead by SHSU Associate Professor of History Charles Heath and Professor of History Jeffrey Littlejohn, delved into the topics of Mesoamerica and the recording of public history. As a mass communication major, it can be understood that we essentially are learning to record and share history, so the topics for the courses perfectly aligned with my interests.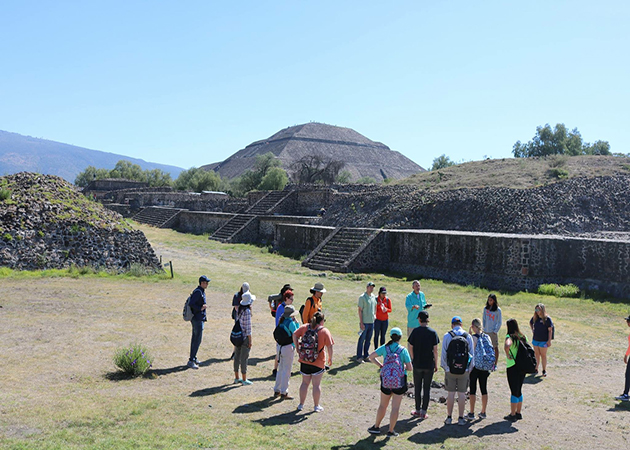 The group discusses the site of Teotihuacan, while the Pyramid of the Sun stands tall on the horizon.
As soon as I stepped off our bus in the city of Valladolid on the Yucatan Peninsula, I could feel the colorful culture wrap me up in an enticing embrace. In the square of the city, the bustle of the people going about their daily life warmed my heart and my mind. I was finally able to experience a world outside of my own.
My classmates and I were in awe to say the least. The Spanish language and the endless amount of live music filled our ears as we divulged on the rich food of the Yucatan and experienced flavors never tasted before. Little did we know, this was only the start of our journey into the culture of Mexico.
The culture I speak of dates back thousands of years. There is a term called "the cradle of civilizations" which refers to archaeological sites where major civilizations of the world have emerged from. Mesoamerica, encompassing the southern half of Mexico, is one of these locations considered as a cradle of civilization. Based on this, one can tell that the history that has walked across the landscape and soil of Mexico is immeasurable.
Almost immediately, we were able to visit major sites where these civilizations once called home. Chichen Itza is one of the most iconic and recognized man-made structures in the world, but my classmates and I were even able to visit sites less frequented. Calakmul, deep within one of the largest ecological reserves in the world, the ruins of Palenque in the jungle of Chiapas, and Monte Alban, a literal castle in the sky overlooking the city of Oaxaca de Juarez were some of the locations our study abroad took us.
Who knew that this history was rooted so close to us here in Texas? One of the realizations I had while taking these courses is that even though Mexico is so near, and Texas was originally a part of Mexico, we never really learn about it growing up. In retrospect, the majority of things we learn in American history all happened thousands of miles away.
Not only can studying abroad heighten your levels of cultural understanding, but it can help you stand out in your career field, according to Study Abroad Coordinator Malin Hilmersson.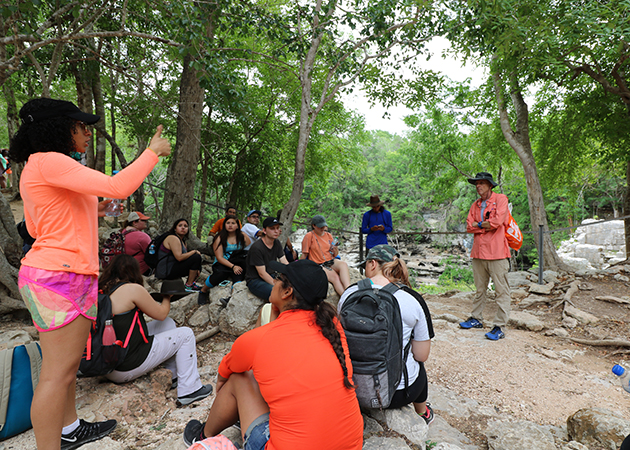 "It creates a lot of understanding," Hilmersson said. "The world is becoming more global and so is the world market. More and more companies are asking specifically for people who have cultural competencies and understanding. For some companies, it can even be required or requested. You can learn so much about yourself when you put yourself in a situation that you aren't used to."
Being in a different environment while learning can also maximize your learning experience. You can learn in the classroom about the Mesoamerican ballgame, a sport that played an important role in traditional ceremonies and rituals, or you can learn about it on the largest ancient ballgame field in Mesoamerica!
Indulging in the history with all five senses makes all the difference in how you can understand and respect culture. There are so many cultural perks that hail from Mexico and Mesoamerica used every day – from fashion trends and styles, to language and borrowed words that we use without even thinking about the origin. You begin to see things differently once you are able to learn about where things come from.
The strong friendships and connections established on a study abroad can benefit you for the rest of your life. Whenever you experience something like this with other people, bonds are created almost instantly. People from different places come together around a central topic and the learning and academic environment that it can create is crucial for personal growth and development.
Because SHSU offers experiences like studying abroad, I was able to heighten my educational experience beyond the classroom.
I left a part of my heart in Mexico. When I revisit the quote, "One's destination is never a place, but a new way of seeing things," I know exactly how to define it.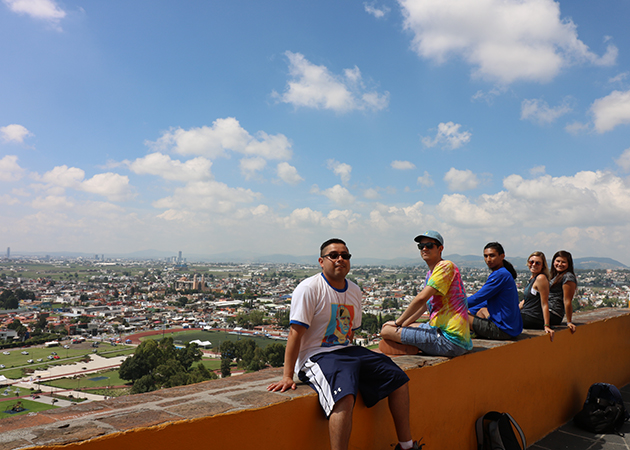 Being in a different or new place can allow you to realign the way you see things. Understanding cultures unique to your own can bring positive change to your outlook on life and feelings.
For more information on study abroad opportunities, contact Hilmersson at malin@shsu.edu or call the Office of International Programs at 936.294.4737.
- END -
This page maintained by SHSU's Communications Office:
Director of Content Communications: Emily Binetti
Communications Manager: Mikah Boyd
Telephone: 936.294.1837
Communications Specialist: Campbell Atkins
Telephone: 936.294.2638
Please send comments, corrections, news tips to Today@Sam.edu