New Creative Space To Inspire Innovation In CHSS
April 18, 2018
SHSU Media Contact: Hannah Haney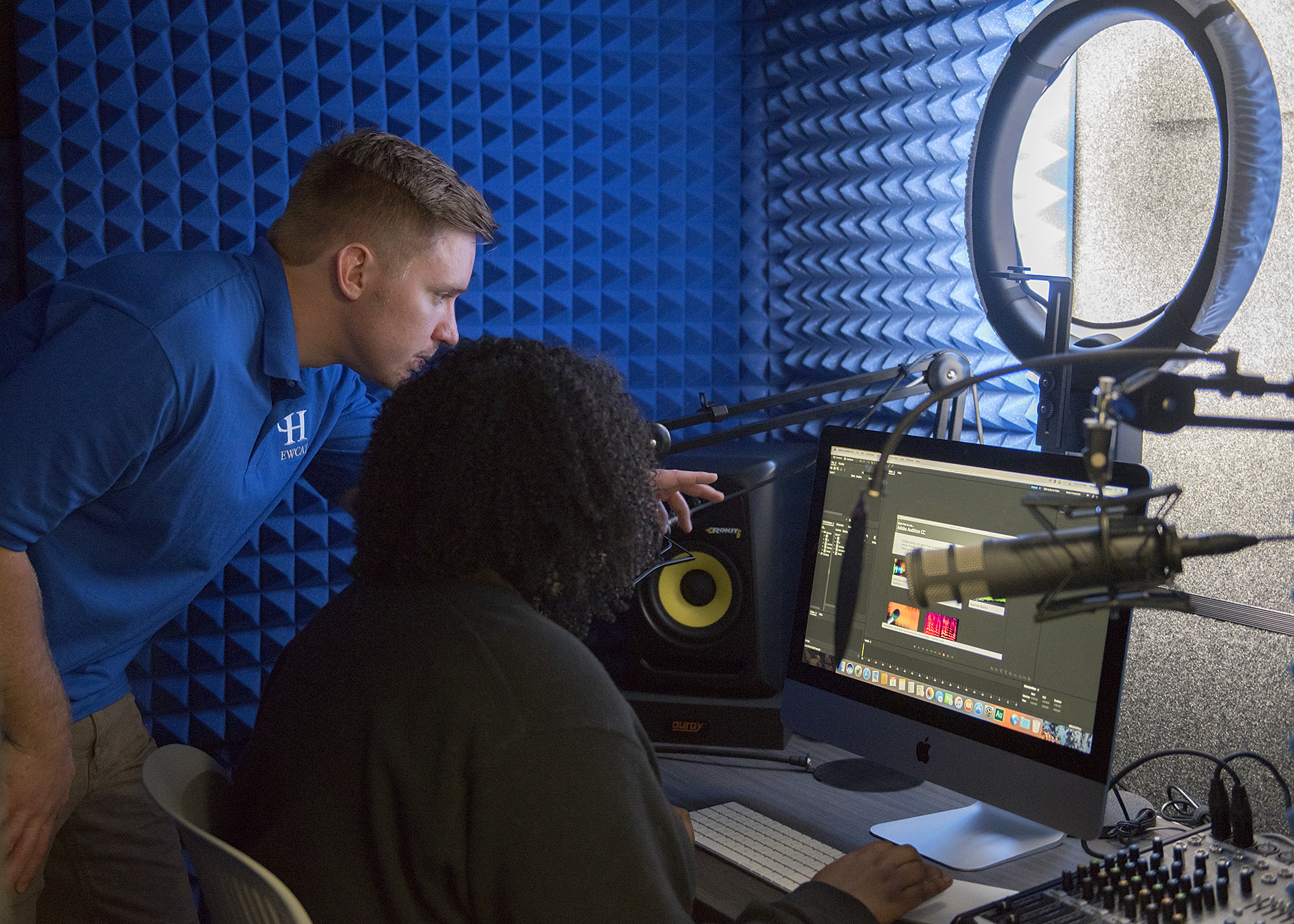 The Iris Technical Communication Suite officially opened its doors to the Sam Houston State University community on Thursday, April 12 with a ribbon cutting ceremony and open house.
This long-awaited creative space, located in the Evans Complex room 251, quietly opened in the fall of 2017, but was not fully operational until now.
The intent was to build a space that is not like the typical computer lab filled with rows of computers, but is more of a production environment. Outfitted with a 3D printer, sound booth, a video editing station, audio recording equipment, a photography station and Adobe Creative Suite installed on all of the computers, it possesses the necessary tools to foster student innovation and creativity.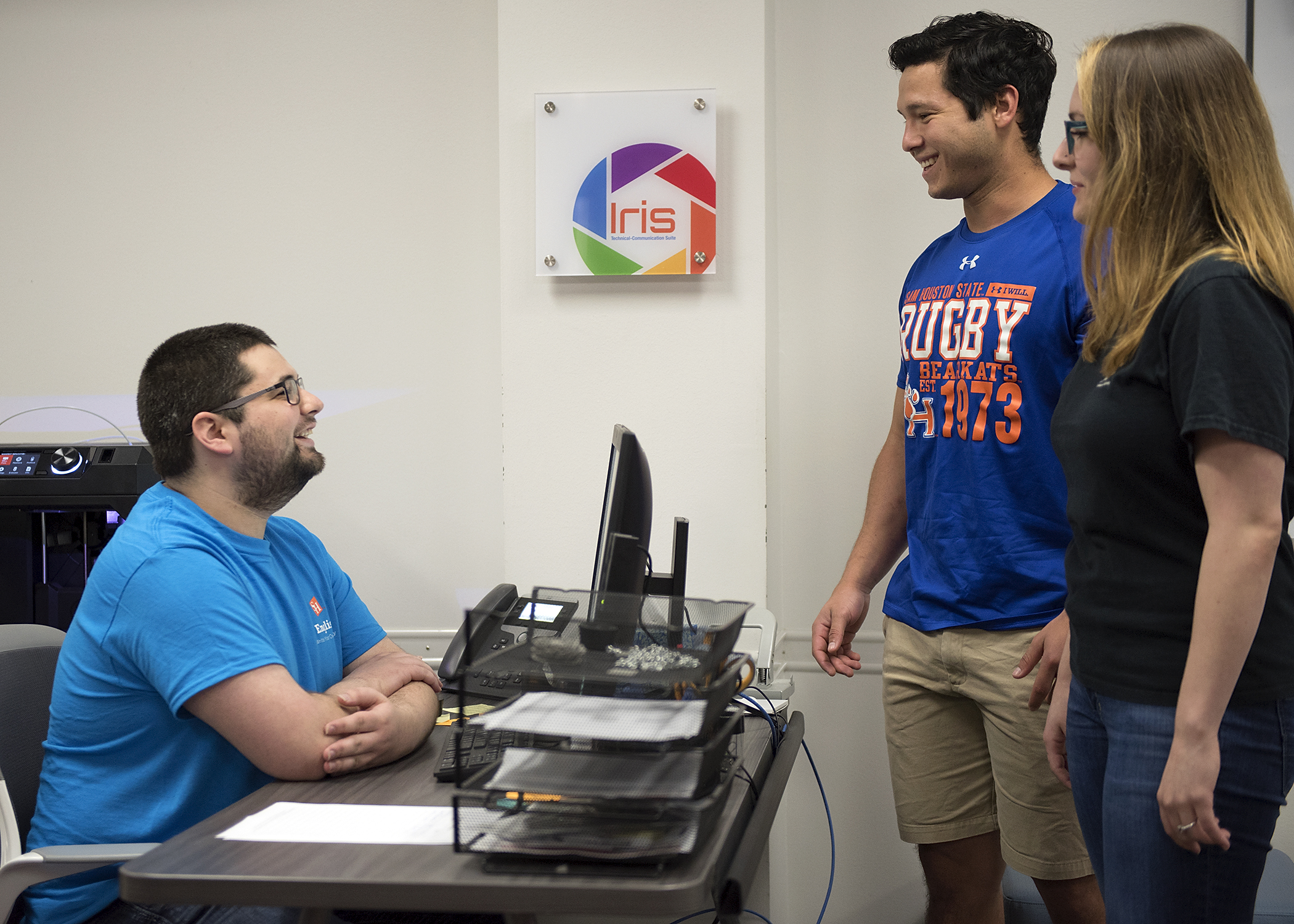 "This is something that will help grow our technical writing program that we've been developing, but it is also a tool that any writing student can use," said Brian Blackburne, associate professor of technical and professional writing. "If someone is working on a project where they need to print and bind a booklet, there is equipment for them to do that. If they need large format color printing for things that don't come off a normal printer, we also have that."
Blackburne and Carroll Nardone, associate professor and associate dean of the College of Humanities and Social Sciences, first got the idea for the "Iris Suite" after attending conferences and noticing other universities building similar spaces.
"Abbey Zink, dean of CHSS, is the one supporting it and very graciously helped us fund the new space and get it put together," Blackburne said. "She is really excited at the prospect of giving our students something more than just a typical lab."
In Greek mythology, Iris was the personification of the rainbow and a messenger for the Olympians. At SHSU, Iris is a space where students can collaborate with technology to reach audiences across a variety of media.
For Brandon Strubberg, visiting assistant professor for the Department of English, he is most eager for students to have a space of their own to practice these kinds of collaborations.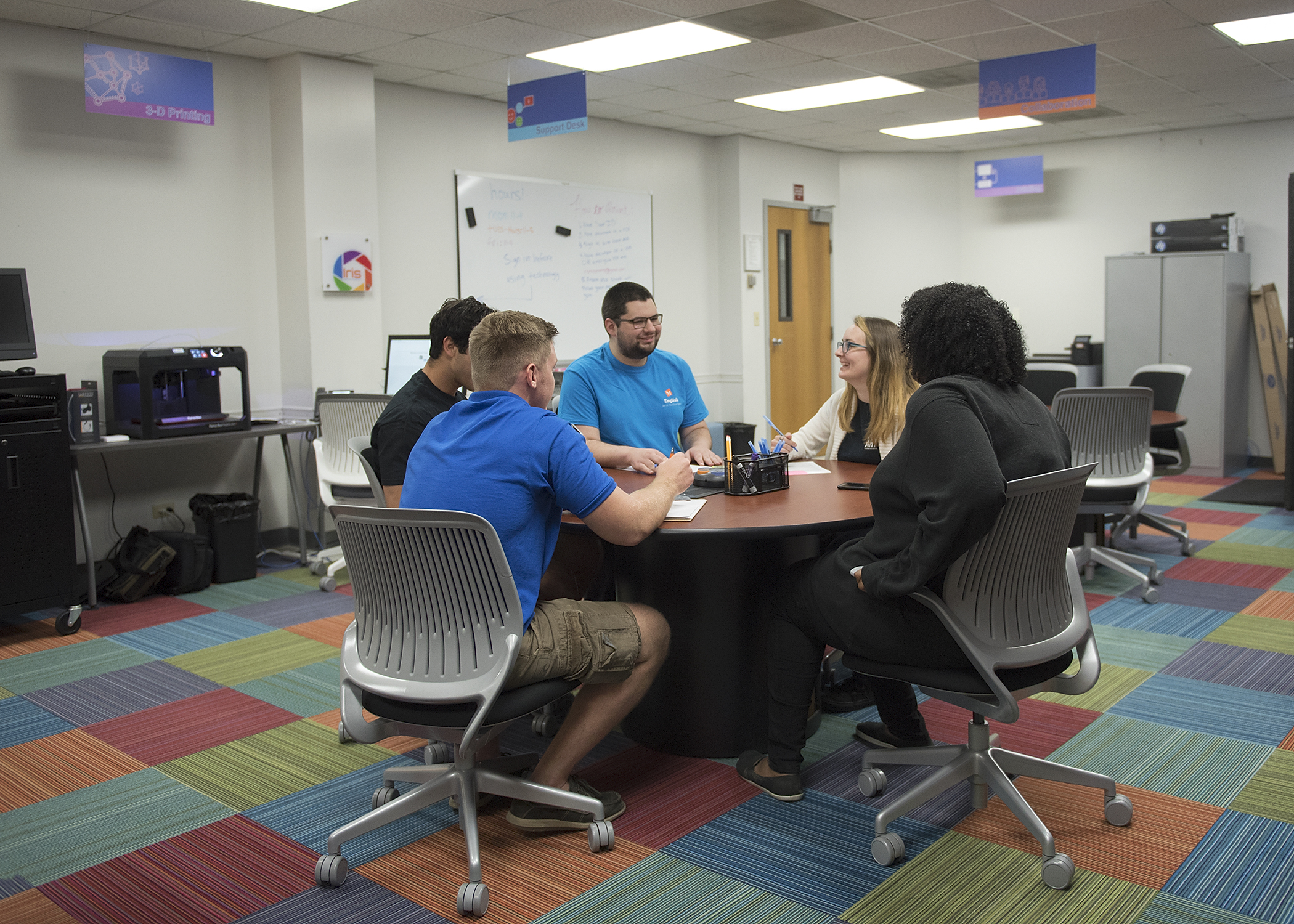 "Students need to be adaptable in technical environments and comfortable working in collaborative, technologically centered spaces. And it's not that students need to know how to use one specific edition of one particular software tool; rather, they need to be familiar with engaging digital tools and technologies," Strubberg said.
It is his hope that students will take these skills into the workforce.
"The kinds of digital writing that our English—and other humanities—graduates are now asked to do upon entering technical workplaces extend far beyond writing copy for websites; instead, one individual may be asked to write copy and then remediate that document for other audiences by producing a vlog or podcast or posting to a social media platform or producing a graphic in Illustrator," Strubberg said. "Iris gives students a space to actually practice digital writing at every stage: conceptualizing, researching, collaborating, writing, producing, editing, and ultimately sharing digital documents."
In order to utilize the space, CHSS students must check in using their Bearkat One card and must be able to tie their project back to the department or to a real academic need. However, Blackburne wants students to feel empowered to develop bold, creative ideas and bring them to fruition.
"The really cool stuff that happens at a university is when people happen to be in the same room working together and see what somebody else can do," Blackburne said. "We don't want them to feel like they're not allowed to go in and explore."
"Let's face it, they'll probably come up with cooler things to do with this stuff than we envision. We want that exploration and creativity."
For more information or to plan a project in Iris, contact Brian Blackburne: BrianBlackburne@shsu.edu
- END -
This page maintained by SHSU's Communications Office:
Director of Content Communications: Emily Binetti
Communications Manager: Mikah Boyd
Telephone: 936.294.1837
Communications Specialist: Campbell Atkins
Telephone: 936.294.2638
Please send comments, corrections, news tips to Today@Sam.edu